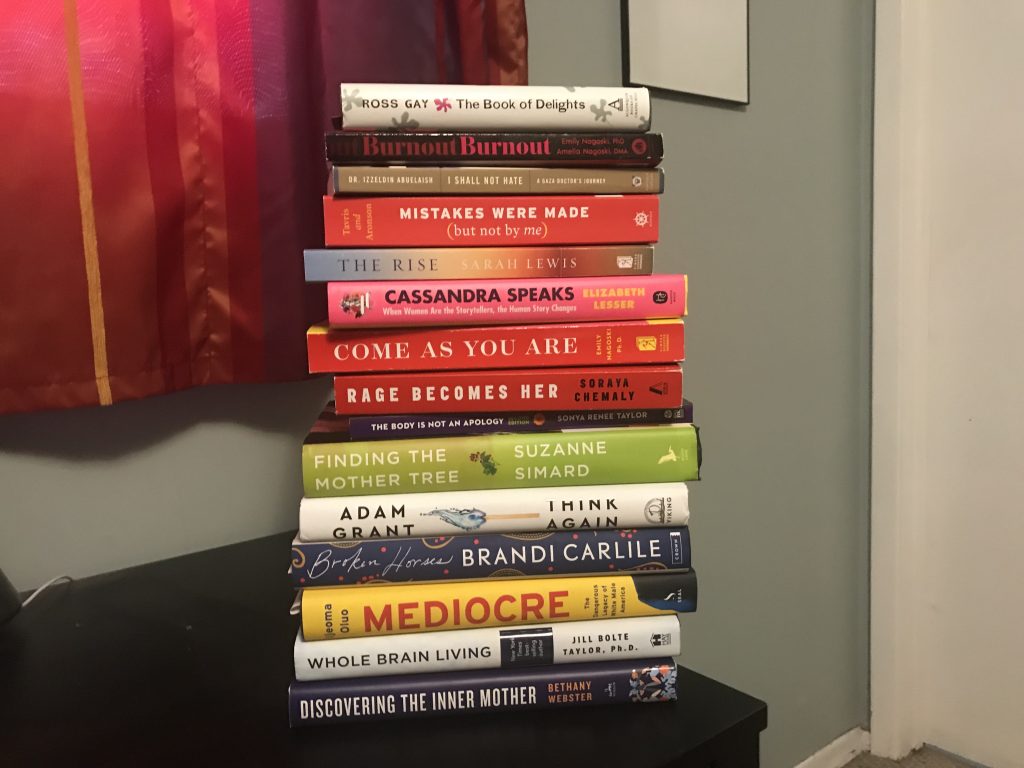 There's a stack of books on the floor beside my nightstand. And there's another stack next to it. And there's a third stack on the nightstand above. It's a bit ridiculous and it's about time I did my twice-yearly movement of books to my overflowing bookshelves downstairs.
Before I do that, though, I thought I'd give you a list of the books (in no particular order) from the past six months or so that I'd recommend for your reading pleasure and personal growth. (This is just the non-fiction list – I have a whole other stack of fiction books.)
(Full disclosure: The links below are affiliate links on Amazon. I hope you consider buying the books from local booksellers, but if you're going to buy them from Amazon, you might as well use the links so that I get a few pennies to get some more books for free.)
1. The Book of Delights, by Ross Gay It sounds a little obvious to say so, but this is a delightful book. It's a collection of short reflections of things that Ross Gay, a poet, finds delightful in the world. It's not all kittens and roses, though… through his capacity for witnessing delight he also shares some hard things about what it's like to be a Black man in the U.S.
2. Burnout: The Secret to Unlocking the Stress Cycle, by Emily and Amelia Nagoski This book could NOT have come at a better time for me – just as I was slipping into my own burnout after an incredibly challenging year of building a new business, starting a partnership, and dealing with my daughter's scary and rare health conditions in the middle of a global pandemic. What I especially appreciate about it is that Emily and Amelia (twin sisters) have a finely tuned lens for understanding and explaining how much women's burnout is a factor of the culture we live in and how "the system is rigged against us". They don't just give the analysis though – they provide helpful tools and resources.
3. I Shall Not Hate: A Gaza Doctor's Journey, by Izzeldin Abuelaish If you want to learn more about the harsh reality of what it's like to live in the Gaza Strip, then this book is worth the read. It's a revealing and heartwrenching memoir written by a doctor who's spent most of his life there. Shortly after his wife died, a bomb hit his home and killed three of his daughters and a niece. Despite his many hardships and the cruelties done to his family, he has a surprising capacity for grace and forgiveness.
4. Mistakes Were Made (but not by me): Why We Justify Foolish Beliefs, Bad Decisions, and Hurtful Acts, by Carol Tavris and Elliot Aronson This is my most-referenced book of the last year. I have recommended it to dozens of people and will continue to do so because it's a book that changed me. It's definitely confronting at times (it makes you look more closely at your deeply held beliefs and biases and why you're hanging onto them), but it also helps to explain the world and relationships and why we often end up in the conflicts that we do. I understand myself better and have more compassion for people who struggle with giving up ideas and beliefs that are important to them and that become part of their identity.
5. The Rise: Creativity, The Gift of Failure, and the Search for Mastery, by Sarah Lewis One of my favourite things about this book is the way it embraces and elevates the gift of failure. If you've been struggling with your inner perfectionist, and you often don't get things done because of the way it blocks you, this might be the right book for you.
6. Rage Becomes Her: The Power of Women's Anger, by Soraya Chemaly I picked up this book because anger is one of my most uncomfortable emotions and I don't always know how to process it or channel it. I wasn't disappointed. Chemaly teaches how anger can be a vital instrument and catalyst for change when we approach it with conscious intention.
7. The Body is Not an Apology, by Sonya Renee Taylor I can hardly recommend this book strongly enough. I listened to it first as an audiobook, but when I finished, it felt so important to me that I needed to own a physical copy. If you want to examine your own relationship with your body and dig deeply into the cultural and systemic messages you've been picking up about your body all of your life, then you won't find a better book than this one.
8. Think Again: The Power of Knowing What You Don't Know, by Adam Grant This is a valuable book for exploring the ways that we get stuck in our thinking and how we can become more expansive and open to new ideas. It's about unlearning and relearning, with courage and humility, so that we can keep growing and stretching ourselves.
9. Broken Horses: A Memoir, by Brandi Carlile If you love Brandi Carlile's music, as I do, then you'll love this book. It's the story of her life growing up in a musically gifted but impoverished and fractured family. It's also the story of how she found her way into her musical career and how she developed the confidence and courage to live life on her terms and to become the star she is now. (My sister tells me that it's even better in audio because not only does Brandi read it, but she also sings a song at the end of each chapter.)
10.  Mediocre: The Dangerous Legacy of White Male America, by Ijeoma Oluo I was looking forward to this book coming out because I really appreciated Oluo's last book, So You Want to Talk About Race. This is a bold exposé of white male supremacy. It digs deeply into the history of the U.S. and reveals what happens when, generation after generation, white men are told they deserve power.
11. Whole Brain Living: The Anatomy of Choice and the Four Characters That Drive Our Life, by Jill Bolte Taylor I was fascinated with Jill Bolte Taylor's first book, My Stroke of Insight, and was pretty confident this would be a good follow-up. In it, Taylor explores how the brain has four "characters" and she lays out how we can learn to live more balanced, peaceful, holistic lives when we grow our capacity for tapping into each part of the brain and processing information, situations, and decisions with all four parts engaged. I'm curious enough about what I learned in this book that I'd love to someday take a workshop with Taylor to dig deeper into how this might inform my own work. I think there are some beautiful lines of connection between whole brain living and holding space.
12. Discovering the Inner Mother: A Guide to Healing the Mother Wound and Claiming Your Personal Power, by Bethany Webster Of all the books in this list, this is probably the one that had the most profound impact on me from a personal healing perspective. It cracked open some wounds I wasn't aware I still carried from my own relationship with my mother, and it helped me find ways of healing those wounds and learning how to better mother myself. (I'll be sharing a blog post in a few weeks about a new journal practice I've developed as a result.)
13. Finding the Mother Tree: Discovering the Wisdom of the Forest, by Suzanne Simard If you loved Braiding Sweetgrass (as I did – it's probably my favourite book of the last five years), you will likely love this book as well. I am very fond of trees, as I've shared in the past, and I loved learning about the ways in which they communicate with each other in the forest and how integral they are to each other's survival and thriving. I also enjoyed the way that the story of trees is interwoven with Simard's personal narrative as she grew her relationship with trees.
14. Come as You Are: The Surprising New Science That Will Transform Your Sex Life, by Emily Najoski This is the book I wish I'd owned in my twenties. It's also a book I've encouraged all three of my daughters to read. I think it has the capacity to change nearly everyone's sex life, and it also has the capacity to help us love ourselves more and stop shaming ourselves for not being "normal". Even if you have a great sex life, this book will teach you something new about yourself and/or your partner.
If you want to see more of my book recommendations of the past, you can check out this list (which needs some updating but is still relevant), and this list of resources "for good people who want to do better".