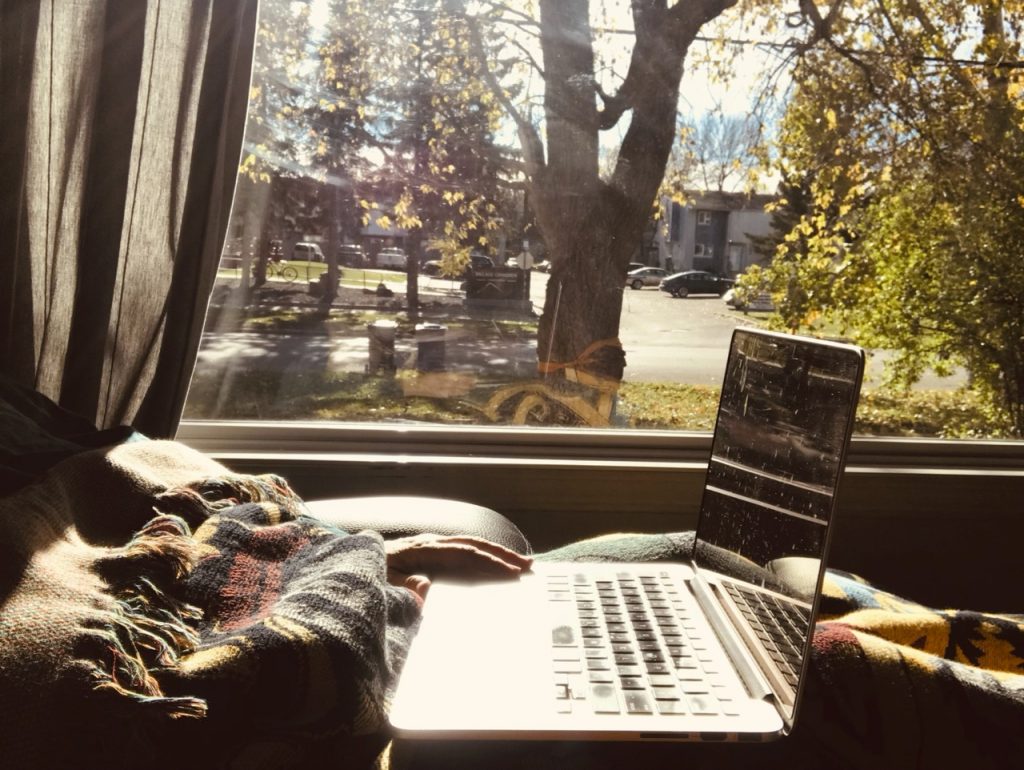 I want to write something for you today, dear readers. I want it to be wise or gentle or provocative or joyful or challenging or peaceful. Or maybe it can be all of that at once – whatever you need it to be.
I want it to stir something in you, to touch a tender part of you, to make you feel less alone, to awaken your passion. I want it to sparkle with originality, to shine with inspiration, to bubble with truth.
I want my words to create a warm cave for you to crawl into, where you will feel cozy and safe. Or maybe they can be a torch that you will carry with you when you step into dark places. Or perhaps a buffet table overflowing with goodness that will nourish and delight you.
What do you need today, dear reader? I want my words to offer you a little of that.
I am sitting by my window, watching yellow leaves flutter in the breeze, hoping inspiration will land in my heart and make its way to my fingertips. I want this because I want to send you a gift, with your name embossed on it, to remind you that we are connected and there is a thread that stretches from my heart to yours. To remind you that whatever you are going through, there is another person, perhaps on the other side of the world, who's thinking of you and wanting goodness for you.
But today the words aren't coming. Today there is only the dappled sunlight through the leaves. Today there is a mother on the sidewalk tugging her small son behind her in a blue wagon. Today there is this cozy blanket keeping my bare feet warm. Today there is the silence of a home without daughters. Today there are geese flying over my house to their winter homes in the south. Today there are feathery clouds in a blue sky and squirrels gathering provisions for the winter.
So, today, I will sit here in this gentle moment and send you kindness that doesn't need to be wrapped in words. I will send you hope and peace and a little of the magic I see outside my window. I will send you the courage and fortitude of the geese who have so far to travel. I will send you the joy of the little boy in the blue wagon. I will send you the resilience and resourcefulness of the squirrels gathering what they need for darker times. I will send you the peacefulness of the tree releasing its leaves to settle into the long rest of winter.
I will sit here in this sunlight and hope that some of the light will bounce off me and be reflected in your direction.
And I will hope that you, like the squirrels, can gather some of the goodness buried under my meagre words and store it up to feed you in the lean months.
******
P.S. Want to join me in a weekly circle of goodness? There's still time to sign up for the Holding Space Foundation Program.