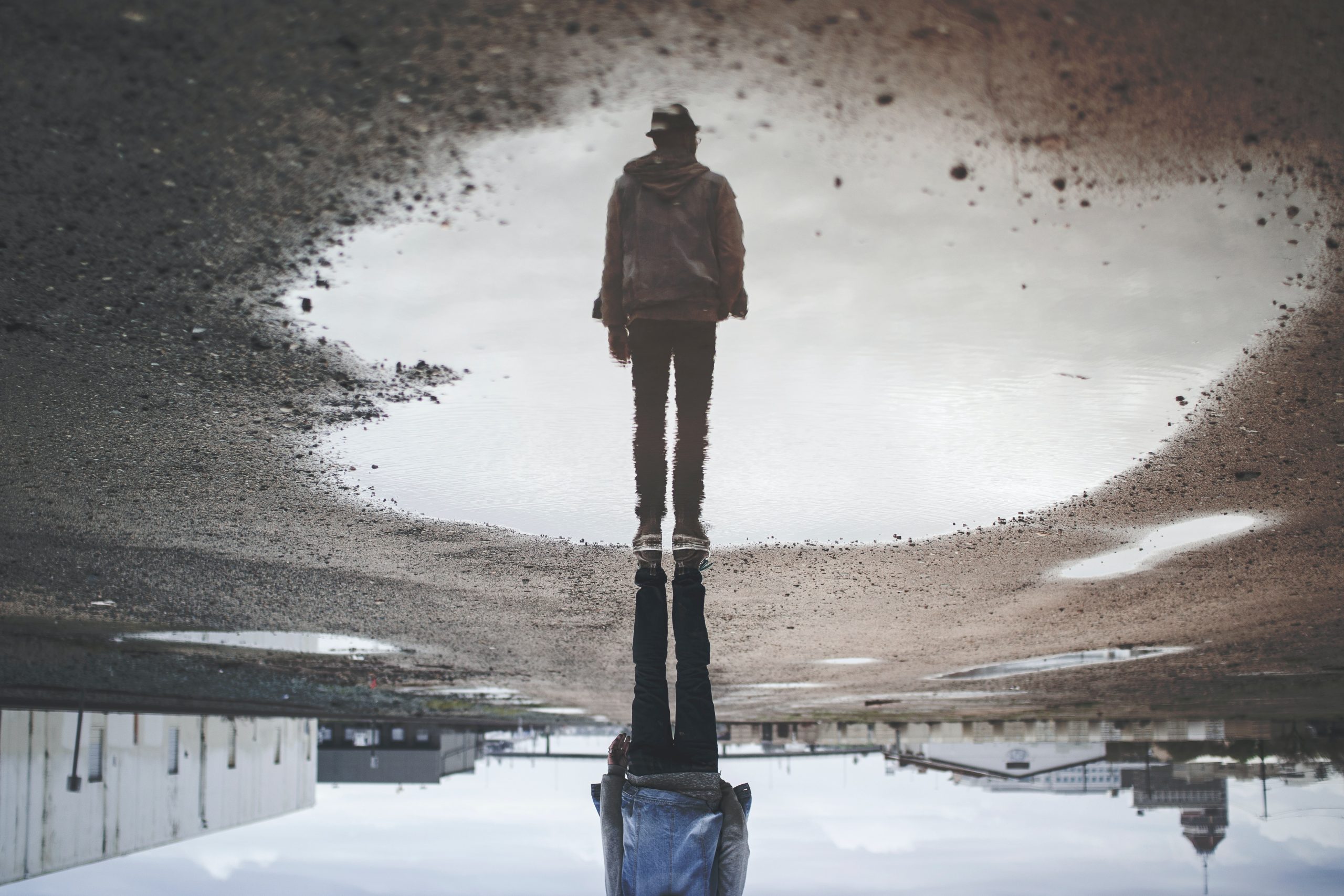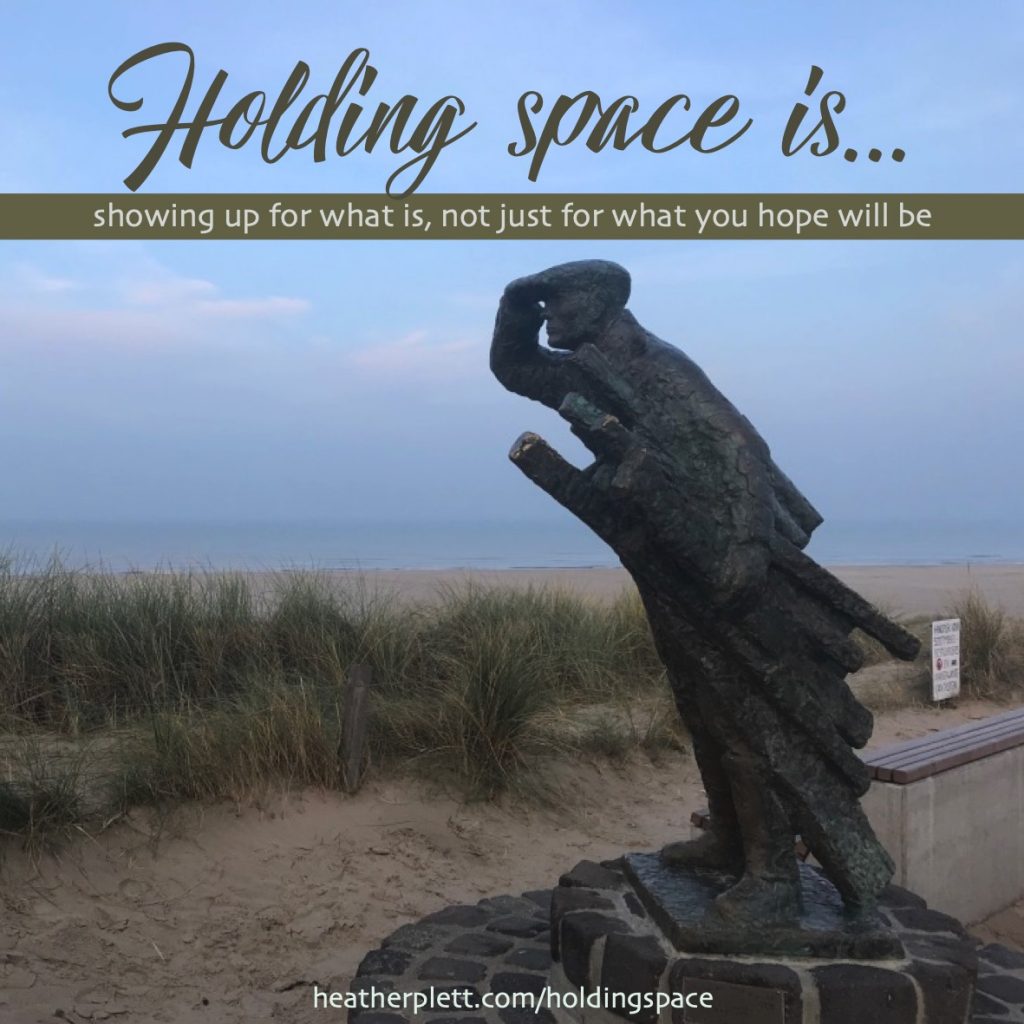 "Of all the losses experienced in personal relationships, ambiguous loss is the most devastating because it remains unclear, indeterminate." – Pauline Boss
When I teach about holding space, I almost always start by teaching about liminal space. It helps participants to have a more clear understanding of the depths and complexity of the space they're holding and the space they must journey through themselves.
Liminal space is the space between stories. It's a term that emerges out of an anthropological study of rituals that mark a person's transition from one part of their lives to another. The "limen" is the empty space between who they once were and who they are becoming – like a vision quest for a young person going through a coming-of-age ceremony, for example.
To illustrate the liminal space, I talk about the cocoon phase of a butterfly transformation – it's the empty space in the middle in which the contents of a cocoon looks like neither the caterpillar nor the butterfly. It's a space of surrender, ambiguity, and usually a sense of lostness.
The more I teach it, though, the more I realize the limitations of this metaphor, largely because of the linear, goal-oriented transformation that it points toward. The intent of the cocoon is always to produce a butterfly. A butterfly is always the sign that the liminal space journey has been a "success". There is always (unless the cocoon is destroyed) one direction with one outcome in this transformation.
But what about when the liminal space journey does not result in a lighter, more beautiful creature that can fly? And what about when the liminal space emptiness becomes the pattern for the rest of a person's life?
Does EVERY liminal space bring a new story of freedom, flight, and beauty?
The answer is no. Life is never that simple. When a person is aging with dementia, for example, there is diminishing capacity and less and less freedom. And when a family member has gone missing or has gone to jail or become addicted to drugs there is no resolution and rarely a happy ending. And when a refugee leaves a beloved homeland and can never return, they live with a lifelong yearning for what cannot be reclaimed. And when a person must learn to function in a wheelchair they know they'll be in for the rest of their life, there is loss of mobility, autonomy and access to the things they love to do. None of these things offer a simple, linear destination.
Life is always more complex than a simple metaphor can reflect, so we take from it whatever it can offer and then look beyond it to find more complex truth.
Pauline Boss coined the term "ambiguous loss" to describe situations where there is no clarity, closure, or resolution. According to her, there are two types of ambiguous loss:
Type I: physical absence with psychological presence ( e.g., missing, disappeared, kidnapped, separated, military deployment)
Type II: psychological absence with physical presence (e.g., addictions, dementia, chronic mental illnesses: e.g., autism, depression, bi polar, schizophrenia, etc.)
"Due to the ambiguity surrounding the loss, individuals, couples, and families remain confused. Without comprehension, they can't make sense of their situation to cope. Without meaning, they can't find hope to help them move forward with their lives. They are simply stuck." (From the book Ambiguous Loss, by Pauline Boss) 
What is undeniable in these situations of ambiguous loss, even when the "after" story is much harder and more bleak than the "before", is that there is some kind of transformation. A person's life has been irrevocably changed. Even if the period of ambiguous loss ends (ie. a member of the military returns from deployment) there is change in the relationship and change in the individuals involved. I remember, for example, a friend who was married to a member of the military who said "When he's deployed, I have to get used to him being away, and then when I'm finally used to it, he returns and I have to get used to THAT. Whenever I get used to something, it changes." Her new life was one of impermanence and cycles of loss.
If only we could simply serve as cocoons when we hold space, knowing that a person will emerge better, stronger, and more beautiful after the liminal space journey. If only we could always bring hope to this work and not despair. If only life were more linear and less messy.
But if that were the case, I'd have to find other work, because little of what I teach would have any relevance. This work is only relevant BECAUSE the future is unclear and cocoons don't always result in butterflies.
Yesterday, for the umpteenth time, I was asked to define holding space, and what came out of my mouth, for the first time, was "Holding space is showing up for what IS, not for what we want it to be or what we will manipulate it into being." 
It's about letting go of the outcome. It's about showing up even when the grief is deep and messy and there is no happy ending. It's about surrendering rather than controlling. It's about learning to accept the non-linear nature of all of our lives.
When life gets messy and you are in a relationship in which you're holding space for someone who's experiencing this kind of complexity and ambiguity, here are some things to keep in mind.
Don't try to fix the grief. Whether it's a loss of mobility, the absence of a family member, or the loss of one's country, there will be grief involved, and it may be messier and stay around longer than you anticipate. Someone who's been displaced from their country, for example, may grieve that loss for the rest of their life. A comment like "at least you're safer here" doesn't help to diminish the loss.
Support (but do not impose) meaning-making. As Viktor Frankl teaches in Man's Search for Meaning, those people who find meaning in hardship and loss (in his case, concentration camps) have the greatest ability to survive and thrive in spite of it. When, for example, someone who lost a family member to drug addiction uses their experience to support others on the same journey, it can help them to not drown in the grief they still carry. But don't try to make meaning for them – they have to arrive at it in their own timing.
Practice mindfulness as a way of letting go of attachment to the outcome. A mindfulness practice of some kind (and I give no prescriptions, because it looks different for everyone) teaches us to notice what is present and then to release it without judgement or attachment. One of the mantras I adopted early on is this work that has sustained me through many moments when I desperately wanted control is "The outcome is not my responsibility." Show up for what's needed in the moment, and let the rest go. You are not God.
Keep showing up. Many people, when they experience great loss, disability, chronic illness, etc., also experience the loss of friendships. The relationship has changed because the things that you can do together may have changed, or you don't know how to be present in a situation that you can't fix, or you're afraid of doing or saying the wrong thing. Your own fear of change or the loss that you have experienced because of the change in your friend makes it hard to show up. But your consistent presence may be one of the things this person relies on to help them survive this liminal space. You may not know what to do or what to say, but your presence often speaks louder than words.
Don't lose your sense of humour. Of course, you don't want to make inappropriate jokes at a funeral or at someone's hospital bedside, but there's also a good chance that your friend needs you to bring some laughter into the space. A sense of humour helps to build a resilient spirit, so don't be afraid to laugh with a person who may be tired of all of the sombre people they're suddenly surrounded by. They will likely appreciate the normalcy of it in the middle of what feels like an upended life.
This is far from a perfect science. There is plenty of ambiguity and each situation is different. Each person is different, too, so the best you can do is to be humble, offer what you can, and let love be your guide.
*****
For more on this topic, I recommend this podcast on The Myth of Closure, with Pauline Boss.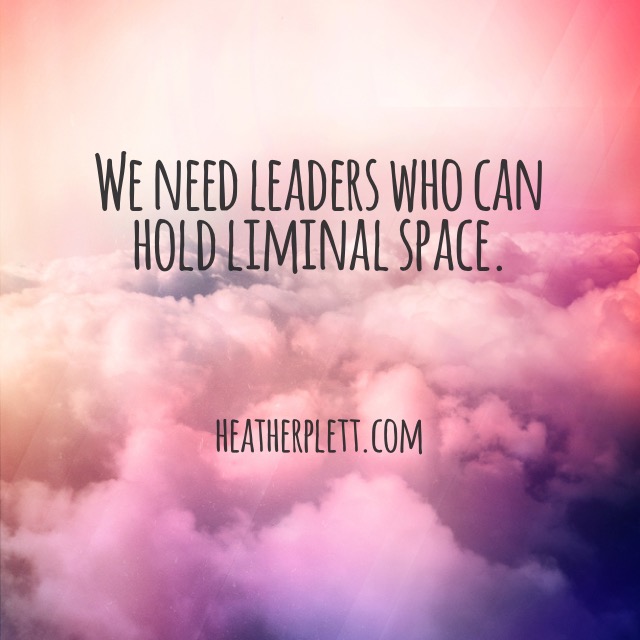 "Can't you just give us clear direction so we know what's expected of us?" That question was asked of me ten years ago by a staff person who was frustrated with my collaborative style of leadership. He didn't want collaboration – he simply wanted direction and clarity and top-down decision making.
What I read between the lines was this: "It makes me feel more safe when I know what's expected of me." And maybe a little of this: "If you're the one making decisions and giving directions, I don't have to share any collective responsibility. If anything goes wrong, I can blame the boss and walk away with my reputation intact."
I didn't change my leadership style, but it made me curious about what different people want from leadership and why. While that staff person was expressing a desire for more direction, others on my team were asking for more autonomy and decision-making power. It seemed impossible to please everyone.
I've been thinking back to that conversation lately as I watch the incredulous rise to power of Donald Trump. No matter how many sexist or racist comments he makes, no matter how many people with disabilities he makes fun of, and no matter how many small business owners he's cheated, his support base remains remarkably solid. As he himself has said, he "could shoot someone and not lose votes". (I'm glad I'm no longer teaching a course on public relations, because he's breaking all of the "rules" I used to teach and getting away with it.)
It seems implausible that this could happen, but this article on Trump's appeal to authoritarian personalities helps me make sense of it. 
"'Trump's electoral strength — and his staying power — have been buoyed, above all, by Americans with authoritarian inclinations,' political scientist Matthew MacWilliams wrote in Politico. In an online poll of 1,800 Americans, conducted in late December, he found an authoritarian mindset — that is, belief in absolute obedience to authority — was the sole 'statistically significant variable' that predicted support for Trump."
"Authoritarians obey," says the author of the study, "They rally to and follow strong leaders. And they respond aggressively to outsiders, especially when they feel threatened."
Authoritarians hold strong values around safety, and they expect a leader to give them what they need. They don't mind following a bully, as long as that bully is serving THEIR needs for security. Hence the popularity of Trump's proposals to build a wall on the Mexican border and to keep Muslims from entering the country, and the way his supporters cheered when he told security to throw the protestors out of the places where he was campaigning. He makes his supporters feel safe because he won't hesitate to rough up "the enemy". They might even put up with some of the bullying directed at people like them (hence the surprising tolerance of Trump's behaviour among his female supporters) if it means those who threaten them are kept at bay.
Where does an authoritarian mindset come from? According to the article quoted above, there is evidence that it is passed down from one generation to the next. Religious views can also play a strong role. Those who were conditioned by upbringing and religion to obey the authority figures at all cost are more likely to vote for someone who reflects that kind of leadership. If you grew up never allowed to question authority, no matter how illogical or unbalanced it might seem, then you are more likely to have an authoritarian mindset.
There is also a correlation with how fearful a person tends to be. Those who are, due to personality and/or conditioning, frequently motivated by fear, will be more inclined to trust an authoritarian leader because the clear boundaries such a person establishes is what makes them feel more safe.
Also, it cannot be denied that an authoritarian mindset is associated with a lack of emotional and spiritual development. As Richard Rohr says in Falling Upward: A Spirituality for the Two Halves of Life, those who still cling to the black and white, right and wrong of authoritarianism are choosing to stay stuck in the first half of life. "In the first half of life, success, security, and containment are almost the only questions. They are the early stages in Maslow's 'hierarchy of needs.' We all want and need various certitudes, constants, and insurance policies at every stage of life." Stepping into "second-half-of-life" involves a lot more grey zones and ambiguity, so it's a more frightening place to be.
Does it matter that some of us prefer authoritarian leadership over other styles? Shouldn't the rest of us simply adapt a "live and let live" attitude about it and not try to change people? Don't we all have a right to our own opinions?
Though I am deeply committed to holding space for people in a non-judgemental way (and I tried to create that environment when I was leading the people I mentioned above) I am convinced that it DOES matter. Yes, we should respect and listen without judgement to those who look for authoritarianism, and we should seek to understand their fear, but that doesn't mean that we should allow their fear and social conditioning to make major decisions about who leads us and how we are lead. That authoritarian mindset is a sign of an immature society and it is holding us back. It must be challenged for the sake of our future.
Around the same time as my staff person asked for more authoritarian leadership from me, I was immersing myself in progressive teachings on leadership such as The Circle Way, The Art of Hosting, and Theory U. These methodologies teach that there is a "leader in ever chair", that the "wisdom comes from within the circle", and that "the future is emerging and not under our control". Though these models can (and do) function within hierarchical structures, they teach us to value the wisdom and leadership at ALL levels of the hierarchy.
Margaret Wheatley and Deborah Frieze (two people I had the pleasure of studying with in my quest for a deeper understanding about leadership), in this article on Leadership in the Age of Complexity and in their book Walk Out Walk On, say that it is time to move from "leader as hero" to "leader as host". 
"For too long, too many of us have been entranced by heroes. Perhaps it's our desire to be saved, to not have to do the hard work, to rely on someone else to figure things out. Constantly we are barraged by politicians presenting themselves as heroes, the ones who will fix everything and make our problems go away. It's a seductive image, an enticing promise. And we keep believing it. Somewhere there's someone who will make it all better. Somewhere, there's someone who's visionary, inspiring, brilliant, trustworthy, and we'll all happily follow him or her."
This style of leadership may have served humanity during a simpler time, but that time is past. Now we are faced with so much complexity that we cannot rely on an outdated style of leadership.
"Heroic leadership rests on the illusion that someone can be in control. Yet we live in a world of complex systems whose very existence means they are inherently uncontrollable. No one is in charge of our food systems. No one is in charge of our schools. No one is in charge of the environment. No one is in charge of national security. No one is in charge! These systems are emergent phenomena—the result of thousands of small, local actions that converged to create powerful systems with properties that may bear little or no resemblance to the smaller actions that gave rise to them. These are the systems that now dominate our lives; they cannot be changed by working backwards, focusing on only a few simple causes.  And certainly they cannot be changed by the boldest visions of our most heroic leaders."
Instead of heroes, we need hosts. A leader-as-host knows that problems are complex and that in order to understand the full complexity of any issue, all parts of the system need to be invited in to participate and contribute. "These leaders‐as‐hosts are candid enough to admit that they don't know what to do; they realize that it's sheer foolishness to rely only on them for answers. But they also know they can trust in other people's creativity and commitment to get the work done."
A leader-as-host provides conditions and good group process for people to work together, provides resources, helps protect the boundaries, and offers unequivocal support.
In other words, a host leader holds space for the work to happen, for the issues to be wrestled with, and for the emergence of what is possible from within the circle.
Unlike a host leader, an authoritarian leader hangs onto the past as a model for the future. Consider Trump's "Make America Great Again" slogan. Instead of holding space for emergence, he knows that his support base clings to the ideal of a simpler, more manageable time. It's not hard to understand, in this time of complexity, how it can feel more safe to harken back to the past when less was expected of us and the boundaries were more clear (even if that meant more racism and less concern for our environment). Don't we all, for example, sometimes wish we could be back in our childhood homes when all that was expected of us was that we clean up our toys before bedtime?
But we "can't go back home again". The future will emerge with or without us. We can only hope that the right kind of leadership can and will arise (within us and around us) that will help us adapt and grow into it. If not, our planet will suffer, our marginalized people will continue to be disadvantaged, and justice will never be served for those who have been exploited.
In his book, Leading from the Emerging Future, Otto Scharmer talks about leadership not being about individuals, but about the capacity of the whole system. "The essence of leadership has always been about sensing and actualizing the future. It is about crossing the threshold and stepping into a new territory, into a future that is different from the past. The Indo-European root of the English word leadership, leith, means 'to go forth,' 'to cross a threshold,' or 'to die.' Letting go often feels like dying. This deep process of leadership, of letting go and letting the new and unknown come, of dying and being reborn, probably has not changed much over the course of human history. The German poet Johan Wolfgang von Goethe knew it well when he wrote, 'And if you don't know this dying and birth, you are merely a dreary guest on Earth.'"
What he's talking about is essentially the liminal space that I wrote about in the past. It's the space between stories, when nobody is in control and the best we can do is to hold space for the emerging future. We, as a global collective, are in that liminal space in more ways than one and we need the leaders who are strong enough to support us there.
With Wheatley and Scharmer, I would argue that an important part of our roles as leaders in this age of complexity is to hospice the death of our old ideas about leadership so that new ideas can be born. Authoritarianism will not serve us in the future. It will not help us address the complexity of climate change. It will not help us address racial or gender inequity. 
We need leaders – at ALL levels of our governments, institutions, communities, and families – who can dance with complexity, play with possibility, and sit with their fear. We need leaders who can navigate the darkness. We need leaders who can hold seemingly opposing views and not lose sight of the space in between. We need leaders who know how to hold liminal space. 
This is not meant to be a political post, and so I won't tell you who to vote for (partly because I am Canadian and partly because I'm not sure any candidate in any election I've witnessed truly reflects the kind of leadership I'm talking about – they are, after all, products of a system we've created which may no longer work for the future).
Instead, I will ask you… how is this style of leadership showing up in your own life? Are you serving as host or hero? Are you holding space for the emerging future? And are you asking it of the leaders that you follow and/or elect? Or are you still clinging to the past and hoping the right hero will ride in on a white horse to save us?
It's time to stop waiting. There are no heroes who can save us. There is only us.
* * * * * *
Note: If you're interested in exploring more about what it means to have "a leader in every chair", consider joining me and my colleague, Sharon Faulds, for a workshop on The Circle Way, November 24-26. 
Interested in more articles like this? Add your name to my email list and you'll receive a free ebook, A Path to Connection and my bi-weekly reflections.