In honour of the release of Fall Reflections: A mindfulness journal, I'm sharing these ten tips. For some who are just beginning a journal writing practice, they may offer a place to start. For others they may offer enhancement to an ongoing practice.
1. Start with the facts, then move to the feelings. Begin by describing the details of your day. What did you do, who did you see? As you write, consider how you responded emotionally to whatever happened.
2. Try a stream-of-consciousness style of writing. Just write the next thing that comes to mind. If you're writing about the conversation you had with your mom, for example, a question might suddenly come to mind about something your mom said. Write it down. Don't censor. Just write.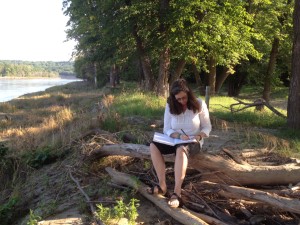 3. Keep it simple and don't edit. Your journal is not a place to prove you should be the next poet laureate. It's about the process, not the product. Use simple language, and write what comes to mind rather than over-thinking what words to use.
4. Keep the "shoulds" out of it. Your journal is a place to be honest with yourself, not a place to try to reform yourself into what you think you should be. Simply write how you feel and what you think rather than filtering it with what you think you SHOULD think or feel. There's enough of that self-filtering when you talk to others and it doesn't belong in a journal that's meant for your eyes only.
5. When you're trying to work through internal conflict, try writing a dialogue with yourself. If, for example, there's part of you that wants to go on a trip and another part of you that thinks it's a bad idea, write as though those are two separate people having a conversation back and forth.
6. If the blank page scares you, use journal prompts to help you get started. Fall Reflections or Summer Lovin' might be a good place to start. Or you could choose to start each day's entry with the same simple journal prompt such as "My wish for today is…" or "Five words to describe this day are…" or "The things I want to remember about this day are…"
7. Try keeping a list every day. It could be a list of ten things you're grateful for each day. Or five ways that you were kind to others. Or three ways that you stood up for yourself. Consider what would help you in your personal growth (gratitude, confidence, courage) and create a list prompt around that theme.
8. Find a routine that works for you. Some people write morning pages (filling 3 pages with stream-of-consciousness) every day. Others set aside half an hour each day for journal-writing. Sometimes I suggest to my coaching clients that they simply sit with a pen in their hand for ten minutes each day and see what emerges. (If it's just doodling some days, that's perfectly fine!) You have to find what works best for you, or you won't sustain it.
9. Find the right pen and journal combination that works for you. I love sturdy, attractive journals, and so I give myself permission to splurge a little each time I buy a new one. I also love to write in colour (and change colours on a whim) so I write with fine tip Sharpie markers. You, on the other hand, may love expensive pens but are content with the kind of notebook you used in elementary school. Experiment until you find what makes you happy.
10. Take your journal with you. You never know when you'll want to write things down, so it's a good idea to carry it with you on the bus, to the coffee shop, on a trip – wherever you go. If your journal is too big, consider having a smaller secondary notebook in your purse or backpack.
Finally, just be yourself and write what you want to write. There is no wrong way to do this! Just start wherever you are, write in your very own style, and don't do it to please anyone else but yourself.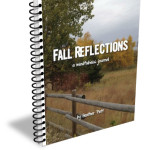 p.s. For only $10, you can download Fall Reflections and you'll have 60 journal prompts to get you started. If you want to go even deeper with your writing, my next Openhearted Writing Circle will be October 4, 2014.