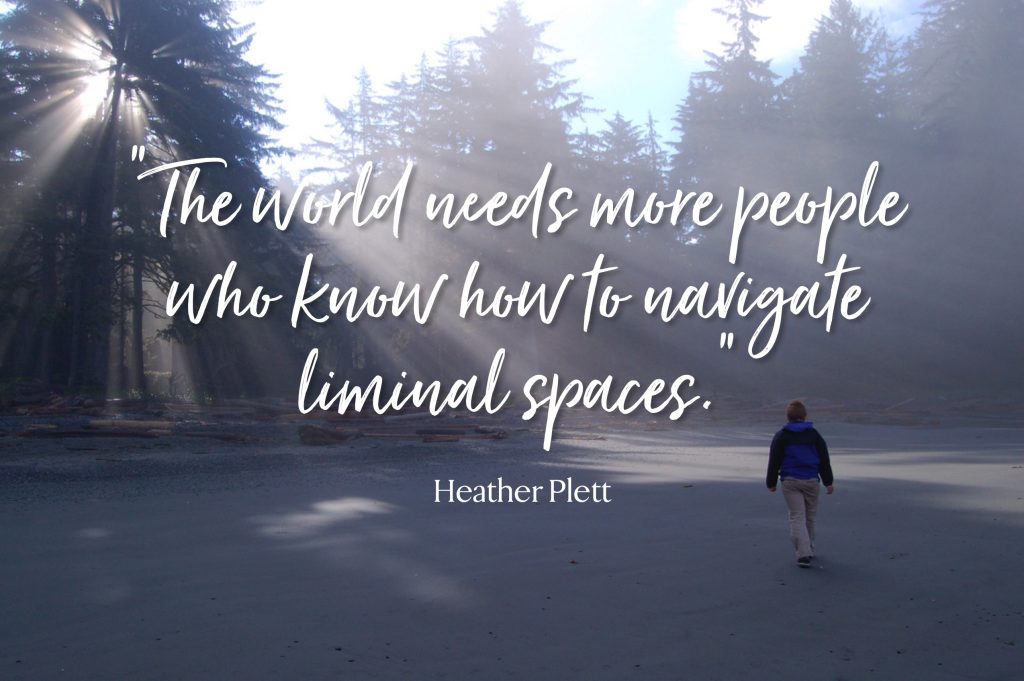 Listen to Heather read the post:
There's a place I love to walk. I discovered it at the beginning of the summer, when my daughters and I rented a little house in a different neighbourhood of the city than where we'd lived before. It's a low-lying area along the Red River, ending where it meets the Seine River. It's an area that's frequently flooded in Spring when the rivers swell their banks. You can see the marks of past floods on the trunks of the trees that are rooted there.
I love this place because it feels liminal – a space between two realities. Sometimes it is solid land, sometimes it is part of the river, and sometimes it is covered in thick, gooey mud after the water has subsided. It's special (and somewhat mystical) partly because I can only navigate it when Mother Nature gives me permission. Whenever it is wet, I have to walk a different path on higher ground.
I have a greater propensity for liminality than most people. I go seeking it in nature and in life because I want to understand it, to know it as deeply as I can even though its very nature is to remain always somewhat unknowable. There's a mystery that draws me to it, and so I make choices that seem baffling to many because a strange siren call beckons me toward this mystical place.
In anthropology, liminality is the quality of ambiguity or disorientation that occurs in the middle stage of a rite of passage. It's a space of transition, threshold, ritual, and quest. In most of the literature about it, liminality is a temporary place that has an end-point – a place we eventually emerge out of when our new story begins. It's what happens when we lose our job, a loved one dies, or we move through puberty into adulthood.
According to Victor Turner, one of the pre-eminent early writers on the subject, liminality can have three dimensions – a moment, a period, or an epoch. Momentary liminal spaces are sudden events, like death, divorce, or illness. Periodic liminal spaces are stages of life, like puberty or the shift into elderhood. Epochal liminal spaces are those that last a lifetime, like when someone steps out of or is exiled from society (monkhood, for example). (Source: The Uses and Meaning of Liminality)
At least in Turner's early work, there is some apparent judgement of epochal liminality. He talks of "stuckness", "failed ritual" and "danger". These qualifying words seem to miss out on the beauty of what is offered from this place of suspended liminality. What about those of us who feel called to lives of liminality? Those of us who live as edgewalkers and wanderers, always witnessing society but never being fully part of it? What about the value of the lessons we learn there? What of the gifts we offer to those who don't spend their lives in quest as we do?
I don't know why liminality is so deeply embedded in who I am. I don't know why I seek it out in such an intentional way that I sold my home last year (as soon as my daughters moved away) and have been nomadic ever since. Perhaps if I were more connected to my own ancient indigeneity, if it hadn't been so intentionally trained out of me by colonization, religion, and patriarchy, I would have a better understanding of the purpose and calling in this restlessness. Perhaps I would see myself (and the society I live in would see it too) as some kind of medicine woman, explorer, alchemist, or guide. Perhaps there would have even been a ritual way of commissioning me into it – a robe placed across my shoulders, perhaps, and a walking stick offered for the journey.
What I DO know, after years of doubting my purpose, years of wondering why I didn't fully know what it meant to fit in, and years of judging my restlessness, is that there is value in this calling. It may not be fully understood, in a culture that centres capitalism, colonization and consumerism and distances itself from spirituality and indigeneity, but it is necessary. Perhaps now more than ever, it is of value.
Now, when the world feels increasingly wobbly and the systems we've created that used to make us feel secure only add to the wobbliness, we need guides for the liminal spaces. We need people who have the resilience, resources, and capacity to skillfully navigate what is unknown and unknowable, people who understand the quest and aren't afraid to lead other people through it. We need people with courage and strength to face the uncertainty.
Several years ago, around the time I was leaving my full-time employment to set off on this quest called self-employment, I heard a speaker at a conference say, "The world needs more people who know how to navigate in the dark." In that instant, the whole world went still and everyone else in the room disappeared. I knew she was talking directly to me. I was very much "in the dark" at that moment, having quit my job just after my then-husband attempted suicide. As much as I felt lost and overwhelmed at that time, though, I had a strong sense that there was something in me that was being strengthened by the darkness for a higher purpose. I'd felt it years earlier, too, when my stillborn son Matthew was born and I felt oddly at peace and empowered as I navigated the darkness and grief of that time.
Perhaps that moment, when the whole room went still and I heard the words of the speaker as a clarion call, was my modern-day version of a commissioning into this work. Perhaps that was my invitation to stop doubting myself and step fully into the confidence that this work was calling me. Not long afterward, I started the work that would eventually lead to my first book and the Centre for Holding Space. I have been faithful to the calling ever since.
Lately I've had some new thoughts about liminality and about the value and purpose of this space. It occurs to me that liminality is not just the space in between "what was" and "what will be", but it's the space between polarities. It's the space between black and white, good and bad – even male and female. It's the space of "transition", "transcendence" and "transness". It's the curved line on the yin-yang symbol
In liminality, old boxes, definitions, polarities, beliefs, and dogmas fall apart. That can feel like a scary and destabilizing place to be. We can't make sense of this new space from within the limitation of our old version of sense-making. We try but we always fail. Often, we try to put the genie back in the bottle but the genie refuses. The genie is a lover of freedom.
I believe this is part of the reason why the rights of trans people have become such a focal point recently (at least here, in North America). Trans people represent liminality – the space in between male and female – and many people want to put "the genie back in the bottle". For those people, the world makes more sense, and it feels safer if gender exists only on a binary.
Many people bemoan the fact that more and more people are coming out as trans and that there is greater and greater demand for gender-affirming care. These people have constructed a belief that there is a "gay agenda", that drag queens are grooming young children into gay lifestyles, and that providing more supportive spaces in schools for trans youth is a threat to family rights. I hear the fear of liminality in these people – they want to return to what they believe was a world that made sense and where they could keep their children safe.
I have a very different view of this issue. I feel hopeful that more and more people are seeing themselves for who they truly are, outside of the definitions and binaries that once boxed them in (and that we, as a culture, were addicted to). I am encouraged by those who find themselves in "epochal liminality", outside of the limitations of linear, binary thinking. Just as I resisted the language of "stuckness", "failed ritual" and "danger" in the anthropological literature, I am much more inclined to see the beauty and value of what is transpiring and to challenge the resistance.
This form of liminality is not without precedent among non-human animal species. In an episode of the podcast, You're Wrong About, there's a fascinating exploration of queer animals, including an island with an unusually high percentage of lesbian seagulls. According to the research done by the podcast host, our awareness of how much queerness shows up in animals is limited largely because there is fear and lack of funding that limits the research.
I am hopeful that that is changing and that, despite the political push to "put the genie back in the bottle", there is increasing openness to the liminality of queerness. I am delighted to be witness, for example, to the ways that my daughters and their circles of friends explore gender and sexuality. There's a playfulness there, an openness to possibility. They inspire me to explore it for myself as well, to step into liminality with them. I don't feel any of the fear that I might have in my younger, more religious days (or that I witness in some of my friends).
I believe that trans people, and all others across the 2SLGBTQIA+ spectrum, have a gift to offer the world from their place of liminality. I believe that many have gained wisdom from their own personal quests that the rest of us can benefit from. By removing themselves from the boxes that once confined them, they are modeling what it can look like to no longer be confined by the systems we've created and that now harm us. I believe that instead of resisting and marginalizing them, we should be listening and paying attention.
I feel similarly about the number of us who are now identifying as neurodivergent. There is freedom in exploring what it means to remove ourselves from what is seen as "normal". There is gift and possibility when we step out of the frame ourselves, or when we listen to those who do.
Bayo Akomolafe once said, in a conversation in which he talked about the neurodivergence of his son, that "whiteness attempts to flatten everything" and I hear the truth of that. Systems of dominance, like white supremacy, colonization, and patriarchy, attempt to flatten us, to put us all in boxes and to keep us there. Those of us who live in the liminal spaces are forced to reside in spaces that feel more safe for the dominant culture. We lose our uniqueness, we lose the ceremonies that celebrate and empower us to step into our special areas of giftedness, and we are forcibly distanced from our own internal sources of wisdom.
When we break out of those boxes and see ourselves outside of the lenses of those systems, when we enter the liminality of a world that's less definable, we bring dimension and possibility back to a flattened world. Instead of marginalizing those people who live in liminality, we should be embracing them, calling on their wisdom and gathering around them in the public square.
I want to say to those people who find themselves embracing their own liminality (whether that is in their queerness, their neurodivergence, or some other way), in much the same way as I heard from that speaker several years ago, that "the world needs more people who know how to navigate liminality".
The world needs YOU, my friend, even if you're currently feeling lost and overwhelmed and wounded by frightened people. The world needs you to continue to be true to yourself despite the efforts to put you back in a box (or a closet). The world needs you to be courageous and strong even when there are those who fear for your safety.
The world is changing and we need new skills for this changing world. One of those skills is the ability to navigate liminal spaces. Who better to guide us than those who are, by their very nature, liminal?
****
Strengthen your capacity for liminal spaces in our online program, How to Hold Space Foundation Program