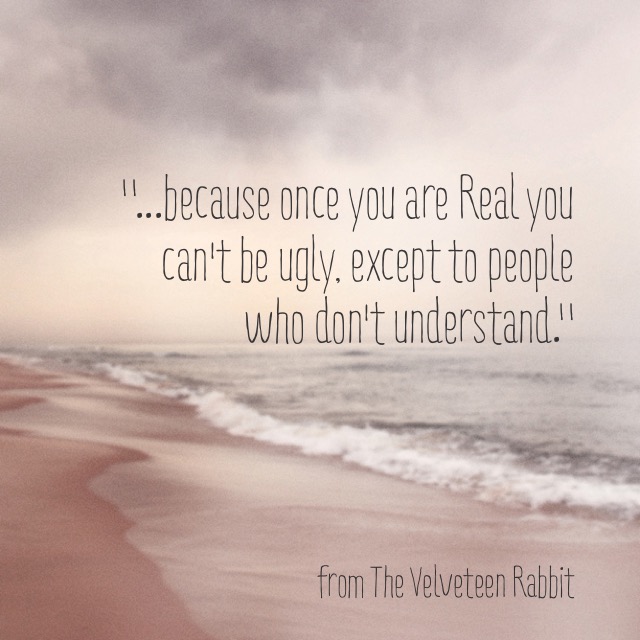 I wrote a very personal post recently for The Helpers' Circle about how much I struggle with The Fear of Letting People Down (and how I've learned to talk myself out of it). Here's a quote from that post…
"My Fear of Letting People Down started at a young age. I became very practiced at being The Good Girl, the one who didn't show her anger, who took responsibility for her work and did it well, who didn't rock the boat and who could be depended on at all costs. I needed people to be happy with me – to notice my good work and to not get angry. When people were pleased with me and nobody was angry, my world felt safe."
After writing it, I was thinking about how many things get in the way of our quest for authenticity – fear, shame, duty, etc.. In almost every conversation I have, whether in coaching sessions or workshops, I hear a deep longing for greater authenticity, and almost always a deep sadness that the path to authenticity seems so treacherous and never-ending. And the fear always keeps us company… the fear of letting people down, the fear of embarrassing ourselves, the fear of rejection, the fear of judgement, the fear of falling flat on our faces, and the fear of being alone.
We want to be real. We want to be true to ourselves. We want to be bold in being who we truly are. And yet… so much gets in the way that sometimes it seems impossible. There are bills to pay, people to please, rules to follow, wounds to protect, and shame to hide.
Why is that the case? Why have we found ourselves in a culture that is so hell-bent on making people live inauthentic lives?
I don't think there's a straightforward answer to that question. It's probably a nature+nurture thing. At least some of it can be connected to the materialistic lifestyles we've adopted – a function of living in a production-oriented, economy-driven world. Shiny things are the most desirable, and so we make ourselves more shiny.
But there's also something else, and it's about love.
Not long after I wrote the piece for The Helpers' Circle, I interviewed my friend Lianne Raymond (who knows a great deal about psychology and child development) for one of the monthly interviews I'm sharing in the circle and Lianne said something quite profound that cracked open something new for me in this regard.
"Given a choice between authenticity and love, a child will always choose love."
Wow. She's right! That's where it all begins! From the very first time we open our eyes and seek out our mothers' smiles, our primary quest is for love. Love is the foundation – the ground we learn to walk on. From the moment we slipped out of the womb (and before), we needed it nearly as much as we needed the air we breathed. We did everything we could to get that love, even if it meant gradually giving up pieces of ourselves to please the person whose love we sought.
A world in which we were loved is a world in which we are safe.
Even good parents and guardians can unintentionally attach behaviour to love. I remember my own mother (who did so many things right) used to say things like "if you love me, you'll wash the dishes". And though I haven't used those same words, I know there are moments I unintentionally make it clear to my daughters that it's easier to love them when I see certain behaviour. We are all flawed in this effort to love each other.
Whether it was to please our parents, our teachers, or our peers, we quickly learned, as children, what behaviour brought us the most love and what behaviour resulted in that love being withheld. We adapted, we conformed, and we sacrificed. Some of us never really got the love we were seeking, and so the world became a very unsafe place. We didn't know how to behave because nothing we did brought us the love we so badly needed.
Somewhere along the way, we forgot what it meant to be real. We only knew what pleased or displeased the people whose affections we craved. And some of us, raised in volatile or unstable environments, knew how to run for cover or to morph ourselves into whatever shapes would best protect us.
Then one day we grew up and didn't recognize ourselves anymore. We saw only strangers looking back in the mirror at us. We realized that, instead of being authentic, we had become composites of all of the behaviours that other people expected of us.
To reveal the real work of art, hidden under the collage of other people's expectations, takes a lot of courageous effort. Every layer we peel away reveals a tenderness, a shame, a wound. Every step we take to recovering our authenticity puts us at risk. We may be shamed for it, we may be rejected, we may not be loved. The little child in us shrieks "YOU CAN'T DO THAT! You're breaking the rules! You need to be loved! You need to be safe!"
But "safe" begins to feel like "stuck" and we long for more. We long for truth. We long for freedom. We long for ourselves.
Gradually, those of us who finally decide that authenticity is the only way we can truly live, realize that we have no choice but to break the rules. We have no choice but to risk being unloved. We have no choice but to give up the safety we worked so hard to find.
After much agony, fear, and faltering, those of us who find the courage come back to ourselves. Many of us lose people along the way – we lose those people who only know how to love us when we behave in a certain way. But we find other people. We find people who are on similar paths to authenticity and we realize that we can cobble together new families and new communities that hold space for us no matter how we behave.
Finally, we find a new kind of safety – one that is rooted in real love, not conditional love – and in that place of safety, we unfurl into whoever we are meant to be.
It may never be perfect (even now I sometimes find myself hiding parts of myself from those whose love I value most because I don't want them to reject me), but it feels a little closer to being Real.
* * * * * *
p.s. To see the interview with Lianne or to read the post I mentioned, about The Fear of Letting People Down, you'll have to become part of The Helpers' Circle.
Interested in more articles like this? Add your name to my email list and you'll receive a free ebook, A Path to Connection and my weekly reflections.