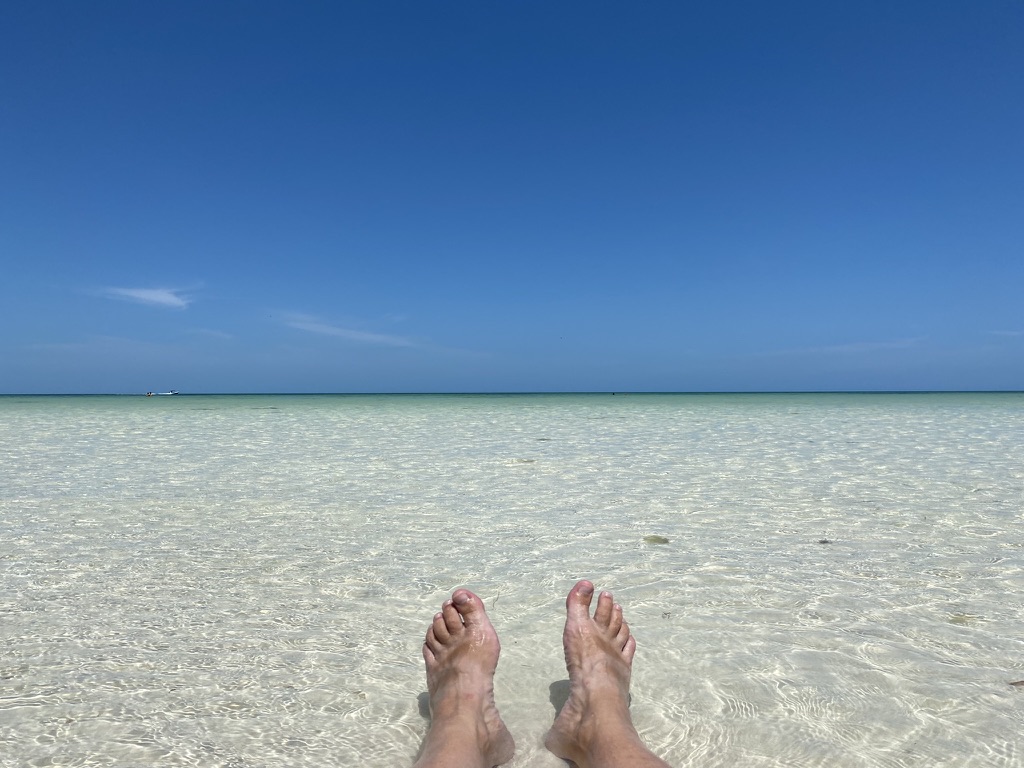 "Liminal space is an inner state and sometimes an outer situation where we can begin to think and act in new ways. It is where we are betwixt and between, having left one room or stage of life but not yet entered the next. We usually enter liminal space when our former way of being is challenged or changed—perhaps when we lose a job or a loved one, during illness, at the birth of a child, or a major relocation. It is a graced time, but often does not feel 'graced' in any way. In such space, we are not certain or in control." – Richard Rohr

The first time I came across the concept of liminal space (I believe it was in the book Falling Upward, by Richard Rohr), I felt an instant connection to the concept. Liminality helped to explain so much of my life at the time. I'd let go of some of the stories of my past and was stepping into the unknown, not yet knowing what lay on the other side. I was leaving things that felt relatively firm and familiar – marriage, career, church, etc. – assuming I'd find something that felt similarly firm and familiar on the other side once I'd gotten through the wobbliness of the liminal space in between.

Readers of my book, The Art of Holding Space, will know that I use the metaphor of the chrysalis to explain the concept of liminal space. A caterpillar leaves the life she has known, surrenders to the gooey mess of the chrysalis, and waits to become something new, not really knowing that the butterfly life is in her future but trusting the process nonetheless.

That metaphor made a lot of sense to me then, when I was releasing old stories and trusting that there would be an "other side". But now… well, my understanding of liminality continues to evolve and I'm no longer as attached to that metaphor as I once was. I think it tells only part of the story of liminality and it's time for the next iteration.

Last summer, after my children had moved away, I sold my house and intentionally thrust myself into liminal space, becoming a digital nomad in Europe and Central America, not knowing for certain what would be the "butterfly" version of the "end" of my journey. I thought at some point, I'd have an epiphany about where I wanted to live for the next part of my life and what my life would be like. Just like in the past, when I left my marriage, church, and career, I assumed I'd find something that felt firm and familiar on the other side. In the meantime, I spent time exploring different places and paying attention to what the "soft animal of my body" loves.
What I didn't anticipate, when I set out on my liminal quest, is that the greatest value in the experience would have nothing to do with the butterfly life on the other side, but everything to do with liminality itself.
In other words, liminality is THE WHOLE POINT. Liminality isn't just the process, it's the new destination. I wasn't preparing myself for an end point, I was becoming more liminal.  
What I'm beginning to understand, on a deeper level, is that ALL OF LIFE is liminal and the best we can do is learn to accept the liminality and become more adapted to it. Instead of telling ourselves "this wobbliness is temporary and there will be something stable, familiar, and predictable on the other side", we are better off finding stability within ourselves so that the instability of liminality does not cause as much disruption and struggle in our lives.

This has probably always been true, on some level, but it is especially true in this moment in history when things like climate change, a pandemic, and increasing political unrest are causing almost daily disruptions in our lives and will likely do more and more so in the future. Our lives are wobbly and unpredictable. We can't find solid ground on which to land. So, what's the alternative? Learning to adapt to liminality.

When I started to examine the metaphor I've been using for liminality, I realized that even while embracing the concept wholeheartedly, I was still attached to a linear, binary view, where there is a "here" and a "there", an "old story" and a "new story". That doesn't feel sufficient anymore. Perhaps a better metaphor, one that I've explored in the last few months as I've spent a lot of time by the ocean, is the shoreline, where you can be standing on dry land in one moment, and up to your knees in water the next. It is neither land nor sea, but both/and. Liminality is a place of flux, where you are always becoming and releasing, evolving and adapting.

Not only does an expanded understanding of liminality help us make sense of a world that feels unstable and unpredictable, it can also help us evolve our thinking in areas where we tend to get stuck in binary thinking. Take gender, for example. If we learn to become liminal thinkers, we no longer need to see all people divided into two clear genders, male and female. We can accept that there is, in fact, a broad spectrum of genders and to try to fit people into boxes is to deny them of their full humanity.

Alok, one of the wisest teachers on this topic that I know of, said in this short video clip, "It's not just that the binary reduces the complexity of the world, but that it forces us into oppositional thinking. We're taught that there is one side and another side, but I think non-binary thinking allows us to hold harmony where other people see dissonance, to be able to say we can be both/and. We can experience incredible grief and sorrow and joy inside of that. We can feel so certain about something and still incorporate doubt. And that's, I think, what we need now in this world more than ever – to reject parsing the world into dichotomies, like here or there or like us or them. They hold us back from a more intimate and honest encounter with how the world is already both/and."

How, then, do we become more liminal? How do we adapt to the shoreline, accepting that we will live in that place indefinitely rather than assuming eventually the land will be stable again? I've given that a lot of thought, and instead of attempting to answer that question in this blog post, I've created a new course and a community where we can have conversations to explore it together. We are very near to launching that program (it should be available next week) and I look forward to exploring these questions with you