"Something is shifting in my life. I feel lost. Everything I once depended on and believed in feels unstable and unreliable. I don't know who I am anymore."
I hear some version of this story almost every week in my coaching work. Somewhere in the middle of their lives, women (and men, though I hear fewer of those stories) go through a period of transition when their world shifts and the ground feels wobbly under their feet. They've left behind an old story but haven't found themselves in the new story yet. They don't know how to define themselves anymore and they're not even sure they have much value.
The stories are almost always accompanied with tears and some measure of shame. They think they're doing it wrong. They think everyone else has it figured out. They think there's supposed to be a straight path between the old story and the new story. Or they think they were foolish and selfish for no longer being satisfied with the old story that once felt comfortable.
They've been fed a false narrative.
While still in high school, they were told that they're supposed to figure out "what they want to be when they're older" and then they're supposed to follow a straight path to the "American dream." They're pretty sure that means that once they're forty, they should have everything figured out and the question that once plagued them will have all been answered or at least have faded in importance.
But once they get to a midlife point, they realize that the questions are getting bigger and more urgent. They don't know what to believe anymore. They don't really know who they are. They don't understand the meaning of their lives. They discover that motherhood, or their career, or the book they got published, or the dream they brought to fruition doesn't satisfy them as much as they'd hoped. They're feeling empty and lost, like a boat adrift at sea.
It's such a common story that if I had a dollar for every time I've heard it, I could go on a very lovely vacation to the Caribbean.
The first thing I do when I hear this story is give them permission to cry and feel the grief. The second thing I do is tell them "This is where you're supposed to be. This is a woman's journey. You have to give yourself permission to be lost for awhile. It's the only way you'll find the path to your more authentic self."
We all need to go through the empty place in order to connect with our deeper selves.
Every woman I know who has found her way into a deepened wisdom and a deeper sense of calling has gone through the empty place between stories. They've all found themselves adrift at sea somewhere in the middle of their lives, where they had to let go of old paradigms, old belief systems, and old ways of defining themselves. It was only when they let go of the resistance and the need to "be productive" and "be successful" that they were able to sink into the deep stillness of the empty place between stories.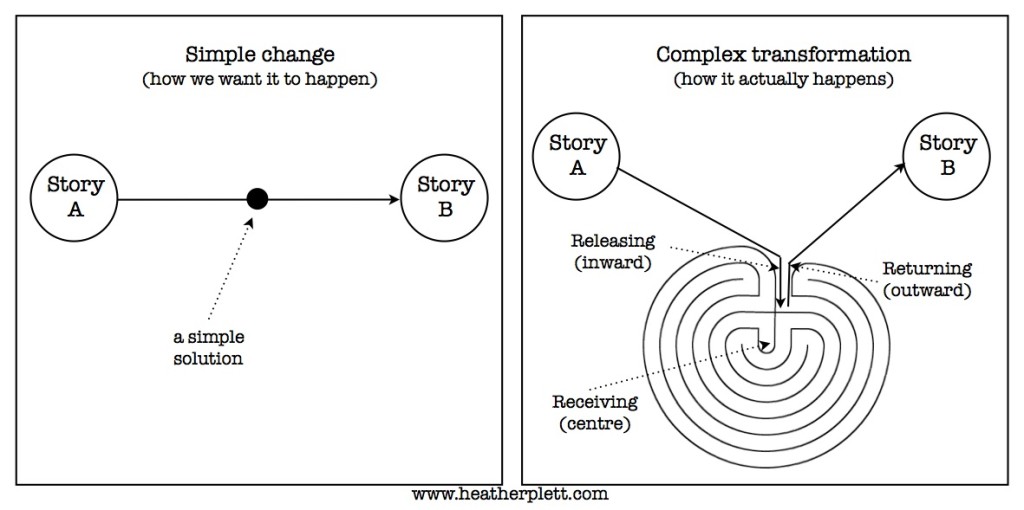 Nobody wants the complexity of real transformation.
The mess and the grief of letting go of the old story is scary and uncomfortable. We want the simple solution that many of the self-help books are selling us. We want ten easy bullet points.
But real transformation is more like the labyrinth. Real transformation invites us to step off the path into a complex, labyrinthine journey.
"Most of us arrive at a sense of self and vocation only after a long journey through alien lands. But this journey bears no resemblance to the trouble-free "travel packages" sold by the tourism industry. It is more akin to the ancient tradition of pilgrimage – 'a transformative journey to a sacred centre' full of hardships, darkness, and peril." – Parker Palmer, Let your Life Speak
The labyrinth teaches us much about the journey through transition.
When we enter the labyrinth, we are invited to release. We let go of Story A. We let go of our expectations, our "American dream", our comfort level.
Once we reach the centre, we are ready to receive. But our cups can only be filled up again if we reach that place empty and open. We've emptied ourselves of the old story so that the new story can begin to grow. At the centre, we receive guidance from Spirit, we receive grace, and we receive the strength we need to continue the journey.
When we are ready, we return. But we don't go back to Story A. We return with the new story that has begun to grow at the centre. We return with a deeper connection to our authentic selves. We return ready to step into Story B.
What's surprising, though, and always somewhat unsettling, is that Story B bears little resemblance to Story A. Story A fit into a much cleaner box. Story B has a lot of loose ends and a permeable border. Story A was black and white. Story B has a lot of complex shades of grey.
We are invited into a place of non-duality.
As Richard Rohr says in Falling Upward, the story for the second half of life is one of non-duality. When we are in a story of duality (the first half of our lives), we see the word in black and white, right and wrong, good and bad.
Rohr describes non-dual thinking as "our ability to read reality in a way that is not judgmental, in a way that is not exclusionary of the part that we don't understand. When you don't split everything up according to what you like and what you don't like, you leave the moment open, you let it be what it is in itself, and you let it speak to you. Reality is not totally one, but it is not totally two, either! Stay with that necessary dilemma, and it can make you wise."
Many people resist the invitation into Story B. They want to stay in a place where the world feels secure and safe. They hang onto a black and white world and they judge those who introduce them to shades of grey. Those people often become the fundamentalists who fight with all their might to resist change. They close themselves off in a box of self-preservation rather than step into a place of ambiguity.
But there is little value in hanging onto Story A when the new story wants to emerge. Your comfort will soon turn to bitterness, your safe home will become your prison.
Our world wants us to move, individually and collectively, into Story B.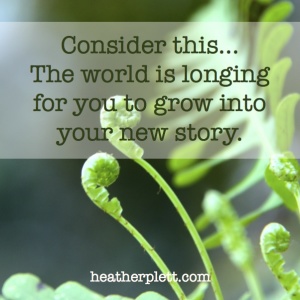 There are many thought leaders who believe that our world is in that empty place – the place of chaos – between Story A and Story B.
Yesterday, I participated in the first session of ULab, hosted by Otto Scharmer of MIT and Presencing Institute. On this MOOC (massive open online course) there are 25,000 people who are connecting to talk about the transformation of business, society, and self. We're learning what it means to be in that "place of disruption" between stories. While on the webinar, thousands of us were tweeting from all over the world about what is ending and what is emerging. There's a general consensus that the world can't continue to function unless we step into a new story, a new way of connecting with ourselves, each other, and the world. But before getting to that new story, we have to let ourselves be lost for awhile.
In The More Beautiful World Our Hearts Know Is Possible, Charles Eisenstein talks about The Story of Separation that the world has been living in. That's a story that keeps us locked in a financial economy that demands growth and the pillaging of the earth for the resources that feed that growth. It's a story that has us living as separate, self-sufficient individuals instead of in community. It's a story that requires a greater and greater investment in military actions that help us protect our resources and our self-sufficiency.
The new story that the world is longing for is a Story of Connection.
It's a story that brings us back to a healthy relationship with each other and the earth. It's a story of trust and compassion, community and spirituality.
As the diagram above shows, we won't get to the Story of Connection until we are ready to release the Story of Separation, step into the centre of the labyrinth, and receive the new thing that wants to be born in each of us.
If you find yourself in that empty place between stories, know this – you are not alone. You are living a story that is playing itself out all over the world.
We are all trying to find our way into the new story. Some of us are desperately hanging onto the old story, some of us are ready to hospice the old story into its death, and some of us are ready to midwife the new story into its birth.
In the transformation from caterpillar to butterfly, there are a few cells, called imaginal cells, that hold the dream of the butterfly alive while all of the other cells see only the end of the world that was once their caterpillar life. Those imaginal cells lead the transformation into the new, more beautiful thing that is meant to emerge.
In my work, I am blessed to be in connection with many imaginal cells – people who sense the end of Story A has come and who believe that there is something new and better emerging. Perhaps you are one such cell.
Perhaps you have been invited into the difficult stage of transformation so that you can serve as a model for others coming after you.
I invite you to consider that whatever you are going through right now, you are going through something that is helping you emerge into the more beautiful world. And your transformation is part of the transformation of the world around you.
Step into the labyrinth. Let yourself be changed.
Need some support on this journey through transformation? Registration is now open for The Spiral Path: A Woman's Journey to Herself. In this 21 lesson course, you'll be guided through the three stages of the labyrinth journey.