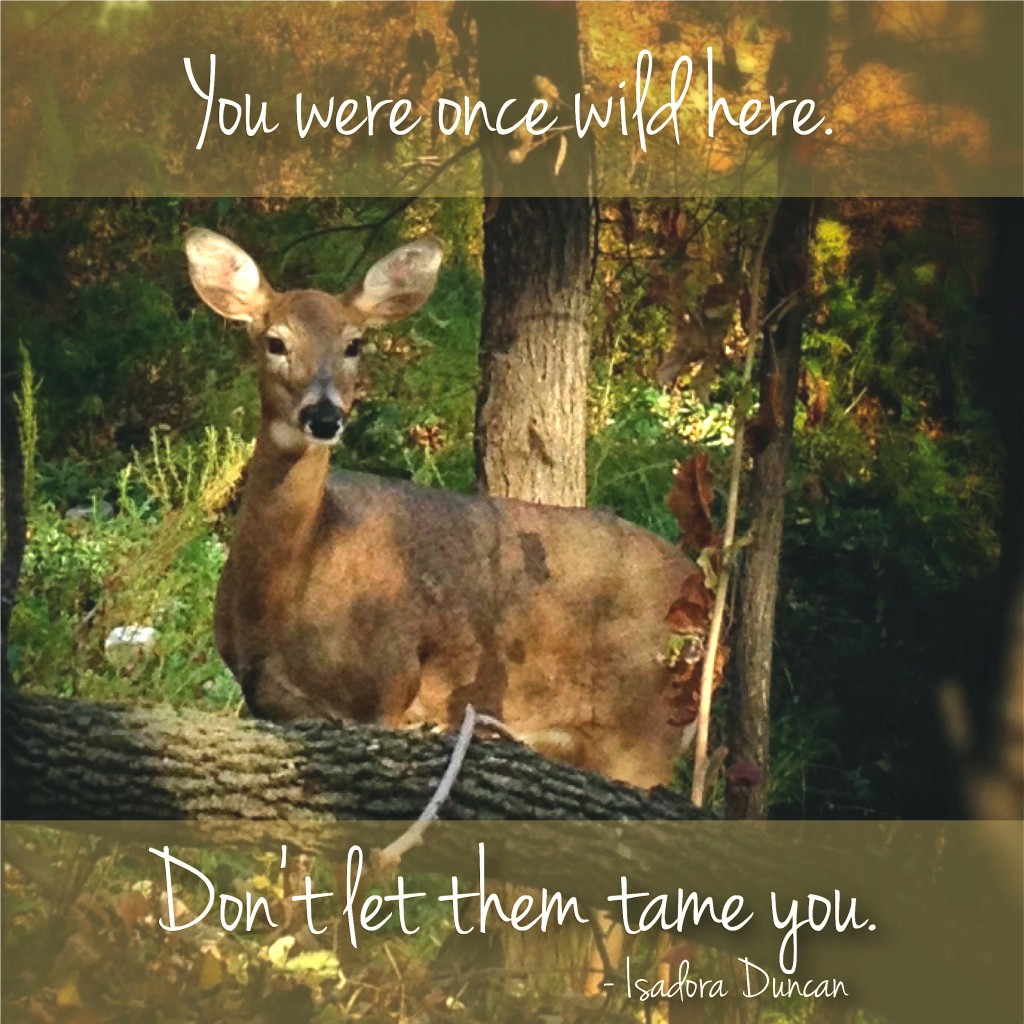 I have seen too many wounded women.
I have watched them lose the light in their eyes when the shadows overcame them.
I have heard a thousand reasons why they no longer give themselves permission to live truthfully.
I have seen too many wild hearts tamed.
I have witnessed the loss of courage when it's just too hard to keep being an edgewalker in a world that values conformists.
I've recognized the fear as they take tiny brave steps, hoping and praying the direction is right.
"I feel guilty whenever I indulge in my passions. It feels selfish and irresponsible."
"My husband doesn't like it when I talk about feminine wisdom, so I keep it to myself."
"If I write the things that are burning in my heart, it will freak people out. So I remain silent."
"I used to love wandering in the woods, but I never have time for it anymore."
"I just want to have a real conversation for a change. I want to feel safe to speak my heart."
"My job makes me feel dead inside, but I don't know what else I can do."
"People expect me to be strong and hide my feelings now that I'm in leadership. I feel like I have too much bottled up inside that I can't share with anyone."

"Sometimes I think there must be something wrong with me. I just don't fit in."
"There is so much longing in the world. I get lost in that longing and don't know how to sit with it."
"I wanted to be a painter, but I needed a real career. I haven't painted in years."
"People think I'm strange when I share my ideas, so I've learned to keep them to myself."
"I can't go to church anymore. I don't feel understood there. But I haven't found another place where I can find community, so I often feel lonely."
"There's a restless energy inside me that wants to be free. I long to be free."
So much woundedness has been laid tenderly on the ground at my feet.
So many women want their stories validated. Their fears held gently. Their tiny bits of courage honoured.
I hear them whisper "please hear me" through clenched teeth.
I see the tears threaten to overflow out of stoic eyes.
I recognize the longing.
I know the brokenness.
I feel the ache of silenced dreams.
They come to me because they know I have been broken too.
They trust me with their whispers because I am acquainted with fear.
They look to me for courage and understanding because they witness my own long and painful journey back to my wild heart.
I see you.
I know you.
I honour you.
I love you.
You are beautiful.
You are courageous.
You are okay.
You can be wild again.
You can trust your heart. She will not lie to you.
You can live more fully in your body. She will welcome you back.
You can go home to that part of you that feels like it's been lost.
You can find a circle of people who will understand you.
You can step back into courage.
You have permission to be an edgewalker.
You have permission to speak the things that you're longing to say.
You have permission to be truly yourself.
You have permission to step away from your responsibilities for awhile.
You have permission to wander in the woods.
You also have permission to be afraid.
And to wait for the right time.
And to sit quietly while you build up your courage.
You don't need to do this all alone.
And you don't need to do it all at once.
You don't need to shout before you're ready to whisper.
You don't need to dance before you've tried simply swaying to the music.
You can give your woundedness time to heal.
Take a small step back into your self.
Move a little closer to your wild heart.
Pause and touch the wounded places in you.
Just breathe… slowly and deeply.
And when you're ready, we can do this together.
If this post resonates, please consider the following:
1. Join me as I host a circle of amazing women at A Day Retreat for Women of Courage in Winnipeg on October 20th. Pay what you can.
2. I'm creating a new online program called Lead with Your Wild Heart (related to the themes in this post) that feels like a coming together of a thousand ideas that have filled my head in recent years. Add your name to my email list (top right) to be the first to hear about it and to receive a discount.