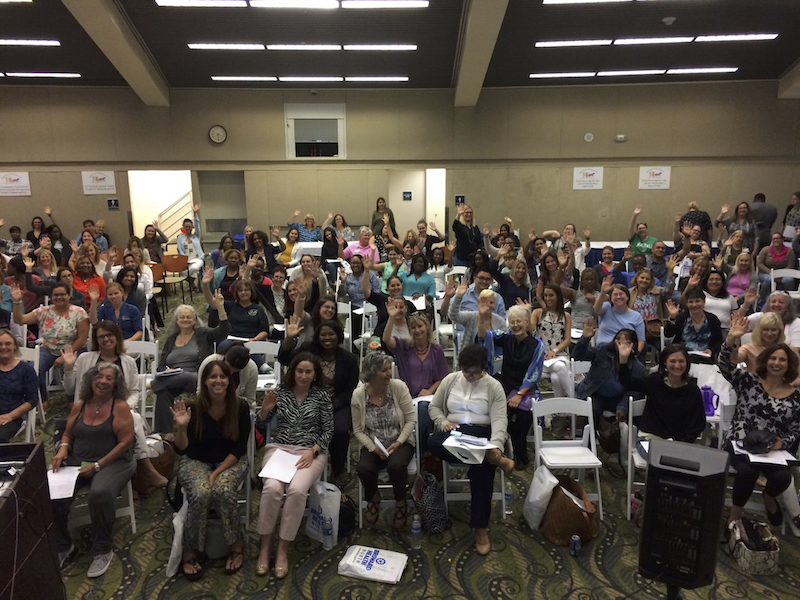 "It's a long and rugged road
and we don't now where it's headed
But we know it's going to get us where we're going
And when we find what we're looking for
we'll drop these bags and search no more
'Cuz it's going to feel like heaven when we're home
It's going to feel like heaven when we're home."
– From the song Heaven When We're Home, by the Wailin' Jennys
Last week, I found home in Florida, and, like the song says, it felt like heaven.
No, I'm not planning to move there any time soon (I'm not sure this Canadian girl could handle the humidity), but I found home nonetheless.
That home was in front of 175 people teaching a workshop on Holding Space through Grief and Trauma (see above photo). I taught the whole workshop, from 9 to 3:30, without any notes (other than my Powerpoint slides) – because this is my home. This is my work. This is the lifeblood that runs through my veins. The next day I taught two half-day workshops on The Circle Way and it was the same.
I know this material and these stories so well, have spoken and written about them so many times, that notes are no longer necessary. I can stand in front of 175 strangers and feel energized and a little nervous but still perfectly at home.
Some people call it a divine assignment, some people call it a calling, some call it your life's purpose. In some Indigenous cultures, it's referred to as your "original medicine" – the unique gift that you and only you can offer toward the healing of the world.
Whatever you call it, when you find it, you feel like you have finally come home.
Here's what I know about finding it:
Home is a lot more beautiful when you've taken a journey away from it. I spent many years doing work that didn't feel like home, but that was all part of the quest that helped me find it. The more work I did that didn't feel like "my work" the more clear I became about what I was looking for. A few days ago, I heard a chef on The Chef's Table say that he's known he'd be a chef since he was 14 years old. I'm intrigued by that kind of clarity, but that's not the journey that was meant for me. There's no way I could have imagined the work I do now when I was 14 – I had to take the long journey to get here.
The quest for home will take you through "alien lands". I couldn't say it better than Parker Palmer does: "Most of us arrive at a sense of self and vocation only after a long journey through alien lands. But this journey bears no resemblance to the trouble-free 'travel packages' sold by the tourism industry. It is more akin to the ancient tradition of pilgrimage – "a transformative journey to a sacred centre" full of hardships, darkness, and peril." There are many out there who are selling very tempting "trouble-free travel packages", but what you'll get from them is an empty shell of what you're really meant to find in your life. Take the "road less traveled". It's risky, but it's real.
The path through the "darkness and peril" builds your resilience and helps you to eventually see the light. It was when I learned to surrender to the darkness and begin to see the purpose and meaning of it that I finally started to find the clarity I was seeking. I can only teach about topics like grief and trauma and the liminal space because I learned to navigate those worlds myself, and I could only learn to navigate them when I stopped resisting them. Wherever you are now, there is meaning in it and there are lessons to be learned from even the hardest moments.
It all matters. Even those long years of doing work that didn't feel connected to me mattered. I honed my communication skills writing speeches for politicians and government officials. I learned storytelling traveling to developing countries and telling the stories of the non-profit organization I worked for. I learned how to create enough content for a full day workshop when I was teaching courses in Writing for Public Relations at the university. It may not have been the content I wanted to speak or write about, but those were the skills I needed for what I now do.
A true purpose includes generosity and responsibility toward others. If you live a self-absorbed life, you will be forever searching for the meaning of it. Look beyond yourself to find your purpose. "A man who becomes conscious of the responsibility he bears toward a human being who affectionately waits for him, or to an unfinished work, will never be able to throw away his life. He knows the "why" for his existence, and will be able to bear almost any "how". ― Viktor E. Frankl
Many will never understand your quest or your purpose. Last week, crossing the border into the U.S., I was held up for an hour (and nearly refused entry), trying to explain my work to a confused border agent who couldn't find an appropriate category in his big binder full of visa information. I get the same kind of confusion from lawyers, accountants, friends, family, etc. I used to think I just needed the right "elevator speech", but no matter what I tried, there were always people who gave me confused looks. I gave up on the elevator speech and simply learned to accept that the work I've been called to doesn't fit well with cocktail party small talk or border crossings.
The right people will get it. It doesn't take long to figure out whether a seat mate on the airplane, a participant at a workshop, or another parent on the soccer field is on a similar quest as I am on. If I speak words like "holding space" or "The Circle Way" and their eyes light up, I know we'll be able to have a meaningful conversation. In Florida, those 175 people, who mostly support children in grief and trauma, stayed with me through every word. When that happens, it doesn't really matter how many confused looks there were until that point.
It will take a lot out of you and it will give a lot back. Whenever I finish doing work that really matters – like that workshop in Florida – I am both exhausted and invigorated. Though it flows with ease when I am doing the right work, it is far from easy. It's true that I didn't need notes up there, but that's because I was sharing from such a deep and intimate place of my own stories of grief and trauma that notes are unnecessary. My heart was being poured out in front of 175 people. I do it out of pure love, but I know that this kind of work must be followed by a few days of rest and solitude.
Desire is a guide even when you try to deny it. I had a lot of baggage around my desire to stand in front of a crowd of people speaking of things that were important to me. "It must be my pride that yearns for the spotlight," I convinced myself. I needed to be more humble than that. I should be happy being in the background. But as much as I tried to deny it, it's where I felt called to be and now, because I learned to silence those voices that told me I was wrong to want it, I can stand there and feel at home. "To have a desire in life literally means to keep your star in sight, to follow a glimmer, a beacon, a disappearing will-o'-the-wisp over the horizon into some place you cannot yet fully imagine. A deeply held desire is a star that is particularly your own, it might disappear for awhile, but when the skies clear we catch sight of it again and recognize the glimmer." – David Whyte
When you find it, it's even better than you imagined it would be. I have had lots of discouraging days along this journey, lots of times when I thought I was deluding myself, and lots of times when I started looking for other work because it was all taking far too long. But now? I can hardly believe how lucky I am. I have moments of pure joy that are unlike anything I've ever experienced before. Who knew that speaking on topics like grief and trauma could be so invigorating? Just as I surrendered to and learned from the darkness and the grief, I am surrendering to and learning from the light and the joy.
After the workshops were finished, I stayed in Florida a few extra days to spend some focused time creating the content for my Holding Space Coach/Facilitator Program, and once again, in my little Airbnb room close to the ocean, writing in solitude, I was home. Because my calling is not to stand in front of a room of hundreds – my calling is to teach, in whatever form it takes, this work that feeds my soul and invites me to feed other souls.
"I'm not a teacher: only a fellow traveler of whom you asked the way. I pointed ahead – ahead of myself as well as you." – George Bernard Shaw
I hope that you find it too – the place that calls you, the work that whispers to you in your quietest moments. I hope that your own long journey is worth it and that you relish the joy that and healing that can come when you find home.
* * * *
If you need some inspiration, here are a few books that inspired me along the way:
– Let Your Life Speak: Listening for the Voice of Vocation – by Parker Palmer
– Crossing the Unknown Sea: Work as a Pilgrimage of Identity
 – by David Whyte
– Flow: The Psychology of Ultimate Experience – by Mihaly Csiksgentmihalyi
– Man's Search for Meaning – by Viktor E. Frankl
– Body of Work: Finding the Thread that Ties Your Story Together, by Pam Slim
– Making a Living Without a Job: Winning Ways for Creating Work you Love – by Barbara Winter
* * * *
One of my upcoming retreats might also help you find it: 
1. Openhearted Writing Circle, June 11 – a day retreat in Winnipeg, Manitoba. There is still space available.
2. Nourish: A retreat for your body, mind, and spirit. Together with my friend and yoga teacher Joy, I'll be co-hosting a holistic retreat in Manitoba, August 18-20. 
3. Holding Space for Yourself, Oct. 12-15 at Welcome to the BIG House, Queensland, Australia
4. Holding Space for Others, Oct. 18-22 at Welcome to the BIG House, Queensland, Australia
5. Space for an Open Heart, Oct. 27-29 at Kawai Purapura, Auckland, New Zealand