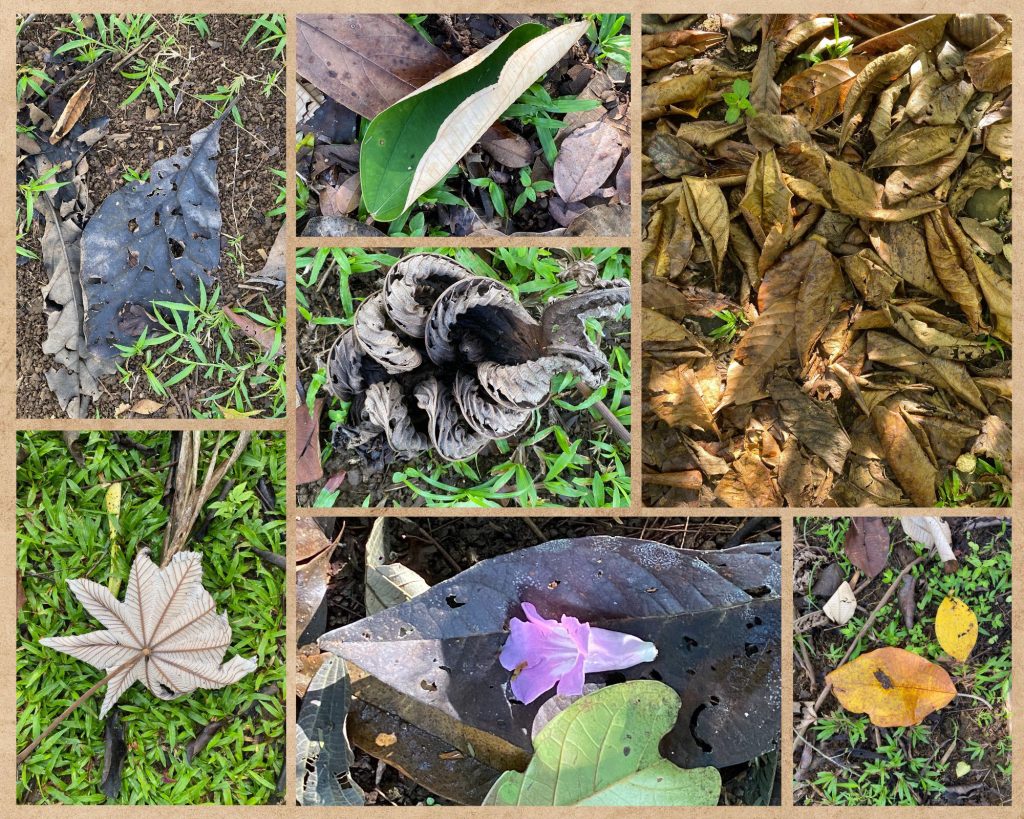 I was walking through the jungle this morning, as I do nearly every morning when I stay at my friend Mary's farm in Costa Rica, and I was noticing the beauty and variety of what has dropped onto the jungle floor. A couple of weeks ago, I photographed the endless variety of patterns in jungle leaves and, this morning, I turned my attention to what has fallen to the ground.
It was beautiful to witness the leaves, branches, fallen trees, and flower petals in various stages of decay. Some leaves were still green, some had turned various shades of orange, red, and yellow, and some were shades of brown. Those that had been on the ground the longest had deteriorated in shape and colour and were about to become one with the forest floor.
All that has fallen will serve as nourishment for the trees that continue to thrive and for those that have not yet sprouted. On some of the rotting branches and tree trunks, there were already the shoots of new plants sprouting from the decay.
Nature invites us to witness the cycles of life, and to recognize that death is built into the design. We don't have growth without death. We don't have new shoots without the rot of old leaves and branches to root themselves in.
Within many of our cultures, though, there is a great fear of death and a resistance to recognizing its inevitability. Our beauty industry sells us "anti-aging" products so that we can live in denial that our bodies are becoming wrinkled and worn, like some of the leaves on the forest floor. We turn away from conversations about death because we'd rather pretend it's not going to happen to us. We sterilize the dying process and, if the body is visible at all, it is only when it's been preserved so that it looks like the person hasn't died that it's acceptable.
Recently, I had the honour of walking alongside my friend Randy on his journey toward death. ALS was taking away his bodily functions and, in the end, he chose to leave his earthly body through medically assisted dying. In the year that I walked alongside him, I learned so much that I hope to someday write a book that contains the wisdom of that year. Randy was at peace with his dying and didn't shy away from talking about it. Like the dying things on the forest floor, what Randy left behind will continue to nourish what can grow in me (and in others who were touched by his life) in the future.
This fear of death is not only a personal fear, it's a collective fear, and we have embedded that fear into the systems we've developed and help to perpetuate. Within capitalism, for example, there is embedded a great denial that the system will ever need to die in order to serve as compost for the next system. We close our eyes to the destruction of a system that has completed its purpose and we pretend that it can continue to thrive and grow, because that seems safer for us to imagine. The death of capitalism seems too chaotic for us to consider, so we tolerate the harm it causes out of the fear of what is unknown.

As we all know, though, the kind of growth required to support our capitalist system is wreaking havoc on our planet and destroying many lives. It's become a monster, swallowing up living beings in its hunger for perpetual growth.
I wonder what it would be like for us to lean into the wisdom that living systems need to die in order for new life to begin. I wonder how it would change us if we treated our systems like the trees in the forest, accepting death and decay as part of the process. I wonder what might grow if we stopped hanging onto the destructive, growth-hungry monsters that threaten to destroy us even as we feed them.
Perhaps, like Randy, we could even accept some form of "medically assisted dying" when we recognize that the purpose has been served, there has been joy in the lifetime of the system, and it's time to let go.
I don't know what the future holds once we have allowed capitalism to die. Like everyone else, I am afraid of the chaos of the deconstruction process, and so I notice my own resistance rising up even as I write this.
Here's what I do know, though… we are creative, resilient beings, living in a creative, regenerative world. We are not separate from that world. We are not set apart, better than, or worse than. We are in nature and nature is in us.
I also know that we have gained gifts from capitalism (just as I gained gifts from Randy) that will nourish us even as the system decays. It was not designed as an evil system, but as a system that sustained humans for many years. It was simply doing the job it was designed for.
AND I know that we need to resource ourselves so that we have the courage, strength and creativity needed for this great transition we're entering. That's why I'm committed to teaching people to hold space for discomfort, and why I have created the course Know Yourself, Free Yourself; self-exploration as a path to liberation and love (which starts in early March). I believe that embracing tenderness and liberation will help us find the resources we need in order to live through what could be a chaotic time.
It's time for us all to imagine and co-create better ways of living together. I don't know what those designs look like yet, but I know that we have the resources we need when we lean into our collective wisdom and courage. And I believe that there are clues on the jungle floor.