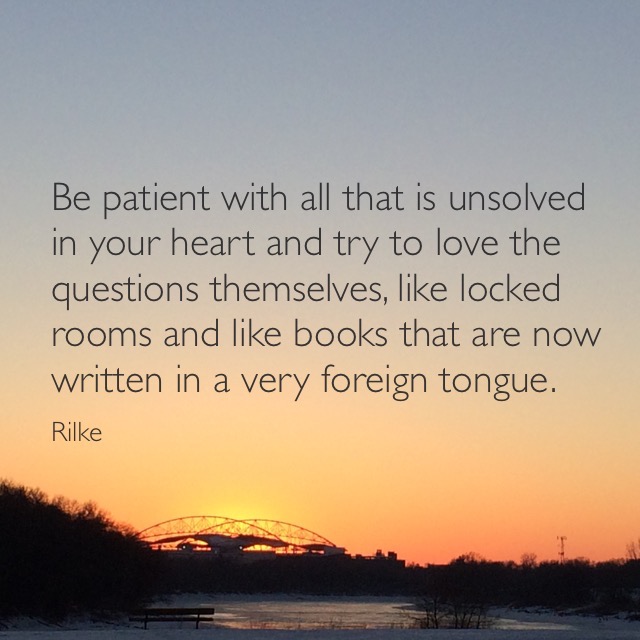 There's a piece of my story in this unfolding year that I have had a hard time writing about. I still don't know quite what to say, but I also don't want to pretend that it's not going on or that I'm trying to keep it a secret.
This summer, my twenty-two year marriage unraveled and my husband and I are now separated.
That's the simple version. The more complex version is the part that's difficult to talk about, because it is not my story alone and I am determined never to write anything that might hurt anyone I care about. My husband, my daughters and I are all fumbling our way through this, trying not to hurt each other, trying to heal from past wounds, and trying to emerge stronger and wiser.
I share it, though, because sometimes people turn to me for expertise on what it means to hold space for people, and I don't want to pretend that I have figured out everything there is to know about keeping relationships healthy. Like you, I falter sometimes, and I fail people, and I make decisions that might be hard for people to understand. I am still very much on a learning journey.
Early this year, after I wrote the post that went viral, about what it means to hold space for other people, what became more and more clear to me was something I'd woken up to about five years earlier. My husband and I no longer knew how to hold space for each other. We've tried and tried, but repeatedly we've failed. For my part, I spent too much time judging him and thinking I needed to rescue or fix him, and for his part, he no longer understood me and had no idea how to support the kind of work I was doing or the changes I was undergoing as a result.
For a long time, I tried to tell myself that it didn't matter that we were in such different places – that I was in this marriage for the long haul and that my daughters were better off with us together – but I could only fool myself for so long. We were hurting each other in our failure, and, after repeated attempts at marriage counselling, it finally became clear to me that we were not doing our daughters any favours by staying in this broken place.
There is much that remains unresolved in this story and I continue to learn from it as I navigate this new path. I stumble sometimes, and then I fall into grace and am given a hand up to get back up on my feet again.
And that is where I will leave this story, in an unresolved place where there is still healing to be done and forgiveness to be offered. I am learning, despite much impatience and struggle, to stay in the unresolved places until what's meant to emerge can find its own way and time to unfold.
When we see brokenness, our tendency (based in a childish desire for the world to be clean and orderly, black and white) is to rush in to fix it, to find a solution, and to put it back the way it once was. But the invitation of a deepening spirituality is to allow it to remain unresolved, to ask ourselves why we are uncomfortable with it being unresolved, and to consider that perhaps something new wants to grow in its own sweet time without the limitations of "the way things used to be".
As a writer and teacher, I feel pressure sometimes, on my blog and on social media, to only share a story when it has a complete ending. If I share it when it is still in the unresolved stage, too many people will rush in with advice, solutions, or judgement, responding to their own need to see it fixed in a way that makes sense to them, and then I will feel defeated, inadequate, and not fully heard.
What I most value (and this is why I spend so much time in circles) is to be heard, to be valued, and to be supported in whatever stage of the messiness I am in. This, I believe, is what all of us truly want. Because the best path out of the messiness is rarely the quick fix that first rushes to mind.
I invite you then, to pause for a moment before you respond to my unresolved story or anyone else's. In your pausing, listen first for what that person most wants from you. And then listen for what is unresolved in your own life that might make someone else's messy story feel uncomfortable. Because when we sit in the messiness together, we grow truly beautiful and lasting things. That's what it means to hold space for each other.
"Be patient toward all that is unsolved in your heart and try to love the questions themselves, like locked rooms and like books that are now written in a very foreign tongue. Do not now seek the answers, which cannot be given you because you would not be able to live them. And the point is, to live everything. Live the questions now. Perhaps you will then gradually, without noticing it, live along some distant day into the answer." – Rilke
Thank you for holding space for me in my unresolved place.
Interested in more articles like this? Add your name to my email list and you'll receive a free ebook, A Path to Connection. I send out weekly newsletters and updates on my work.