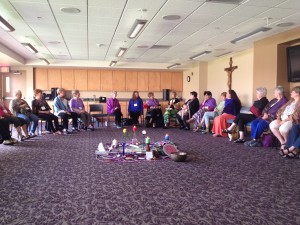 Something happens when women come into circle.
Tears flow.
It's inevitable. When women feel held in a way they haven't felt for a long, long time, their release valves open and the emotions they'd held tightly under their control begin to seep out through their eyes.
Something else happens after the tears begin to flow.
Women apologize.
Conditioned for most of their lives to distrust the tears and to see them as a sign of weakness, they worry that the tears won't be welcome, that they're inappropriate, that they communicate something they dare not communicate, or that the opening of that valve isn't something they can undo and the tears will never stop. I see it every time I host a soul-opening class or retreat. Our tears trigger our shame and fear.
Women's tears are a dangerous thing. They're dangerous to the men (and women) who don't know how to access their own emotions and who therefore think they're being manipulated by others' emotions. They're dangerous to those who realize that women in touch with their emotions are harder to control. They're dangerous to workplaces, schools, and churches that are built on structure, control, logic and order. They're dangerous to those who release them because we don't know where they will lead us or what they will shift in our lives.
Tears are dangerous because they open us up to emotions uncontrolled, secrets untold, stories unlived, and longings untapped.
But in that circle of women, if it is well hosted, tears are always welcome. Because we know – in our bones we know – that tears release us, they free us, they strengthen us, and they give us power. In last week's circle (at Gather the Women's annual gathering), in fact, when we were invited to share an item that represented power in our lives, one women brought out a kleenex. "Because my tears give me power," she said. Indeed.
So after we apologize out of our conditioning to do so, we loosen and relax into the tears and whatever else may come with them.
When women gather, some of the stories that bring tears are the stories about how our collective sisterhood, around the world and throughout the generations past, have been silenced, raped, murdered, and burned at the stake. For speaking out, for learning to drive, for challenging the patriarchy, for daring to follow their own spiritual paths, for being in the path of conflict, or simply for being women.
Last week those stories kept coming up in the opening circle and then in subsequent smaller circles. "We have generations of wounds," some women said, "and we are afraid to cry about it in case we won't know how to stop. We are afraid to cry because our tears have brought on the violence and sometimes even death."
"We are watching our sisters die," said others. "We are helpless in the face of those who are mutilating the genitals of our sisters in Ethiopia. We can do so little about the murdered and missing Indigenous women in Canada. We feel lost when we hear about young girls being sold into sexual slavery in India. We can do nothing about the young girls taken from their school by rebels in Nigeria."
"We feel lost and helpless, but the only thing we know how to do is stuff in our emotions and carry on. We carry on because we are afraid to cry, afraid to care too much, afraid to truly allow ourselves to feel these deep wounds, afraid that we'll be made fun of by those in control."
At the end of a long day of hearing these stories, I felt weary and a little lost. I did what I almost always do – I carried my sadness into the woods. I walked up into the hills near the retreat centre, my shoulders weighted down with unresolved stories and unwept tears.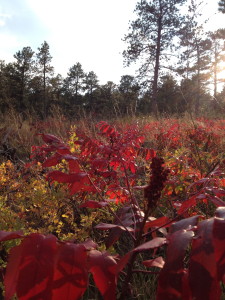 Up in the hills, I noticed an interesting thing. The hills were covered with low shrubs that had turned a brilliant shade of red (that I later learned were sumac) and had grown equally red seed clusters.
I stood on the path at the foot of a hill covered in red, and suddenly I didn't see leaves anymore. Suddenly I saw a river of blood flowing down the hill.
It was the blood of centuries of women murdered and raped simply because they were women. It was the blood of the murdered and missing Indigenous women in my own country, the blood of the young women I met in Ethiopia who were beautiful and full of life when I met them and dead a few months later because they'd all been subjected to female genital mutilation with the same dirty knife, the blood of the women who'd been burned because their love of ritual and feminine spirituality was too dangerous and they were branded as witches, and the blood of so many other women all over the world who've suffered similar fates.
It was also my own blood, shed when a rapist climbed in my bedroom window and took my virginity away.
And it was the blood of Mother Earth, wounded by our corporate greed, destruction and insatiable hunger for her resources.
I stood there, at the foot of that river, and was suddenly overcome with emotion. I sat down at the base of a tree, surrounded by red, and I wept. I wept the unshed tears of my own stories. I wept for the women whose tears had dried up and who could cry no more. I wept for the way we've bottled up our tears, for the way we've let fear and shame keep us silent, and for the way we've been conditioned to accept our powerlessness in the face of so much brutality.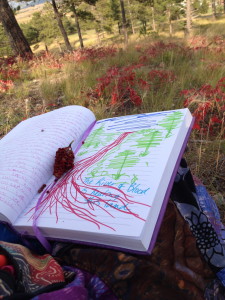 When the weeping subsided, I opened my journal and began to draw the river of blood. As I sketched, the words came to me… "The river of blood will heal this land."
It didn't make sense. How could the blood of our own woundedness heal anything? How can the victim be the healer?
I didn't want to write it down, because I didn't quite know what it meant and I resisted it. Perhaps I resisted because I was more inclined to look for blame and an external resolution than an internal path to healing.
But write it down I did. And suddenly the river was no longer the blood of pain and woundedness – it was the blood of menstruating women. The blood of birth and renewal. The blood of women's power to co-create and regenerate. The blood of the new life that comes after the healing tears.
I leaned back on the tree and looked up at the sky. A large white cloud was above me and at the centre of that cloud was the cutout of a perfect blue heart. Love flowing down on me.
Across that heart flew a bird. A mourning dove – the symbol of forgiveness.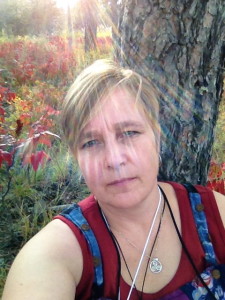 Wow. Forgiveness. That's a tall order. Could I find it in myself and invite it in others?
I stood up and continued walking. Further along the path was a ravine – a dried up riverbed coming from the top of the hill. At the bottom of that ravine were broken sticks and pine cones. Just like the red leaves had become blood, those sticks and pine cones became the bones of generations of women who have been killed – some of whom have been and continue to be dragged from the river in my own home town in recent weeks. (Including Tina Fontaine, a 15 year old girl found in a plastic bag in the Red River, who had been exploited and murdered.)
I climbed down into the river, determined to carry some of those bones with me as reminders. As I began to climb out, dead shrubs reached out like hands pulling at my skirt, determined to keep me there along with the bones of my sisters. I knew it was partly my own story – the rape I suffered at the hands of an Indigenous man – trying to keep me trapped, trying to keep me in a place of deadness. But I also knew that I'd been through a long journey of forgiveness and had no more reason to stay at the bottom of that river.
After I left the hills and went back down to rejoin my sisters, I wondered what to do with my story. Should I share it with the other women or should I keep it to myself for my own meaning-making? I shared it with a few women over dinner, and they encouraged me to share it more broadly, but I still wasn't convinced.
Part of me believed that I was meant to invite other women into the hills for their own weeping and path to healing, but I just wasn't sure. That night I had a dream that I did just that, and it was a disaster. People kept interrupting us on their way to a cafeteria that had appeared on the hill. And none of the women felt free to release their emotions in such a busy place. There was no freedom, no healing, just busy people leading busy lives.
The next morning before breakfast, I went back up into hills to pray and ask for guidance about what I should do next.
When I got to the base of the river of blood, I felt compelled to walk up through the river to find the source. I climbed to what I thought was the top, and there was a large pile of trees that had been cut down. "That makes sense," I thought. "The blood is flowing from what we have cut from the earth and cut from ourselves."
But there was more hill ahead of me. I hadn't reached the source. I kept climbing. This time, at the real summit, there was something much different. A circle of benches. A place where people come to heal. A place where people come to be in community and to speak from their most authentic stories. A place where people learn to forgive.
Ahhh… this is the healing circle that is pouring healing blood down on the hills. The womb of the mother out of which new life is birthed.
As I stood looking at the circle and taking in this new message, something happened that shook me to my bones and made me weep again. Very close and very loud – a single gunshot.
Suddenly I was terrified. Was I safe? Was there a hunter in these woods who would mistake me for a deer? Would my own blood be shed on this hill? Or was the hunter after a cougar I'd been told could be in these hills and I was at risk of both cougar attack and misplaced gunfire?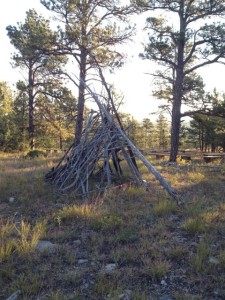 Near the circle was a teepee someone had built out of fallen logs. Full of emotion and fear, I crawled into the centre of the teepee. There I suddenly felt safe, held in the womb of the Great Mother. Surrounded by love and not fear.
Later that day, I knew what I needed to do. I needed to invite other women to the hill.
So I shared my story and said "for any of you who feel the need to weep with me, for all of women's pain and for your own, join me at 4:00 and we will walk up the hill."
Several said they'd join me. Others said they wouldn't or couldn't but that they would hold us in their prayers while we made the journey.
I had no idea what we'd do when we got up the hill, but I had a sense that we needed some kind of lament ritual, and that the journey up the hill needed to be treated like a pilgrimage or labyrinth walk – releasing, receiving, and returning. Some of the wise women who couldn't make the hike up the hill gave me little words of wisdom. "Be sure to give them a way of weeping unhindered and safe – a shawl to place over their heads that shields them from everyone else." "Take something with you to cleanse the space and to bring people back to a place of groundedness afterward, like sage perhaps."
Gradually, trusting that I was given the wisdom I needed to host this pilgrimage, I leaned into it. When the women gathered, I invited Tubears, a wise elder from Reno, to offer a prayer for all of us. We stood holding hands as she prayed, and then I invited each woman to express which stories were on their hearts – their own or other women's. "Start a sentence with 'I carry with me the stories of…' and share one little piece of what you're carrying up the hill."
And then, in silence, we walked up the hill. At the foot of the river of blood, I invited them to wander in silence for awhile and to simply be open to what the hill wanted to say to them. After 10 minutes, I called them back together and said, "Now we are going to move into a lament. We are going to release some of the pent up emotions we've denied ourselves, some of the tears we've been afraid to shed, some of the pain of witnessing our sisters' deaths and rapes. It may feel funny at first and you may need to fake it for awhile, but simply allow it to feel weird and carry on. This is counter-cultural. It's not going to feel normal. Simply allow whatever comes up for you to be okay and safe in this place with your sisters. Sit where you feel safe and held, close enough to us to know that you are in community, but far enough away that you have some solitude. Cover your head with your shawl if you wish, and weep. Once the time is up, I will come to each of you and place my hand on your head. That will be your invitation to emerge out of your weeping and return to the circle."
Women spread out over the hill and found their places. We began to weep and wail, some loudly, some more at the level at a hum. In some moments it felt fake and put-on, but in other moments deep convulsions of remembered pain welled up and we were weeping for real. I wept for some of my clients who are healing from deep wounds and historic pain. I wept for a beloved sister-in-law who's been on a long healing journey.  I wept for my daughters and nieces who still have so much to navigate as they come into adulthood. And I wept for the women I'd met in Ethiopia and India and the women from my country being found in the river.
When it felt like the right time, I rose and walked from woman to woman, gently placing my hand on their heads and holding it there like a blessing and invitation, reminding them that they were safe and held in love as they came out of their lament.
We gathered in circle once again, did some deep breathing exercises to release some of the heaviness, and then I invited my friend and co-guardian Hali to offer a cleansing smudge for each woman. Then we passed a talking piece – a stone I'd found on the hill that at first felt like a blade in my hand but then transformed into the shape of a woman as I held it. I invited them to each speak of one thing they were taking with them from this experience.
"When you exit a labyrinth, after you have received what was in the centre for you, you walk slowly in your return to the world, integrating this new wisdom or calling into your hearts and your bodies. I invite you to walk slowly in silence down the hill. Take the time you need. Do the self care that will help you be gentle with yourself. Don't rush into telling other people about this experience until you are ready for it."
Slowly and individually, we made our way down the hill. When we got there, I tried to enter into dinnertime conversation, but it just didn't feel right. Instead, I disappeared from the table and went first to the quiet room where our circle of chairs were and then went to my room to have a hot bath.
I'm not sure what this will mean for the women who were with me. Many of them shared how meaningful it was and how it cracked their hearts open, but mostly I am expecting that they will process it in their own way in their own time. They are each on their own journeys, and if this at least helped them honour their wounds in a new way and seek healing for something unspoken, then they are on the right path. Some might be frightened of the wound and need therapists or other healing practices that help them process what's been opened up.
I know, though, that this will change my work. I've received a new calling – or perhaps a deepening of a calling I knew I already had. A few years ago, I heard a woman from the stage say the words "The world needs people who know how to navigate in the dark" and I knew then that her words were meant for me. I've known for quite awhile that part of my work was to help people walk through the shadow, through the grief, and through the wound.
This isn't easy work – because few people want to be invited into darkness – but it is essential work and I know I need to do it.
I shouldn't have been surprised, then, when, in the very first coaching session I had after my return to work, a woman who ostensibly wanted to talk about how much she wanted to change her career, revealed only a short time into our conversation that her restlessness was more about unhealed wounds and a darkness she was afraid to enter into than it was about her career.
And then yesterday, as I was washing the dishes, a hit of inspiration arrived. I will be creating a new course that will be somewhat like Mandala Discovery (where you receive a prompt every day) but will invite women to journal and/or do art-making prompts as they take a figurative journey that resembles a labyrinth walk. It is tentatively called "A Spiral Path: A Woman's Journey to Herself".
I also expect that there will be upcoming retreats based on this theme.  AND there has already been an invitation to help create a lament for women on a fairly large scale at an event next year. If you want to learn more about any of this as it unfolds, add your name to my email list (at the bottom of the page) and I'll keep you informed.
Also, if you are interested in how an openhearted writing practice can help you through this journey, join me for a one day online Openhearted Writing Circle on Saturday, October 4th.
Blessings to you wherever you are in this journey.