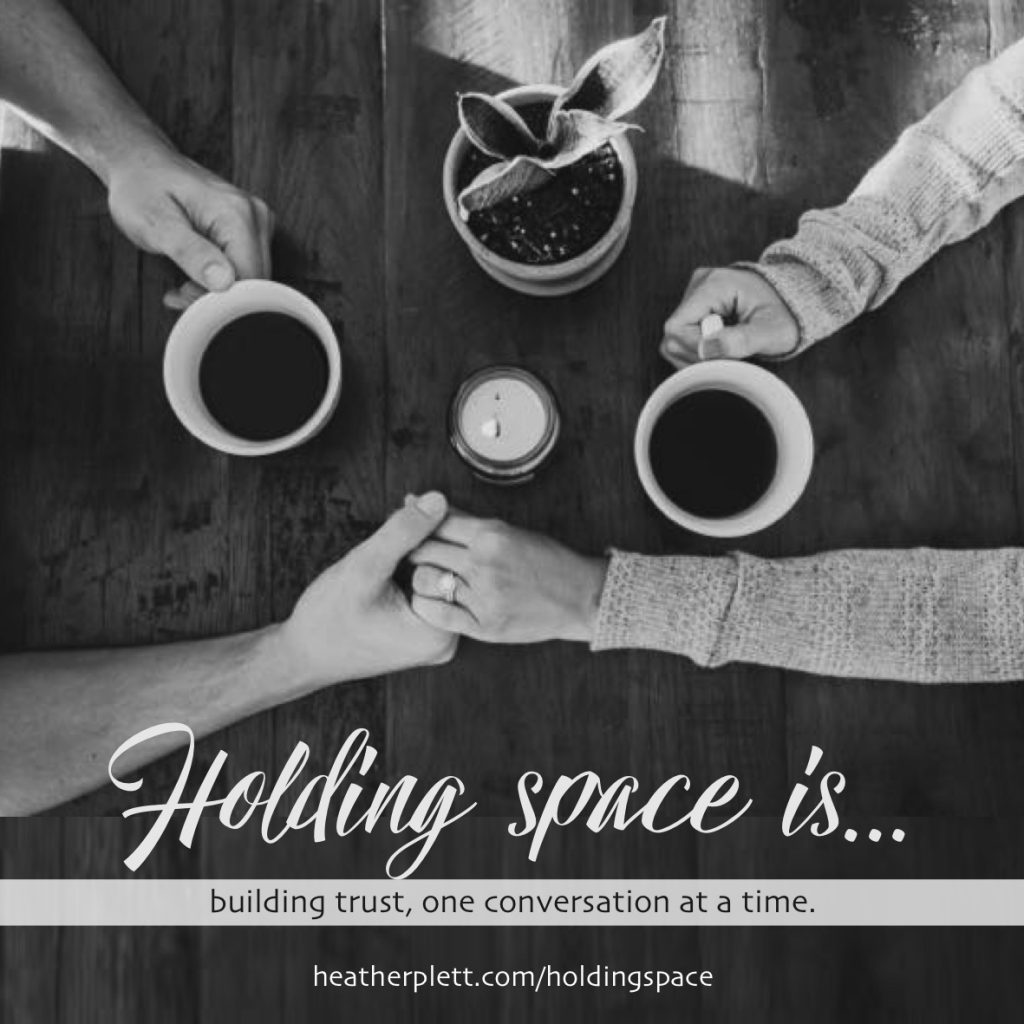 I remember the day clearly. I don't remember the date, but it must have been a warm summer day, because I was wearing my favourite turquoise summer dress.
I was walking home from church pushing a double stroller with a toddler and infant inside. I was glad that my children couldn't see me because I was crying.
I was lonely. I'd just been to a new church because I was seeking some form of community, but it hadn't happened that morning. I'd had to spend the whole service in the nursery caring for my children and there had been no opportunities to make the kind of connections I was craving. I'd slipped out of church when nobody came to speak with me after the service. I was feeling too insecure and overwhelmed to reach out to them, so when they didn't come to me, I left.
That was the loneliest period of my life. With two small children and a full-time job, I had little time for a social life. Most of the friends I'd had before children were either busy with their own children or were childless and didn't understand my new reality. At work, I'd moved into a management position, so didn't feel as welcome in the lunchroom conversations as I once was.
More than anything, though, I felt like I no longer knew HOW to make friends. I've always been better at deep connections than small-talk, so the brief conversations with other parents at the playground did little to feed my hunger. At work I wasn't making deep enough connections either, because the further I moved up in management, the more it seemed that people were guarded and not interested in really knowing each other. 
This week, I thought back to that young woman crying on the sidewalk, walking her children home, and I teared up at the memory. How lost and lonely she was! How much she craved depth and meaning and friendship! 
I'm not that young woman anymore. This past week, as I traveled from Portland to Ashland to L.A. to Reno, connecting with some of my closest friends and sparking new friendships along the way, I realized just how far I've come since that moment. I now have an abundance of deep friendships, both at home and in places as far away as Australia. In fact, I've built a business on deep conversations and holding space, and so the very things I once craved are the things that are now the core of my work.
That's how it works, sometimes, and that's why I don't regret those lonely moments. I wouldn't know just how beautiful this life is if I'd never glimpsed the opposite. And I wouldn't be able to relate to my clients if I'd never known loneliness or loss or disconnection. Those moments in the liminal space helped to shape me and teach me and prepare me for this work. 
Last week, I was in Reno for a few days, connecting with my dear friends Lorraine and TuBears, who I met five years ago at Lake Tahoe at the annual gathering for Gather the Women. While I was there, we had such a beautiful connection, that we decided to share one of our conversations with you. In the video, we talked about what kind of conditions help to create the kind of trust and depth we enjoy in our relationship.
Since then, I've been thinking more about those conditions for deep and meaningful friendships. Here's what I came up with:
1.) Do your own work. Though meaningful friendships can and should help support growth, you can't rely on friends to do your inner work for you. Showing up with too much neediness and not enough sense of your own responsibility to work through your weakness, jealousy, anger, fear, etc. will either destroy the friendship or make it so lopsided it won't hold the kind of depth you crave.
2.) Let your friends do their own work. Just as you can't rely on a friend to do your work, you can't do theirs either. Let them take responsibility for their hang-ups, mistakes, and emotions. And when they're feeling lost, walk beside them and offer a light to illuminate the path, but don't take responsibility for their journey.
3.) Take chances. Deep friendships are built on trust and you can't build trust if you don't take some risks, share some secrets, and open your heart just a little more than what feels safe. This doesn't happen all at once, but as you build trust, keep offering a little more of yourself so that your friend can help hold what you might not share with other people.
4.) Be trustworthy. Guard your friend's secrets, show up when you say you're going to show up, and apologize when you mess up. Be the kind of person they can trust, who's dependable and faithful. And take responsibility for it when you fail so that you can begin to rebuild the trust. 
5.) Be an advocate and an ally. Sometimes friendship is about standing up for each other or at least standing alongside each other when there are forces working against you. If your friend faces discrimination that you don't face, learn to be the kind of ally that they most need and want (that may look different for each person). If they face abuse and are having trouble standing up for themselves, find ways of advocating for them without taking their power away.
6.) Be open to change. Friends change us and we change them. When a relationship grows, it creates the possibility for something new in each person and in the space in between – the "we space". Be willing to learn from the other person and from the places and ideas that you explore together. Don't cling to an old identity – evolve along with the relationship.
7.) Support each other's greatness. The best kind of friends are those who aren't intimidated by someone's success or strength. There might be moments of jealousy now and then, and the sense that you've been left behind (we're all human, after all), but don't let that get in the way of your friendship. Don't assume that they don't need you anymore, because the truth is that they probably need you MORE. Success can feel like a surprisingly scary and lonely place sometimes. Be there for them through the success AND the failure and trust that they'll be there for you too.
8.) Pay attention to what they need and be honest about what you need. Friendship is symbiotic and reciprocal. It's not transactional (ie. I give you something and then you owe me something in return) – it's an ebb and flow of meeting whosever needs are most relevant in the moment, with as much balance as possible. When trust is built, you can be more honest about what your needs are and when you think those aren't being met, and you can receive the honesty of your friend in the same way.
9.) Respect their boundaries and communicate your own. In a friendship, there is usually some unspoken agreement about what is acceptable and unacceptable. It can be helpful to speak it out loud so that all involved have clarity and know how best to respect each other. If, for example, you have a family commitment on Sundays that means you aren't available to your friends, let them know that Sundays are off limits and expect them to respect those limits. Or if you don't like receiving text messages after 10 p.m., say so and then don't respond to their late night texts. And if your friend communicates similar boundaries, don't make fun of them or push past them – respect them.
10.) Don't run away from conflict. At some point in every friendship, conflict bubbles to the surface. Instead of running away, try to see it as an opportunity to deepen your friendship. The deepest friendships are those that weather a few storms, so step into the conflict and see what it has to teach you. Perhaps the conflict will help you to better articulate a boundary that was inadvertently crossed. Or your friend will figure out how to talk about the trauma that was triggered unknowingly. Sometimes conflict is generative instead of destructive.
There is no perfect friendships because there are no perfect people. No matter how strong your friendship is, you may still fail or betray your friend and they may still do the same to you. And sometimes, even with lots of friends, you'll still have lonely moments (which I have, occasionally, when I'm the only single person at a party full of couples). But regardless, life is richer when you make the effort to invest in deep and meaningful friendships. 
* * * *
Want to know more about growing deep and meaningful relationships? We talk a lot about this in the Holding Space Coach/Facilitator Program AND you'll have the added bonus of growing friendships with people from all over the world who enrol in the program with you. If you'd rather study with me in-person, join me in B.C. or the Netherlands.