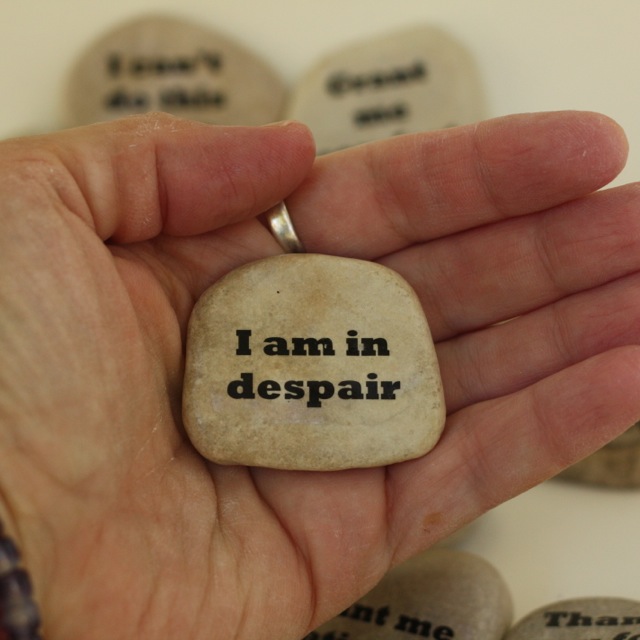 Hardly a week goes by that I don't get an email with words like "How do you get through the rough spots in life?" Or "I feel lost. What should I do?" Or "What do you do when you are in despair?"
Some people are looking for coaching, some are simply asking for advice, and some have read a blog post about my own personal rough spots and think that I might have some wisdom to share. "You seem to know how to walk through the rough spots with strength and resilience," the emails often say. "I want to know how to do that."
Depending on the situation and the depth of the despair, I might take them on as clients, I might offer them a story or some encouragement, or I might recommend they see someone else who's better qualified for the particular challenge the person is going through.
Hardly ever do I feel qualified to give them advice. Most of the time when I get these emails, my first reaction is "But… I'm not an expert in navigating despair. All I do is muddle through. And sometimes I feel so completely mired in it, I feel like I'm drowning. How could I possibly be of service to others?"
Last week was one of those times when I doubted my own ability to offer anything of value. Not that I was in a particular place of despair myself, but rather that I saw so much of it in the world around me that I felt completely inadequate.
Three of those emails came within the span of three days. I put off answering them, weighing my words and wanting to offer what was of the most value. Wanting, most of all, to leave these people feeling like they were not alone and that there is some tiny point of light in their darkness.
Before I had a chance to respond to any of them, I found out that an old friend (who'd been my roommate when I was 19 and entering the minefield of adulthood and independent living) was killed in a tragic car accident and had left behind three daughters just a little older than my daughters. I haven't kept in touch with her much in recent years, so it wasn't so much that I felt a huge hole in my own life, but I kept thinking about the people – her daughters, husband, parents, siblings, etc. – who do have huge holes in their lives. How can it be fair that three young daughters now have to navigate adulthood, parenthood, and all of the other things that are coming in their future, without their mother? Why did she have to die only a week after celebrating her daughter's marriage?
And then I extended those thoughts and that grief to my own story and all of it felt too overwhelming. What if I lose my brother? What if my niece and nephew lose their dad just as they're moving into adulthood? What if my sister-in-law has to learn to walk in the world as a widow?
I came home from the memorial service feeling completely raw and spent. My well was empty. I had nothing to offer, no resources to draw on. I snapped at my kids when they argued and was abrupt with my husband when he asked for something. I didn't want to be the grown-up in any situation, much less the coach or teacher that people turned to while trying to navigate the darkness.
After a good night's sleep, I woke up feeling a little more able to be an adult. After driving the girls to school (without any snapping), I sat down to scan Facebook, and someone had shared a TED talk by Andrew Solomon about how the worst moments in our lives make us who we are. The timing couldn't be more perfect. Solomon talks about how we forge meaning out of the difficulty in our life, and that meaning shapes our identity.
Ah yes. We forge meaning. That's one of the most important things that I know about the times of despair. It may be almost impossible to see it when you are in the middle of the darkness, but when you emerge, you begin to make something meaningful out of all the broken pieces of your shattered life. And as your strength grows, you realize that you are who you are partly because you survived the darkness.
After having a stillborn son, for example, I knew that that experience had been a spiritual turning point for me. Nothing before in my life had left me more awakened and hungry for a deeper faith and spirituality. And nothing else had ever made it more clear to me that I needed to follow the path of my own calling rather than trying to conform to what was expected of me. My priorities became suddenly crystal clear. My life is vastly different than it might have been if I hadn't landed in the hospital for the final three weeks of my pregnancy and then left the hospital with empty arms. I am wiser, stronger, more clear about who I am, and more spiritually awake.
Once you've picked yourself up and figured out how to make something meaningful out of the mess, a few things happen:
You realize you are stronger than you thought you were. You look back at the darkness and realize that it didn't conquer you. You have reserves of courage and strength you didn't know you had.
You begin to tell different stories about yourself. You are no longer a victim. You are no longer lost. You are a survivor.
The next time you are faced with a challenge, you face it with a little more courage than you did the last one, because you know you are capable of surviving. You know the darkness can't conquer you. You might still get knocked off your feet, but you have a little more faith that you'll be able to get back up again.
In the book David & Goliath, Malcolm Gladwell shares a story of the air raids on London during the Second World War. Anticipating mass hysteria and intense anxiety, the government at the time built psychiatric hospitals in preparation. But the hospitals didn't fill up. People were much less anxious than they'd expected. Why? Because they survived. Because the first time the bombs fell, they walked away from it and realized that they were still alive and could go on. Each time the bombs fell, they got a little stronger and more able to keep on going without being paralyzed by fear.
In Pathfinder and in many of my coaching sessions, I tell people to carry a basket of courage stories with them. "Write down the stories of times when you had courage," I say, "and then when you need a reminder, go back into that basket, pull out the stories, and remember that you are a courageous person and you can survive the darkness."
After watching the TED talk, I finally opened my email, determined to offer the best response I could to those who were reaching out, not because I was an expert, but because I was a survivor. I've been through the dark – many times. I know how to look for the points of light. I know how to take tentative steps even when my feet feel mired in clay.
As I began crafting my responses, I was reminded of one of my favourite quotes from George Bernard Shaw.
"I'm not a teacher: only a fellow traveler of whom you asked the way. I pointed ahead – ahead of myself as well as you."
I don't claim any expertise in despair navigation. I am not a psychologist or therapist. I am only a fellow traveler who has been through the darkness many times. Surviving rape, the death of my son, the suicide attempts of my husband, the death of my mom and dad, and many other challenges, didn't make me an expert, but they taught me to survive and to forge meaning. And that makes me not an expert, but "a fellow traveler of whom you asked the way."
If you are in despair, I offer you these small pieces of wisdom on navigating in the dark:
1. Believe that it will one day be better than this. Nobody stays in the darkness forever. There is an ebb and flow to every life. We walk through it all and none of it lasts forever. You may not see light today, but perhaps tomorrow, perhaps next week or next month, the light will poke through.
2. Make something. There's something about the act of production that helps make the darkness a little lighter. Bake a cake, draw a picture, make a model airplane – it doesn't really matter what you make but it does matter that you get your hands busy and create something. One tiny act of productivity and one simple thing made by your own hands can shift a spiral of negative stories going on in your head. When my husband was in despair in the psychiatric ward, the only time I saw light in his eyes was when he was making a model airplane in the art room.
3. Move your body. Get active. Run, dance, walk, swim – do something to get your muscles moving, your heart rate up, and your adrenalin flowing again. A little dopamine flowing in your brain can help you see the points of light in the darkness. Start with something simple – walk around the block.
4. Pray. Even if you don't have a particular faith, prayer helps. Reach out to the God of your understanding, your Higher Power, even if the only word you say is "Help!" Look outside yourself for some source of hope. As Andrew W.K. says in this article, "'Getting down on your knees' is not about lowering your power or being a weakling, it's about showing respect for the size and grandeur of what we call existence — it's about being humble in the presence of the vastness of life, space, and sensation, and acknowledging our extremely limited understanding of what it all really means." (If prayer is unfamiliar to you, or you need some prompts, Prayer Stones might help.)
5. Talk to someone. You're not meant to survive this time of despair alone. We are social animals – we're meant to live in community. There is no shame in asking for support. Start with a friend, family member, or someone you trust. Or reach out to your doctor, find a therapist, or look into grief coaching. If you need someone to help you find a place to start, you can contact me. I don't have the answers for everything, but I know a lot of people working in helping professions – one of them might be the right person for you.
6. Get outside. Stand in the sunshine. Get fresh air. Lean on a tree. Nature heals. Breathe in the oxygen the trees offer as a gift, watch the seasons change, and remind yourself of the way the earth regenerates herself, moving from death to life and back again. Spring comes back every year. Life returns to the landscape that lies dormant under the snow.
One of the people who'd emailed me earlier had made a special request of me. It wasn't advice or coaching she was looking for – she simply wanted me to pray and make a prayer mandala for her. And so I did, because – like it says above – prayer helps, and making something helps. I made it for her and I made it for myself and I made it for all of the other people around me who are currently in despair.
With my house full of stones these days, I decided to make a prayer mandala out of stones. I started at the centre, choosing a few Prayer Stones.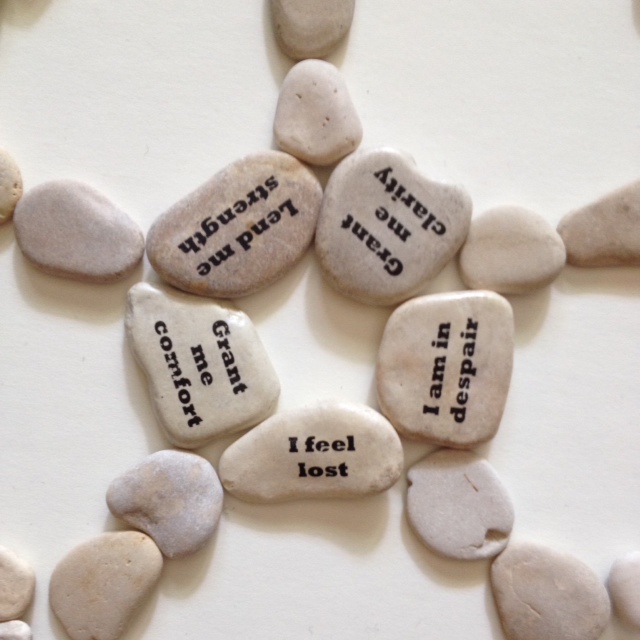 The mandala grew, and at the outer edges I added Intention Stones that reflected the meaning that I have forged out of my own times of despair and that I wish for those still in it.
The act of making the mandala, even without any words coming out of my mouth, was my prayer, my offering up of those things that are outside of my control and outside of my understanding, and my way of catalyzing the overwhelm and feeling of inadequacy.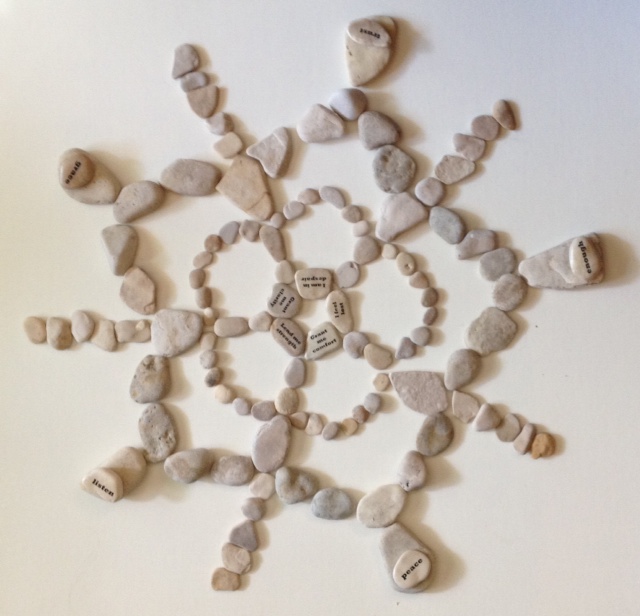 May you find your way through whatever challenge you find yourself in and will you know peace and grace. And may the meaning that you make of it all become the gift you offer the world.
Prayer Stones and Intention Stones are available in my Etsy Shop. And if you're interested in being part of a coaching circle that will help you find your way, check out Pathfinder Circle, starting again on September 30th.