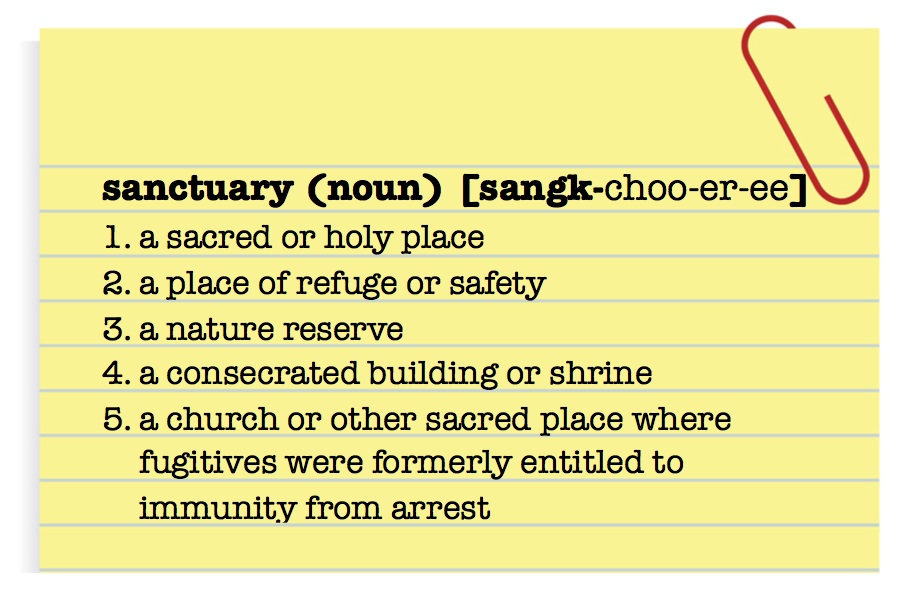 Sanctuary.
A sacred place. A place of refuge. A place where wild beings are safe in their natural habitat.
That's what I want to focus on this year. Sanctuary. For myself and for others.
The word came to me while I was working on the prompts for A Soulful Year. One of the prompts is an invitation (in mandala form) to consider what you are most longing for in the coming year. Half way through my intuitive writing on longing, I knew what I want most and what I most want to create for others.
I want sanctuary.
First, there's the practical, bricks and mortar kind of sanctuary. I want a space where I can work, create, write, and host conversations. I want a place of refuge and quiet, where my work can blossom, and my wild heart can thrive in its natural habitat. I don't know what that will look like yet, but it is becoming more and more imperative that I move my business out of our house (which is relatively small for a family of five and has very little dedicated space for my work). It may look like a whole new house for our family that includes a space that can be used as studio/classroom. Or it may look like a rented studio/classroom. I'm open to the right solution and the right space.
And then there is the kind of sanctuary that I want to create. For you, my dear clients, friends and readers.
In all that I do – my writing, workshops, classes, etc. – I want to create safe, sacred space. I want to create the kind of space, both with my words and with my physical presence, where it feels like you've come home, to safety, to belonging, and to your own wildness.
Because we are ALL longing for this. We are ALL in need of sanctuary.
We need places where our hearts can crack open without fear of judgement.
We need places where our tears can flow without hindrance.
We need places where we know we will be held.
We need sanctuary. We need refuge. We need the sacred.
Last year, while visiting Oakland, California, I wandered along the edge of a lake and then stopped to visit a beautiful church perched at the edge of the lake. I was struck by the fact that both of those places were considered "sanctuaries". One was a bird sanctuary, where birds were safe from hunters and predators, and one was a religious sanctuary, where the weak and weary could find spiritual solace.
I want the best of both kinds of sanctuary.
I want a spiritual sanctuary, where questions are welcome, where the hungry are nourished, and where nobody is judged for whatever spiritual path their on. AND I want a wildlife sanctuary, where the wild in all of us can run free and unhindered; where we can soar through the sky, or float across the water; where we can build our nests and tend to our young without fear.
In 2015, I will seek and create sanctuary in my work, in my community, in my family, and in myself.
I will make it a priority to find the right space that will nourish me, my family, and my work.
I will make it a priority to create sanctuary for my clients, whether they come to me for coaching, attend my retreats or workshops, sit in circle with me, or participate in my online offerings. I will welcome their vulnerability and cheer on their wildness.
I will make it a priority to create sanctuary on this blog, offering you, my readers, a safe place where you can come when you are hungry for stories that leave you feeling less alone.
I will make it a priority to serve in my community, helping wherever I can to offer sanctuary to those who need it.
Tell me… what kind of sanctuary are you seeking? And how can I help you find it? I would love to hear in the comments.
Note: I'm beginning the year by creating sanctuary for women in Winnipeg. I'll be hosting an inaugural Women's Circle (that will hopefully become a regular gathering) on Thursday, January 15th at 7:00 p.m. It's free and all are welcome. Find out more here.