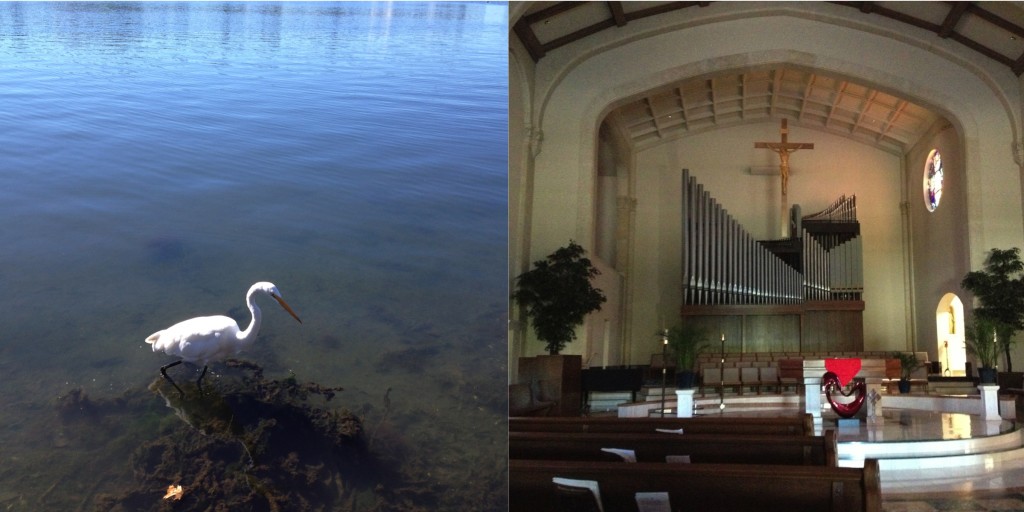 I sat on the shores of the lake, watching the birds float and fly past. A cormorant stood on a post, its wings spread wide to the sunshine. The lake is a wildlife sanctuary. In that space, the birds are safe to do what is truest to their natures. No predators can harm them there.
Sanctuary. A place to be safe.
Wildlife sanctuary. A place to be safe in your wildness.
Near the lake was a church. I wandered inside. It was beautiful, polished, and serene. A sanctuary.
And yet… it wasn't a wildlife sanctuary. My wildness did not feel safe in that place. I wanted it to – longed for a real sanctuary where my wildness was honoured – but I didn't trust the immaculateness. I couldn't feel safe revealing all of myself in that space. Too much of me had been judged in spaces like that in the past.
"What if I DID feel safe in this space?" I thought. "How would church be different if it were more like a wildlife sanctuary? If it were the kind of place where we could be totally free to be our wild selves without feeling the pressure to conform? Without having to protect ourselves from predators? What if it truly represented the wild way that God loves?"
As though to test my question, I took off my shoes and stepped into the baptismal font. The water was cool and sweet against my skin. It felt good – a baptism of my wildness. But it didn't feel safe. I kept an eye on the door, expecting a stern priest to walk in and send me away for defiling the church. All I dared to reveal was my feet. I stepped out quickly and tried not to leave footprints.
I went back outside to the lake. There I felt safe. With the birds and the trees. I took of my shoes again and didn't worry about footprints.
A week later, at another lake, giggling in the dark with a small tribe of friends, I tripped through the woods and stepped into the lake. Tentatively, we inched our way into the dark water. It held us and invited us further in. We gave ourselves to it. Bathing suits came off and we let ourselves be baptized in our wildness. For long lazy moments, we floated – just a little bit fearful and yet fully wild and fully alive.
This was our wildlife sanctuary. Here we were safe to reveal all that we were. Here we were wholly loved – by the water, by each other, by the gods of our understanding.
From the moment we step away from the safety of our parents' arms, we are each on a lifelong quest for that place of sanctuary – that place were we can dare to let ourselves be fully wild, fully naked, and fully baptized. Sometimes (far too rarely) we find it in a church, sometimes we find it in the woods with a circle of friends. Sometimes we only find tiny whispers of it that make us long for more.
Once we find it, we know that we need more of it and we know that we need to commit our lives to co-creating it for others. Because there is nothing quite like the feeling of knowing that we are fully loved and accepted in our nakedness. There is nothing that makes us feel more alive and beautiful.
Together, those of us who have learned to reveal our wounds and our nakedness to each other, become co-creators of circles of grace. We are wildlife sanctuary keepers. We are witnesses of the kind of God/dess who longs to help us create REAL sanctuaries, not artificial polished spaces where only those who have washed first can step into the baptismal font.
Because living truthfully in our wildness is the only way to fully be alive.
If you are longing for more of your wildness to be revealed, step into the sanctuary of Lead with Your Wild Heart. You are safe here.