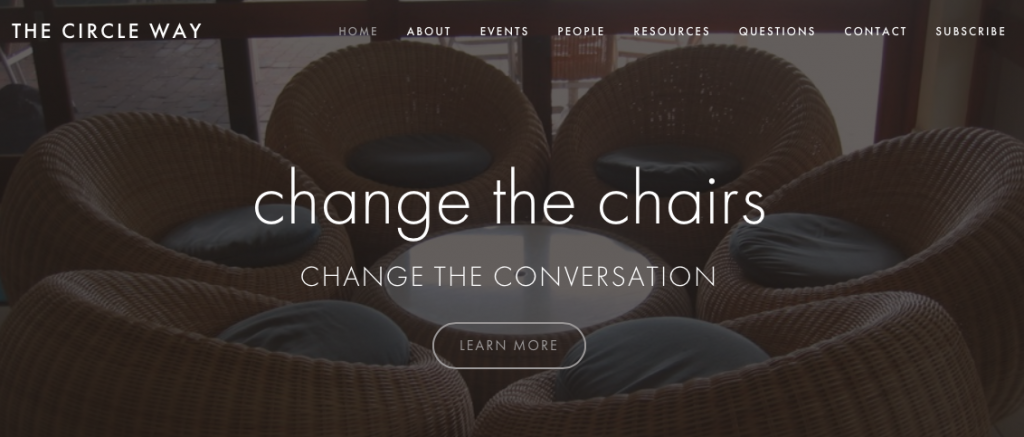 I am delighted to share with you the launch of a new website that I have been part of building in 2015. The Circle Way now has its own home on the web.
I first discovered The Circle Way fifteen years ago, when I was working as Director of Communication at a large federal lab. I'd been in leadership positions in the federal government for 5 years, and I was feeling burnt out, discouraged, and hungry for something new. I was sure there must be a better way of doing leadership than the toxic, disconnected, hierarchical patterns I was witnessing, but I didn't have enough experience, knowledge, or confidence to trust my own intuitive sense. I went searching for a guide who would help me navigate my way.
When I stumbled on the website of Christina Baldwin and Ann Linnea, it was like someone had lit a candle in the darkness for me. They were the guides I'd been looking for.
I remember that moment, sitting in my lonely office perched at the top of a long ramp that separated the management team from the scientists in the lab. Discovering that there were people talking about exactly the kind of leadership and community-building that I had a vague sense about but didn't yet know how to articulate was life-changing. My body trembled with a sense of awakening and calling that felt ancient and primal. I wasn't just being called to something, I was being called back to something.  I didn't know how the circle would become part of my life, but I knew beyond the shadow of a doubt that it would.
The path that finally led me to the rim of the circle was long and somewhat circuitous and often I wondered whether the calling I'd felt was true or just an apparition emerging out of my loneliness. After giving birth to my third and final daughter, I was so restless in a job that didn't fit me that I could barely stand going to work each morning. It hurt to know that there was something better waiting for me but not know how I would get to that place.
I finally left the government a few years later and started working for a non-profit that worked internationally. I loved my work there and I learned a lot, but I still kept feeling like there was something missing. I took as many leadership and community-building courses as I could, and I talked to a lot of experts and teachers, but nothing helped me tap into the longing that I'd felt when I'd first discovered The Circle Way. To be honest, I still had such a vague sense of what it was and how much it would change my work that I never worked up the courage to ask for funding or time off to attend a training session.
I didn't fully understand it, but I knew I wanted deeper relationships, more meaningful conversations, and more intentional collaboration and nothing else satisfied that craving.
In October 2010, I quit my non-profit job and launched my own business. Three weeks after leaving my job, and ten years after setting an intention to study with her, I traveled to Ontario to attend my first circle workshop with Christina Baldwin. It was as life-changing as I'd hoped it would be. The first thing I told Christina, in our opening circle, was that her words had lit a candle in the darkness for me ten years earlier. Her eyes filled with tears.
The workshop was so powerful for me that I felt like I was always either trembling or on the verge of tears. There's something about satisfying a ten year longing (and an even more ancient ache) that can't easily be put into words.
I came home from that workshop determined that I would become an ambassador of The Circle Way. I started incorporating it into everything I did. I held workshops and retreats in circle, I invited my university students to move their desks against the wall and join me in the circle, and I began to teach my online courses in virtual circles. Even in my coaching sessions, there are elements of the circle in the way I hold the space for people's emergence.
The year after attending Christina's workshop, I became part of Gather the Women, and I discovered how powerful it is to be part of a global network of circles. Last year, I invited a number of women in Winnipeg to join me in circle, and we've been meeting weekly ever since. This circle of women has become a lifeline for me.
In 2014, I had the pleasure of joining Christina and Ann and a circle of 25 other Circle Way practitioners in a 4 day gathering in which we worked to develop the framework for a new iteration of the work. After much discernment, Ann and Christina had decided that it was time to entrust the next generation of practitioners and teachers with this piece of their work. They prepared to step into their new role as elders and we prepared to pick up the torch and carry the light forward.
In May of 2015, Amanda Fenton and I joined Ann and Christina on Whidbey Island for three days of intense work. Together, we built the new website that would house this next generation of The Circle Way.
The work we did together was some of the most beautiful and meaningful collaborative work I've ever been part of, largely because it was done with such careful intention and such deep love. That was exactly what I'd been longing for years earlier when I'd felt so disconnected in my government position. The circle was not only what we were writing about and creating, it was the container for how we worked. Just as we do with any circle gathering, we started and ended each day with a check-in and check-out, we placed what was sacred to our gathering at the centre, and together we held the rim of the container that held our purpose. (And this, I believe, can become a container for the work done at any kind of business, non-profit, community organization, or government.)
It's hard to express just how meaningful it was to work alongside my mentors for those three day and to be trusted as a partner with them in the work. This is what the circle does, though – it teaches us to honour each person on the rim as a leader and valuable contributor. It teaches us to speak with intention and listen with attention. In that circle, each of us was able to do our best work because we were being seen and heard, we were being trusted, and we were each taking responsibility for holding a shared purpose.
If you're curious about The Circle Way, I invite you to start your own journey to the circle by exploring the new website. You'll find lots of useful information and resources and you'll also find learning opportunities and teachers/practitioners. While you're there, sign up for the newsletter.
Though the details haven't yet been worked out, I hope to work with some of my colleagues in offering a circle practicum in 2016. If you work for an organization or community group and would like to introduce The Circle Way as a new way of working, meeting, and being in conversation with each other, I'd be delighted to talk to you about what might be possible.