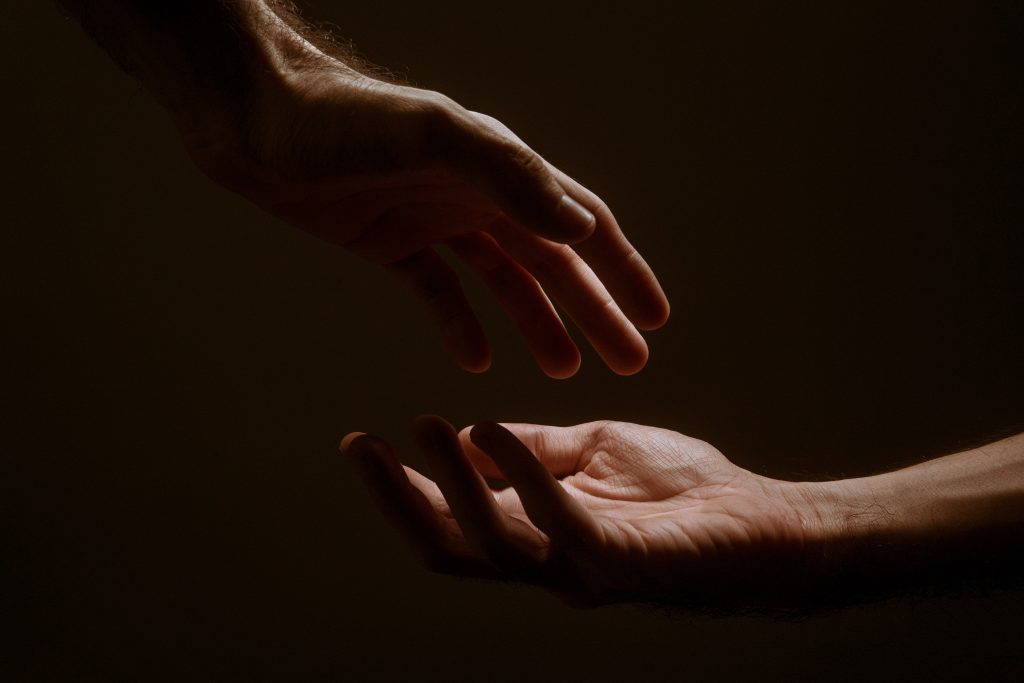 Listen to me read the post:
I was lying on a table and the practitioner holding my arm with both hands was saying "relax your muscles and let me move your arm for you". With all of my will, I tried. I wanted to do what she asked, if only to make my inner people-pleaser happy. I wanted to be completely relaxed, trusting her to manoeuvre my arm the way she was trying to do it. But I couldn't. I just COULD NOT. Every time she tried to move my arm, my muscles would involuntarily tighten, anticipate the movement she was trying to manage, and then help her do it. As much as my head told me she was trustworthy, my body refused to believe it. 
I was visiting this Feldenkrais practitioner, hoping to relieve the pain in my shoulder. I'd been for an X-ray a month earlier, when I'd injured myself in a tumble out of my bathtub, and it revealed nothing, so I'd assumed, based on the doctor saying it was probably muscular, that the shoulder would just get better. It didn't. A friend recommended Feldenkrais.
Not knowing it was a fracture (that would be revealed a month later in an MRI), the treatment left me in more pain than when I'd arrived. I drove home in tears.
The tears weren't just about the pain though. I was crying because, while lying on the table trying not to move the muscles she didn't want me to move, I'd been reminded just how hard it was to lean into fully embodied trust in another person.
By then, I knew enough about trauma to recognize what was going on. My muscles held the memories of all of the times my body had been harmed – the rape by a stranger in my twenties and the abuse in my marriage – coupled with the shame and disassociation/disembodiment planted in my body from a childhood in a restrictive "purity culture" religion. Even though I'd done a considerable amount of therapy and healing by then, my body remained hypervigilant, prepared for any harm that might come. The only person I could trust to keep my body safe was ME.
Last week, on a long road trip, I was listening to Billy Porter's memoir, Unprotected, about how he grew up – a flamboyant queer Black kid in a world that rejected and assaulted him again and again. His family and church community treated him like an abomination, his step dad sexually abused him for five years, he was bullied in school, and there were no places (or people) in his childhood that were truly safe for him. The first place he remembers having an embodied experience of safety and support was on the set of Pose, the TV show he starred in about New York City's ball culture, an LGBTQ subculture in the African-American and Latino communities (in the 80s and 90s).
Though we come from very different backgrounds, there was still resonance in his story for me. I know what it means to have lifelong shame in my body because I was told it was shameful by the church. I know what it means to not believe people will treat my body with care because my body remembers harm.
I also know how surprising it can be to one day realize that something has changed – that you've found yourself in the presence of trustworthy people, that you can trust your own wisdom about what boundaries are needed (and you have more strength and better support structures in place to hold those boundaries), and that maybe, just maybe, you can start to put down the burden of shame that your childhood self learned to carry.
Of course, it's not enough to know those things in your HEAD, you also need to know them in your BODY – and that's the tricky part. I thought I'd figured this stuff out years ago, when I had a head full of knowledge and had made some hard choices about much-needed boundaries, but then I kept getting reminders, like when I tried to trust the Feldenkrais practitioner, that my body still didn't fully trust people. 
Often it was more about emotional safety than physical safety, but my nervous system doesn't know the difference and the muscles in my body prepare for fight/flight/freeze/fawn regardless of the source of the threat. Even in places that are seemingly quite safe, like when I'm at a retreat or in a conversation circle with a group of like-hearted people, I notice the signs in my body that there is something in the room that's triggering a trauma response.
It's been a long journey, trying to understand, heal and soothe this in myself. I have deep gratitude for the people who've been alongside me in this journey, people like my business partner Krista and my dear friend Saleha, as well as therapists and mentors.
Even in those relationships, though, there were times early on when I struggled to lean into fully embodied trust. A part of me remained wary and vigilant. "Isn't this too good to be true? Can this person really be trusted? Won't they withdraw their care at some point? Shouldn't I keep my guard up and maintain my distance? Will they really stick around when I screw up?"
When I first started teaching about the practice of holding space, years ago, it surprised me to hear a lot of participants in my courses and workshops say "I'm good at holding space for other people, but I'm not very good at allowing other people to hold space for me." It shouldn't have surprised me, though – because the very same thing was true for me. I could offer a space that others would experience as safe, but I could rarely trust that what others offered me would be safe. I used to say that it was because "I have high standards for people's skills in facilitation, coaching, therapy, etc." but in truth, it was more like "my nervous system is hyper-vigilant about who is worthy of my trust."
Even in recent months, I've had a few opportunities to notice when my lack of trust still gets triggered and sometimes gets in the way of growth. It's been a busy season of working with other people who are helping to advance my work and the work of the Centre for Holding Space – editors and publishers who are working on making my next book the best that it can be and marketing/branding consultants who are helping us expand the reach of the Centre's work. Every once in a while, I notice my nervous system being activated in this process and a little voice in my head says "Is it safe to trust these people with this work that feels so intertwined with my identity? What if they reject or mislead me? What if I get hurt?" Whenever that stuff gets activated, I have an opportunity to interrogate it and extend tenderness to that scared part of me that still believes that past harm equals future harm. (Fortunately, the people supporting the book and the Centre are wise and caring and have proven trustworthy again and again.)
I've said it many times: holding space is FAR more of an internal practice than it is an external practice. It's about noticing how our own baggage gets in the way of our ability to be present for other people. It's about healing our own trauma and soothing our reactivity so that we don't project it onto other people. It's about leaning into our discomfort and learning to live in liminality so that we don't get so easily knocked off centre. 
AND it's also about having grace and compassion for the other people we hold space for, knowing that some of them might lack an embodied feeling of trust even when their head says it's safe (and most of those people won't know how to articulate it). It's about not taking it personally when someone has a triggered reaction to something we say or do. It's about having patience for the other person's wariness and resistance, and it's about consistently showing up and working to earn their trust.
I am eternally grateful to those people who, especially in the early days of my healing journey, were willing to stick around and continue to hold space for me even when the trauma showed up in my body and I wanted to (and sometimes did) run away. They dared to love me despite how skittish I sometimes was.
I keep doing this work because I know that it's important. I want to be in deep, trusting, and secure relationships with people. I want to find the people I can trust with even my most traumatized parts. I want to be as safe as I can be in my own body so that I can offer a safe haven and secure base for other people. 
More than anything, I want to make choices rooted in the pursuit of joy, liberation and embodied trust rather than trauma and distrust. That's what my upcoming book, Where Tenderness Lives: On healing, liberation and holding space for oneself is all about. I'm excited to share it with you in January. You can pre-order your copy here. (And pre-orders are GREATLY appreciated!)
*****
P.S. If you're still learning about what it means to hold space for yourself (and others), and if you want to explore more about what it takes to create trauma-informed spaces for meaningful conversation, join us in the How to Hold Space Foundation Program. It starts the week of October 23.