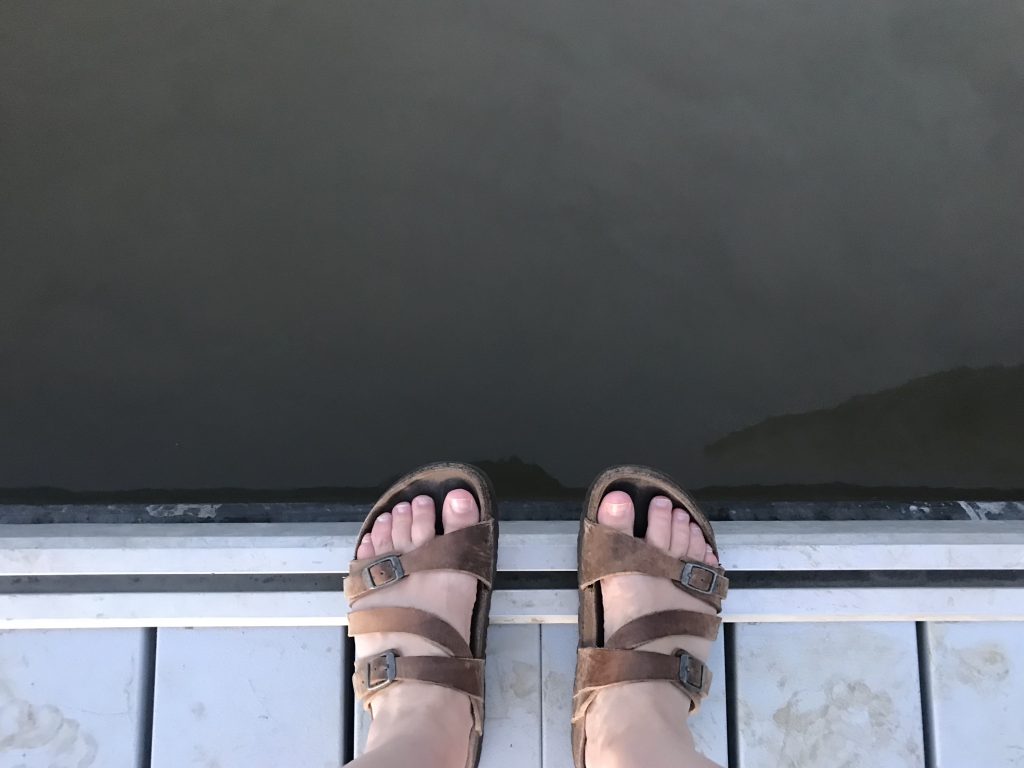 I am leaping into liminal space. I have sold my house and this month I'll be selling my furniture, packing my personal belongings into storage and heading off to Europe for a few months. After that, I plan to spend some time in Costa Rica, and then… I don't know. I haven't yet decided how long I will live a nomadic lifestyle and how (or where) I will eventually come to define "home".
When people ask about my future plans, some are incredulous, some are baffled, and some express their longing to do something similar. It's hard to explain a choice like this – to completely uproot myself at the age of 56 – because I'm not sure I entirely understand it myself. I just know that the house I have lived in for twenty-four years, where I raised my three daughters, doesn't feel like my forever home, nor does the city I live in.
If you ask me on a bad day, when I'm a little terrified of not having a place to call home or a little overwhelmed with all of the work I still have to do this month, I might look at you with a blank look on my face and say that I have absolutely no idea why past-me thought this was a good idea.
If you ask me on a good day, though, I will tell you about how I have always wanted to live an adventurous life, how I want to be playful with the future now that I am no longer responsible for giving my children a home, how I feel like this northern prairie city has given me all that it can, how I now feel pulled toward the ocean, and how I want to test the limits of my capacity to be liminal, alone and still grounded (while also seeking out the people who will hold me in this liminal space). I will tell you about the ways in which I have crafted my life for just such a moment, building work that is not tied to a place and growing an international circle of friends and clients.
Last year, I wrote about how I was helping my daughters launch from my home into homes and lives of their own, and, in many ways, it now feels like I'm doing the same for myself. We are at different stages of our launching, each seeking what's next in our lives. In archetypal language, they are moving to the next step beyond their Maiden phase, and I am moving from Mother to Crone. (Some say that there is a Queen phase before Crone, and that is likely more accurate for me. I also think my daughters need a name for the phase between Maiden and Mother – or an alternative to "Mother". Admittedly, these archetypes are a little limited and rooted in an older view of womanhood, but the overall concept still has some relevance.)
When these transitions happen, whether in youth or in later adulthood, there is always some time spent in liminal space where the old story can be released and the new story can be born. That's where I am now, feeling wobbly and unsettled. I wish that I could say that, after all of the experience I've had in liminal space (plus writing a book about it), I am surrendering to the process and walking through it with grace and acceptance. But that is only true in those moments when my higher self manages to soothe the reactivity of the scared little girl in me who believes she is only safe when the world feels familiar and predictable.
What I know to be true in these times of liminality is that there is value in ritual and ceremony – exercises that help us mark the transition, process the emotions, release our attachments, soothe the reactivity, and honour the growth. To that end, I have begun to think of the next six months as a form of pilgrimage or quest. It's not clear what I am looking for yet, but isn't that the nature of a quest? That we don't find the answers until we learn what the right questions are? I'm still looking for the right questions.
To surrender to the quest, when all feels liminal and the outcome is hidden behind a shroud, takes a special kind of trust, and in many of my wobbly moments, I'm not sure I've found that kind of trust yet. My higher self tells me I have, but my scared inner child keeps insisting she's delusional and not to be trusted.
Sometimes one has to leap in order to discover they have the courage for flight. Before I leap, at the end of this month when I hand the keys to this house to the next owner, I'll keep working on soothing the inner child so that the courage doesn't get lost in all of the noise.
As I prepare for what next month will bring me, I am finding that mini-pilgrimages help prepare me for the big one. To that end, I am doing things like visiting places that feel sacred and have meaning to me and listening, one more time, for the wisdom that the prairies have to offer. I am also setting off nearly every morning on my bicycle, to find a place near the river where I can sit with my journal to process all of the big feelings coming my way. (You can read about one of those morning journal sessions over at the Centre's blog.)
There is something especially meaningful about my morning pilgrimages. Although I write in my journal in many other places, the wisdom that comes to me after I have cycled to my location, while I sit and watch the river flow by feels uniquely poignant. It helps to sustain me during these disruptive times. The movement of my pedaling feet helps to soothe my activated nervous system, the trees and the river speak to me when I'm still, and the return cycle helps me integrate what's been spoken into my journal before I return home. This is the way of a pilgrimage – first there is the going out, then there is the pause for listening, and then there is the return journey.
A pilgrimage – even one as minor as a bicycle ride to the park – holds within it the capacity to give us back our imagination. That's the nature of the "pause for listening" at the mid-point of a pilgrimage. After releasing whatever keeps us attached to the past, we are able to see through more clear and creative eyes, imagining that which was not accessible to us in the midst of the clutter of our old stories and patterns.
This pattern of Release, Receive, and Return also shows up in a labyrinth walk, and that's another place I'm visiting regularly this month. When I visit, just as I do at the park with my journal, I sit at the centre, in solitude and silence, and I am able to hear the wisdom that my scared inner child was masking with all of her anxious noise. The journey to the centre is not unlike the soothing walks I used to take my daughters on when they needed emotional regulation.
Through happy synchronicity, the first piece of work that I'll be doing after I set out on my pilgrimage will be to teach at the Chartres labyrinth in France – a place I've long dreamed of visiting. Together with Lauren Artress (founder of Veriditas and a global leader in labyrinth teaching), I'll be weaving the wisdom of holding space together with the wisdom of the labyrinth. (You can watch a short video of me and Lauren talking about it here.) While there, we'll have a chance for a special facilitated labyrinth ceremony that starts with a visit to the crypt. I have high hopes that this will help to further prepare me for the rest of my pilgrimage, and for whatever comes beyond that.
I would love it, dear readers (especially those of you who are also in the midst of liminal space), if you could all join me at the labyrinth, but I know that it will only be possible for a few of you. If you can't be there, perhaps you can find your own form of pilgrimage? Perhaps you can set out for the park with your journal? Or find a labyrinth in your neighbourhood? Or visit a place that feels sacred for you, to see what wisdom the land wants to impart on you? I believe that there is something especially powerful about people collectively seeking wisdom for what comes next, and I believe that's especially needed in the world right now. What might happen if we all do it simultaneously in our own parts of the world?
Wherever we are in our lives, one thing is certain – we will continue to face transitions up until the day our bodies reach the final transition, from life into death. We can meet those transitions with fear, anger, and resistance as our guides and companions, or we can seek the wisdom of our higher selves and invite acceptance, courage and peace to accompany us. If you choose the second, as I do, perhaps a ritual like a labyrinth walk (or other form of pilgrimage) might help.
*****
p.s. I'd love to meet you at one of the workshops I'll be teaching while on my global pilgrimage, either in Europe or Costa Rica. Alternatively, perhaps you want to join us for the upcoming session of the Holding Space Foundation Program, which starts in October?