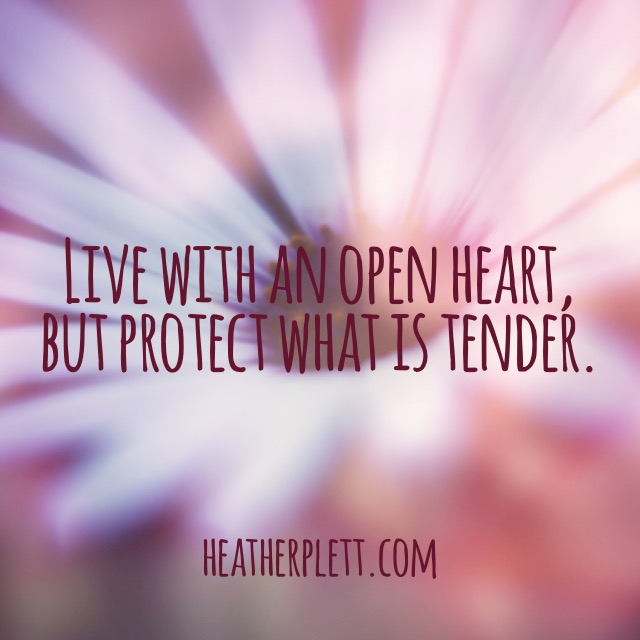 "But it hurts if I open it too much."
That's what I hear, in some form or another, every time I teach my Openhearted Writing Circle or host openhearted sharing circles.
People show up in those places hopeful and longing for openness, yet wounded and weary and unsure they have what it takes to follow through. They want to pour their hearts onto the page, to share their stories with openness and not fear, to live vulnerably and not guarded, and yet… they're afraid. They're afraid to be judged, to be shamed, to be told they're not worthy, to be told they're too big for their britches. They've been hurt before and they're not sure they can face it again.
And every time, I tell them some variation of the following…
An open heart is not an unprotected heart.
You have a right, and even a responsibility, to protect yourself from being wounded. You have a right to heal your own wounds before you share them with anyone. You have a right to guard yourself from people who don't have your best interests at heart. You have a right to keep what's tender close to your heart.
Only you can choose how exposed you want to make your tender, open heart. Just because other people are doing it, doesn't mean it's the right thing for you.
Yes, I advocate openhearted living, because I believe that when we let ourselves be cracked open – when we risk being wounded – our lives will be bigger and more beautiful than when we remain forever guarded. As Brene Brown says, our vulnerability creates resilience.
HOWEVER, that doesn't mean that we throw caution to the wind and expose ourselves unnecessarily to wounding.
Our open hearts need protection.
Our vulnerability needs to be paired with intentionality.
We, and we alone, can decide who is worthy of our vulnerability. 
We choose to live with an open heart only in those relationships that help us keep our hearts open. Some people – coming from a place of their own fear, weakness, jealousy, insecurity, projection, woundedness, etc. – cannot handle our vulnerability and so they will take it upon themselves to close our hearts or wound them or hide from them. They are not the right people. They are the people we choose to protect ourselves from.
Each of us needs to choose our own circles of trust.  Here's what that looks like:

In the inner circle, closest to our tender hearts, are those people who are worthy of high intimacy and trust. These are the select few – those who have proven themselves to be supportive enough, emotionally mature enough, and strong enough to hold our most intimate secrets. They do not back down from woundedness. They do not judge us or try to fix us. They understand what it means to hold space for us.
In the second circle, a little further from our tender hearts, are those people who are only worthy of moderate intimacy and trust. These are the people who are important to us, but who haven't fully proven themselves worthy of our deepest vulnerability. Sometimes these are our family members – we love them and want to share our lives with them, but they may be afraid of how we're changing or how we've been wounded and so they try to fix us or they judge us. We trust them with some things, but not that which is most tender.
In the third circle are those who have earned only low levels of intimacy and trust. These are our acquaintances, the people we work with or rub shoulders with regularly and who we have reasonably good relationships with, but who haven't earned a place closer to our hearts. We can choose to be friendly with these people, but we don't let them into the inner circles.
On the outside are those people who have earned no intimacy or trust. They may be there because we just don't know them yet, or they may be there because we don't feel safe with them. These are the people we protect ourselves from, particularly when we're feeling raw and wounded.
People can move in and out of these circles of trust, but it is US and ONLY us who can choose where they belong. WE decide what boundaries to erect and who to protect ourselves from. WE decide when to allow them a little closer in or when to move them further out.
How do we make these decisions? We learn to trust our own intuition. If someone doesn't feel safe, we ask ourselves why and we trust that gut feeling. Sometimes we'll get it wrong, and sometimes people will let us down, but with time and experience, we get better at discerning who is safe and who is not.
We also have to decide what to share in each level of the circle, but that's a longer discussion for another blog post. For now I'll simply say…
Trust your intuition. Don't share what is vulnerable in a situation that feels unsafe. Erect the boundaries you need to erect to keep your tender heart safe. Let people in who have your best interest at heart.
This article has been voluntarily translated into Farsi.
If you want to explore your own open heart, you're welcome to join an Openhearted Writing Circle, or consider booking a coaching session. For a self-guided journey to your own heart, consider The Spiral Path, which remains open until the end of February.
Interested in more articles like this? Add your name to my email list and you'll receive a free ebook, A Path to Connection and my weekly reflections.