Retreats, Workshops, and Keynote Addresses
"Healing is impossible in loneliness; it is the opposite of loneliness. Conviviality is healing. To be healed we must come with all the other creatures to the feast of Creation." ― Wendell Berry
I believe in the healing power of community.
I believe that when we gather for intentional conversations that challenge, expand, and encourage us, we have the power to change the world.
Below is a list of topics that I talk and teach about. All of these can be adapted to a keynote address for a conference, a short workshop, or a multi-day retreat. If you're booking speakers for a conference, or would like to invite me to offer a retreat in your area, I'd be happy to talk about how we can adapt these topics for your needs. Send me an email, or book some time on my calendar to talk with me. 
Workshop/Retreat/Speaking Topics
Be the bowl: the fine art of holding liminal space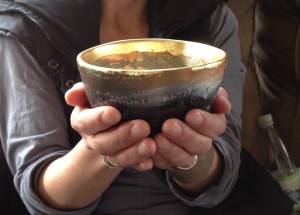 Liminal space is the space between stories. It's the chrysalis between the caterpillar and the butterfly. Liminal space is part of nearly every human experience, whether it's grief, transition, birth, divorce, job loss, marriage, betrayal, relocation, graduation, conflict, economic collapse, political upheaval, or natural disaster. Whether by choice or circumstance, we let go of one story and turn toward the next.
In that liminal space is a wide range of emotions and experience, from fear to hope, from chaos to quietness. The intensity and ambiguity of it often makes us want to rush past it, but then we short-circuit the growth of the new story. When we hold the liminal space, we become a container for the transformation, like the shell of a chrysalis.
Holding space is the term we use for the intentional work it takes to support ourselves or each other in staying present for the transformation within the liminal space. When we hold space well, we engage without controlling, support without judging, and create boundaries without creating limitations. In this workshop, we will explore the concept of liminal space and we will deepen our practice of holding space for ourselves and each other. (Read a blog post about holding liminal space here. Watch a talk I gave about "being the bowl". I am currently writing a book on the topic.)
The Circle Way: change the chairs, change the conversation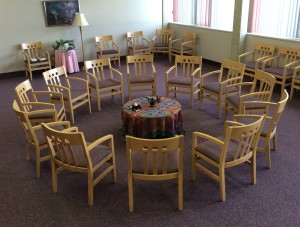 We are in charge of how we meet together. Chairs and tables do not have to be bolted to the floor in long rows facing a speakers platform. If our current ways of interacting, speaking, listening and decision-making are not working, we can claim another form of interaction. The Circle Way is an invitation to return to our original form of community as well as a leap forward to create a new form of community. This circle practice supports leaders, managers, supervisors, project leaders, community groups, youth workers, educators, board members, consultants, women's circles, and those working in fields such as health care, government, health care, the social sector, education, organizations, healing and trauma work, parent groups, restorative justice, social innovation and corporate teams. As part of an international network of teachers in The Circle Way, I look forward to spreading these practices into multiple sectors where it will help impact change. (Read more about my connection to The Circle Way here.)
Asking life-changing questions
The right question at the right time can open a doorway into a future you never knew was possible. It can change your thought patterns, help you get unstuck, help a group move past conflict, or spark a dream that was waiting to be born. Based on my popular online course, 50 Questions That Could Change Your Life, this workshops offers some of the life-changing questions I use in my work as a coach and facilitator, and it teaches you to find your own life-changing questions. Whether you use them in your own journal or as a catalyst for conversations within your family or with your clients, these questions provide the seeds for unlimited potential.
Circle Practices for Your Spiritual Journey
The Circle Way, the mandala, the labyrinth, and the spiral – all of these are circle practices that provide deeper meaning for our spiritual journeys. They also offer us the right containers and paths for exploration, conversation, and growth. In this workshop, we will explore what the circle teaches us about how to gather, how to find balance, and how to dive into our own shadows and depths. We will experiment with various practices (mandala journaling, labyrinth journeying, and The Circle Way) that bring the circle alive for us. You will leave the workshop with a deeper connection with yourself and a set of practices to take with you for your continued exploration.
The Spiral Path: a journey to yourself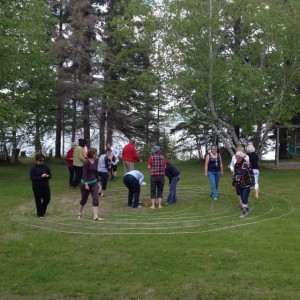 Sometimes we get lost. We find ourselves in strange places, far away from anything that feels familiar and true. We've been following paths that are not our own, seeking wholeness in places that can never satisfy us, and ignoring the whispers of our own longing. This workshop will help you find your way back to yourself. Using the labyrinth as a guide, we will take a journey that will bring us closer to authenticity. There are three stages in a labyrinth walk. First, when you journey inward, you release the burdens you were carrying and whatever distractions got in your way. Then, when you reach the centre, you are ready to receive whatever wisdom and guidance is waiting for you. Finally, you return from the centre, making the journey outward and bringing with you whatever new gifts and wisdom you're meant to share with the world. This workshop is based on my popular online program, The Spiral Path. (Note: I have adapted this for various settings, using existing labyrinths, bringing a portable labyrinth, or creating one with the resources at hand.)
Mandala Discovery: self-discovery with mandala journaling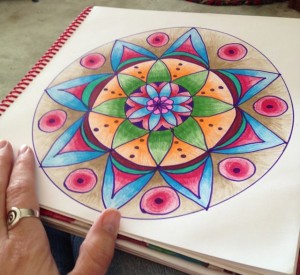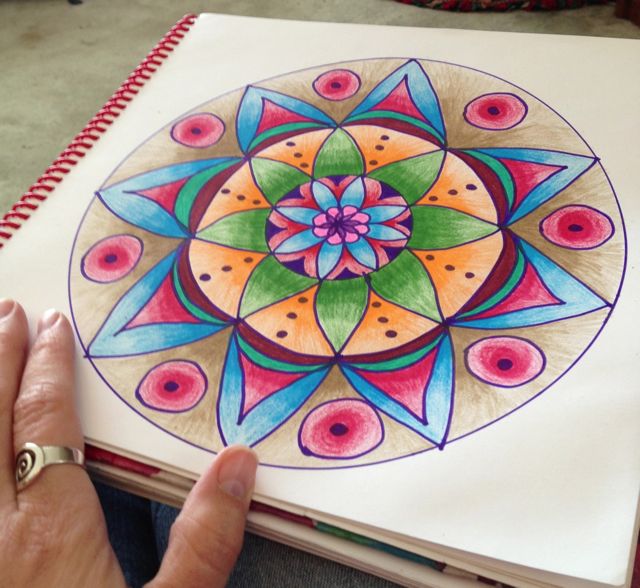 If you want to learn more about yourself, find a way through a stuck place, seek clarity about something new that's growing, or simply try a new creative practice that offers new insights and opportunity for mindfulness, mandala journaling may be for you. Mandalas combine spirituality, meditation, therapy, creative process, and play in one holistic circle. They help us slow our minds, process our complex thoughts, and shift out of our logical left-brains into our intuitive right brains. In this workshop, we will play with some of the mandala journaling prompts in my popular online course, Mandala Discovery: 30 days of mandala journaling. We will explore how mandala journaling helps us to access both right brain and left brain thinking in ways that a regular journaling practice may be limiting. You will go home with enough tools to begin your own mandala journaling practice.
Openhearted Writing Circle
Consider this: your stories have the power to inspire, heal and unite. They can help form communities, heal wounds, and initiate social change. In this workshop, you'll be part of an intimate circle of people who share your belief in stories and share your desire to move past the resistance, past the limitations, and into more openhearted writing. As your host, I make it my priority to create a safe, nurturing, and inspirational environment where you can step into your vulnerability and your courage, where everyone is encouraged and nobody is judged, and where you can try new things knowing that you are supported. (Openhearted Writing Circle is also offered online a few times a year.)
Living with an Open Heart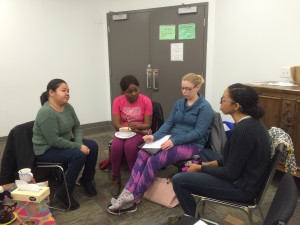 It's part of the human condition to long for genuine, openhearted connection with other people and ourselves. Far too many of us, though, have lost our way. We've found ourselves in the middle of too many relationships and conversations that feel shallow, transactional, forced, or one-sided. We have become consumers rather than community-members, and we have disconnected ourselves from what really matters. The answer to this longing can be found in the art of holding space. When we hold space for each other, we walk alongside each other in whatever journey we're on without judging, making people feel inadequate, trying to fix others or ourselves, or trying to manipulate the outcome. When we hold space for other people, we open our hearts, offer unconditional support, and release the need to control or judge. We become fully present for each other in a powerful, life-changing way. In this retreat or workshop, we will practice the art of holding space for other people and for ourselves. We will learn to build community by creating spaciousness, openness, and connection. At the heart of this retreat will be The Circle Way, a structure for deep conversations and wise outcomes. (See the sales page for Living with an Open Heart in Australia.)
Storytelling for community building, organizational development, and transformative change
Stories build communities and impact social change. In my storytelling workshops, participants engage in an exploration of how storytelling can help their businesses grow, their communities deepen, and their organizations have more impact in the work they do. Based on my many years of working as the primary storyteller for government and non-profit organizations (which included travel all over the world for the purpose of gathering stories) I take advantage of every opportunity to teach others to become better storytellers for transformational change. (This could be adapted as a full or half day workshop, or a keynote address.)
Community-building Skills for Leaders of all Kinds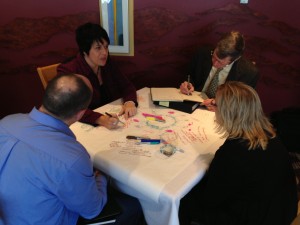 In this workshop, participants learn to define, identify, and build community in many different environments. They learn about the stages of community development (pseudo-community, chaos, emptiness, true community), and they explore the difference between team-building and community-building. This workshop is suitable for community organizations, churches, non-profits, businesses, and government departments.  (I have delivered this workshop in a variety of formats – a one day workshop, a lunch-and-learn session, and a webinar. It could also be a keynote address.)
Writing to Impact Social Change
In order for social change to spread and grow, we need to share our stories and learn from each other. This workshop will help participants explore what those stories are and how they can use them to change the world. They'll learn more effective writing and story-telling skills that will help them or their organizations increase their capacity for impacting change. (This was originally developed as a one day workshop for the University of Winnipeg Professional Edge series. I have also developed an e-book full of useful information, tips, and resources.)
The Power of Deep and Soulful Listening
In this workshop, participants learn to use effective listening skills to engage people, learn from other cultures, and transform communities. We explore the art of the question, what it means to listen for deeper understanding, and how listening is one of the most crucial skills in leadership and community building.  (This workshop was originally delivered as a webinar, but could be adapted to a full or half day workshop or keynote speech.)
Surviving and Thriving in Transition
Using the analogy of the caterpillar, who must give up everything she knows and every piece of the identity she clings to, climb up a tree and submit to the chrysalis process before she can transform into a butterfly, I talk (or teach or coach) about the challenges of facing the unknown and emerging on the other side, transformed. Sharing personal stories from my own journey, I help people understand the value of the waiting spaces, the hard places, and the chaos in their own and their organization's transition processes.  I also help people develop creative processes that help help them work through their transitions. (This would be effective as a workshop of various lengths, or as a keynote address.)