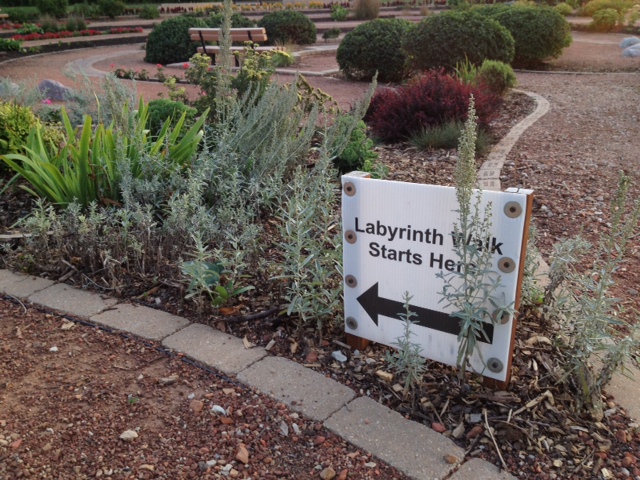 When you stand at the very centre of the Carol Shield's labyrinth, as I did yesterday evening, and speak out to the edges, you will hear your own voice echoed ever so slightly back to you. You have to listen very carefully to hear it and you have to be standing in exactly the right spot or the echo evades you.
In labyrinthian journeys, the centre is known as the place where you open yourself to receiving from Spirit, after walking in and releasing what was previously getting in the way.
Which begs the question… what am I meant to receive from the echo of my own voice? What wisdom is already hidden in me that I might not yet be aware of?
Yesterday in church the pastor spoke about giftedness – how we need only be faithful with our gifts in order for them to multiply. At the centre of the labyrinth, I thought about that in relation to my voice. It's a gift that already exists, coming out of a wisdom that God has already planted within me, and I don't need to keep looking elsewhere for my source of inspiration.
Faithfulness to our gifts means that we must exercise them, train them, and grow them. Practice and study are both very important, but what's also important is a deep level of trust in the gift itself.
In our eagerness to perfect the gift, and our insecurity about using it before it is sufficiently polished, we forget about the ancient wisdom already there. We forget that the unpolished gift already has beauty.
When I was a child, I had a growing realization that I had a unique ability to see things – to really see them in a deeper way than most people did. When I would try to explain things that I'd seen to other people, I knew by their lack of understanding that they'd never witnessed them in the same way that I did.
These were fairly ordinary things, but for me they had an aura of magic. For example, I was always captivated by the image of deer leaping over fences. That sight would freeze me in my tracks and I was stand in awe at the magic I had just witnessed. When I would try to explain how that sight impacted me, people would usually look at me with a puzzled look and I knew that they'd only ever seen deer leaping over fences as ordinary and not transcendent.
I stopped talking about things that seemed mystical to me. It made me feel too much like an oddball. Now, years later, I recognize that ability to see things as a part of the ancient wisdom buried in me. I am a meaning-maker, a storycatcher, a seer… perhaps even a mystic. I see metaphor and meaning in things that pass many people by. I receive messages from deer or trees or sunsets and I walk away changed. It's still not always easy to talk about (as I mentioned in my last post), but I am growing in my ability to trust it.
In The Naked Now: Learning to See as the Mystics See, Richard Rohr talks about the three ways to see a sunset…
One man saw the immense physical beauty and enjoyed the event in itself. This man was the "sensate" type who, like 80 percent of the world, deals with what he can see, feel, touch, move, and fix. This was enough reality for him, for he had little interest in larger ideas, intuitions, or the grand scheme of things. He saw with his first eye, which was good.

A second man saw the sunset. He enjoyed all the beauty that the first man did. Like all lovers of coherent thought, technology, and science, he also enjoyed his power to make sense of the universe and explain what he discovered. He thought about the cyclical rotations of planets and stars. Through imagination, intuition, and reason, he saw with his second eye, which was even better.

The third man saw the sunset, knowing and enjoying all that the first and the second men did. But in his ability to progress from seeing to explaining to "tasting," he also remained in awe before an underlying mystery, coherence, and spaciousness that connected him with everything else. He used his third eye, which is the full goal of all seeing and all knowing. This was the best.
The third man, who sees with his third eye, is a mystic. As soon as I read Rohr's description of what it means to be a mystic, I knew that this had something to do with the way that I'd always seen the world. The seeds of mysticism were already there when I stood in awe of deer leaping over fences.
I have read a thousand books, taken a thousand classes, and yet none of them can teach me to access the ancient wisdom – the wisdom of the seer – that is already within me. None of them can point to the gift that is meant for me to share. For that I must quiet all of the external voices, remove myself from the noise of my life and walk a labyrinth or wander the woods. That is when my own voice is echoed back at me and I know that I already have what I need.
What is the ancient wisdom buried in you? It may be body wisdom, heart wisdom, or head wisdom. It may be the ability to see justice, create order, experience beauty, shape stories, make people laugh, or offer compassion. What did you already know as a child, but might have been afraid to speak of or do or be because it made you seem like an oddball? What do you now need to do to create space for that wisdom to emerge?
To start with, find a quiet place where your wisdom can echo back to you through the silence. Walk away from the noise of other people's voices and expectations and stand in silence with your God. In that quiet place, let your gift emerge from its hiding place, let it fill your heart with knowing, and give yourself permission to trust it. Then, by all means, practice, train, and polish it, but don't forget to use it in the meantime. It already has value.
The gift is yours – be faithful in using it and it will multiply.