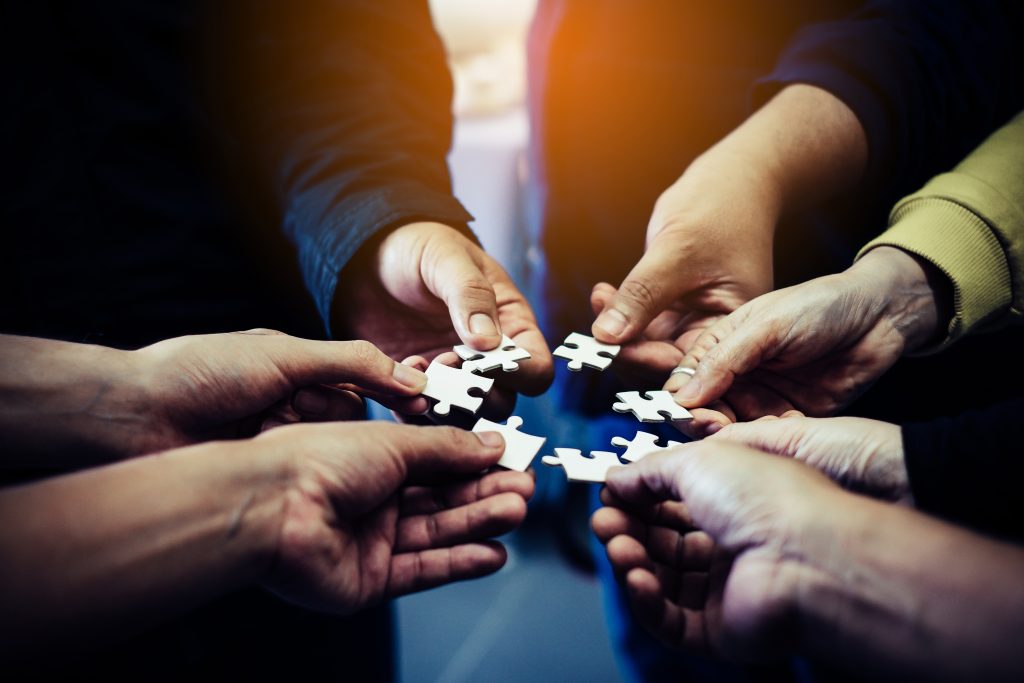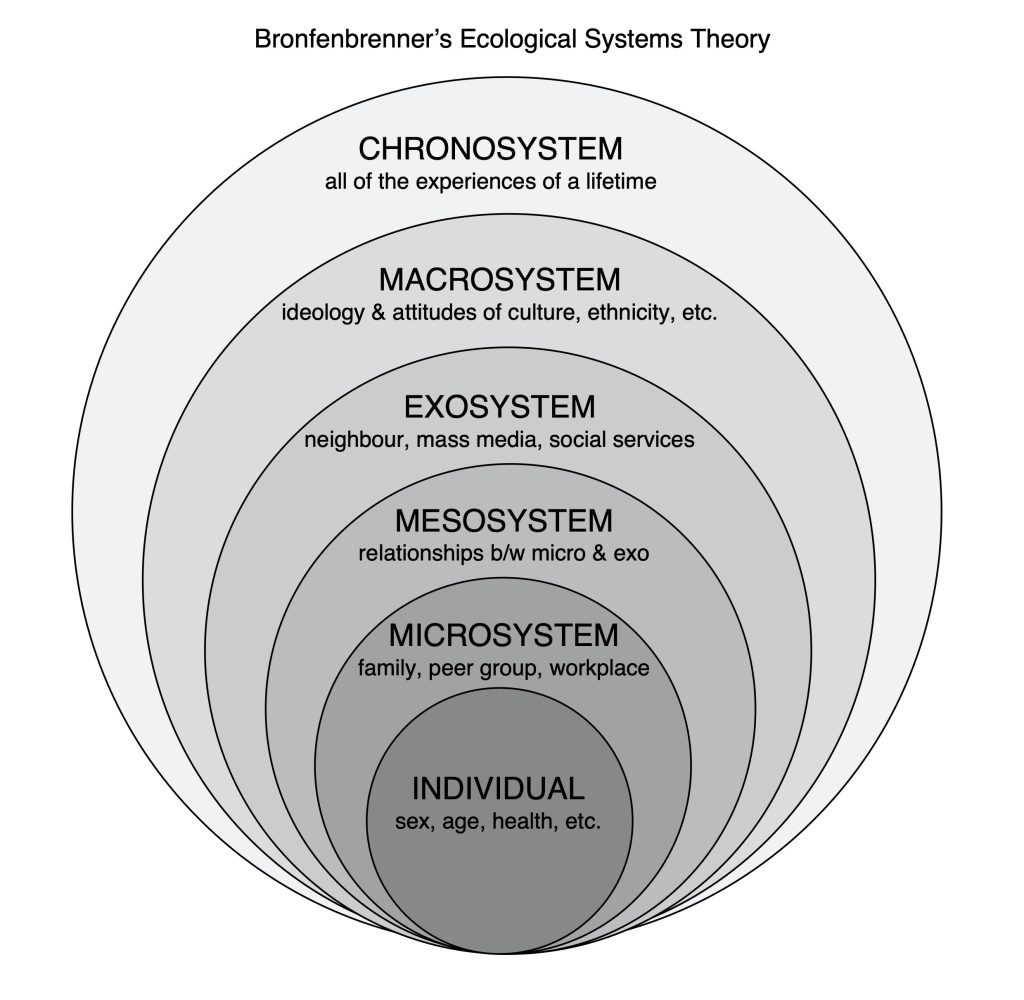 At the smallest level, you are the individual at the centre (with your own system existing within your body). Then you are part of a number of microsystems (your family, school, peer groups, local church, etc.). Next is the mesosystem (which weaves together the relations between microsystems and exosystem – for example, the relations between your family members and their coworkers). Then the exosystem (your neighbours, friends of family, mass media, government agencies, social welfare systems, social media, etc.). Then the macrosystem (attitudes and ideologies of the culture, ethnicity, geographic location, socioeconomic status, etc.). Finally, the chronosystem holds all of the experiences of a lifetime (environmental events, major life transitions, and historical events).

Let's expand the analysis of the person who's a member of a local church. Not only is it insufficient to examine that person separate from the church that they're a part of, it is also insufficient to examine that church separate from the broader systems that it is part of. That local church is likely part of a denomination that shapes the traditions, historical relevance, ideologies, beliefs, and biases of that church. That denomination may have multiple levels of influence, from the localized grouping of churches, up to the global governance structure. It is also embedded within a religion that informs, among other things, what version of God is worshipped and how members of that religion interact with people of other religions. And then there is the neighbourhood, city, country, and region of the world that the local church is located in – all of these things also have influence, meaning that a local church in one country won't look the same as a local church in another country even if they're in the same denomination.

At an even broader scale, that local church (and, by extension, each member of the church), is being influenced by what's at the macrosystems level. This is where things like colonization, patriarchy, white supremacy, classism, racism, and capitalism come into play. A church rooted in the patriarchy, for example, will likely still be led by a man, and where white supremacy is an issue, that man will likely be white. And, here in North America in particular, no church is completely free of the colonization that built our countries.

ALL of these systems are at play in that one individual who is a member of that one local church, and so that person cannot be fully witnessed without recognizing what's at play. Even when that person leaves that church, the systems will still be at play, especially if the person is unconscious of the way that they've been influenced while part of that church. (Also at play will be all of the other systems that individual is part of – family systems, community systems, work systems, etc.)

Systems usually evolve as a way to organize us. A system without some form of organization won't be able to sustain itself or serve the purpose it's meant for, and so, if we value a system and find meaning in it, we organize it. Imagine, for example, a school that has no sense of order – nobody is responsible for doing the teaching or clean up and students are allowed to do whatever they please. That's not education, it's anarchy. (Some would suggest that it would eventually become a self-organizing system, if the desire for education is great enough.)

The problem is that what organizes us often begins to control us. When we become too rigid to allow a system to evolve, when we put the value of the system above the value of the individuals in that system, and when we embed a measurement of worthiness into a system (what Isabel Wilkerson refers to as Caste), then that system is no longer just organizing us, it's controlling and measuring us. That's when we end up with the dominance and oppression of systems like colonization.

Then, when a system begins to control people using dominance and oppression, that system begins to cause trauma in its people. A system that causes trauma becomes a system full of traumatized people and (because what happens at the micro level is also what happens at the macro level) it is therefore a traumatized system. Once you have a traumatized system, it becomes particularly destructive and particularly difficult to change. That's when you see the levels of brokenness that have been showing up in the world – like climate change, and what's currently happening in the Ukraine.

A traumatized system (just like a traumatized individual) needs people that can hold space for it while it heals. But the challenge is that EVERYBODY in that system has become traumatized and so it's difficult to step outside of the system enough to help it with its healing. It becomes a self-perpetuating cycle of trauma.

I am not without hope, though. I have personally witnessed many people, in recent years, who are waking up to this trauma enough so that they can heal it in themselves, and then move themselves far enough outside of the traumatized system so that they can offer healing back to that system and the people in it. These people are learning to work with each other, with the natural world, and with whatever form of spirituality might support them, so that they can work to heal a broken world.

In the Berkana Institute's Two Loops Model (below), we're given a hint about what happens when people begin to move away from a traumatized system. The upper loop represents the dominant system, which was once vibrant and alive and served a purpose (the top of the loop). At some point, though, a system's purpose is fulfilled, and then it needs to complete its cycle so that it can die and make space for a new system. Lots of people resist that system's death, because it keeps them safe, but some people recognize that the system needs to die and they step away from that system. If those people were traumatized by the dominant system, they must do healing work or they will continue to perpetuate the same trauma that was embedded in the system. As they heal, their imagination becomes reawakened and they become innovators who begin to imagine the birth of something that can replace the dying system. That's what the bottom loop is for – it represents the evolution of the new system.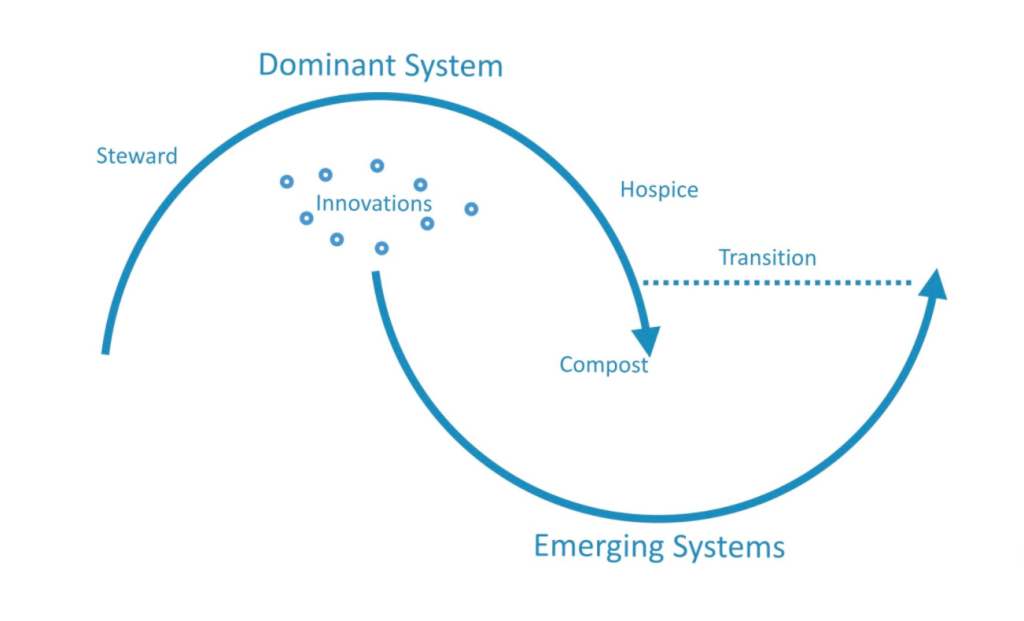 In addition to the innovators, there is also a role for hospice workers – those who are willing to support the hospice work of the dying system. Once the old system has been released, the hospice workers join the innovators.
That's why I've created my new course, Know Yourself, Free Yourself. I want to support those people who are waking up – those who are doing their healing so that they can become hospice workers or innovators (or both). I want to help them see the systems more clearly. I want to walk alongside them as they examine their lineage, trauma, beliefs, biases, and relationship patterns. I want to help them imagine themselves as whole people, apart from the systems that measure and control them. I want us to imagine collective liberation and generative love. I want us to know community, connection, and joy. I want us to set our imaginations free so that we can dream our way into new ways of being.

I hope that you will join me in this. It feels really, really important, and perhaps even urgent. That's one of the reasons why we've created three levels for the registration fee – because we want this program to welcome into the circle people from around the world and from across the socioeconomic spectrum.

I look forward to being in conversation with you.