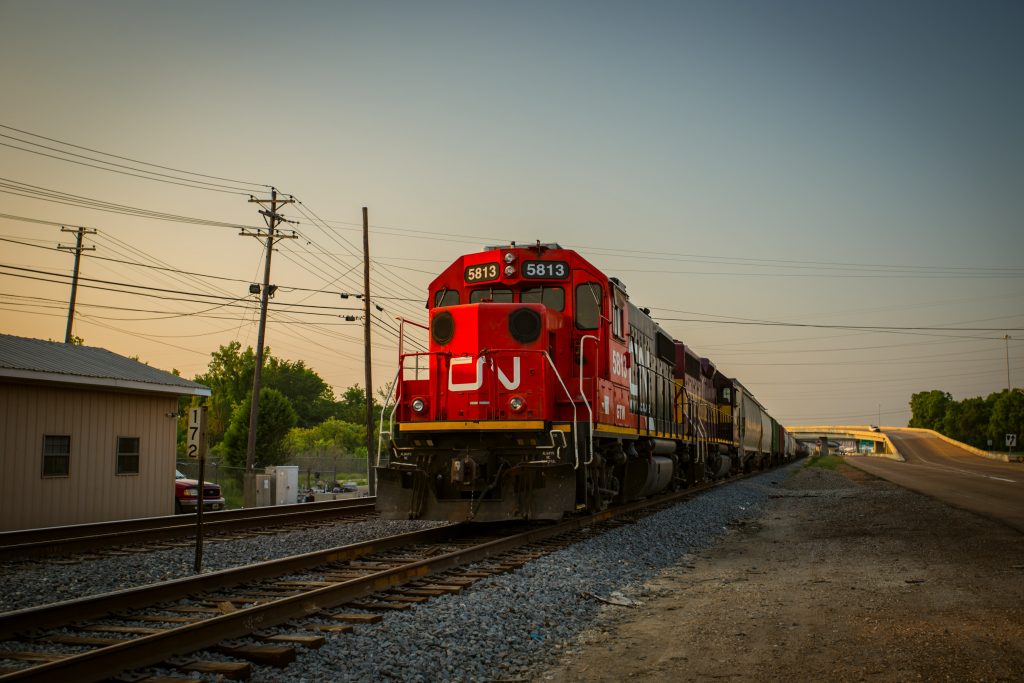 The workday was finished and I had just picked up my two daughters – one a toddler and one an infant at the time – from daycare and we were on our way home in the family minivan. I was tired and knew that I still had to find enough energy to make supper, feed the girls, and give them the attention they needed after a day away from me.
There was a train crossing the road, so I stopped at the railway crossing, the second vehicle away from the tracks. Suddenly, a screeching sound caught my attention and I turned to see that the last three cars of the train, still about 50 metres from the road I was on, had come off the tracks and were crashing down to the ground on my side of the tracks. I had only an instant to process what was going on and what was about to happen. The wayward cars were being dragged along by the still-moving train and were in danger of swinging outward to exactly the spot where I sat.
I jammed the van into reverse, but then looked back to see a long line of cars behind me – unless they moved, I had nowhere to go. The railway cars were heading my direction and I was frozen in place, waiting to see if my daughters and I would be crushed by a careening railcar.
Fortunately, the derailed rail cars stayed close enough to the track that none of the vehicles on the road were hit. With my heart pounding, I, and all of the others on the road, turned away from the wreck and found our way onto other roads that would take us home.
Yesterday morning I was waiting for another train at a crossing not far from where the train derailed and I had a flashback to that moment, over twenty years ago, when I didn't know whether I'd be able to keep my daughters alive.
When the tears started to fill my eyes with the memory, I realized it wasn't just the train I was thinking about. "This is exactly how LIFE feels right now!" I thought. "We are ALL sitting on the road, watching a derailed train barrel down the tracks and all we can do is sit and watch it come toward us wondering whether we'll be in the path of destruction."
That derailed train is so many things right now. It's the pandemic that none of us can control and nobody knows when/if it will touch our families or circles of beloveds. It's the jobs being lost and the businesses that may not survive the repeated shutdowns. It's the bank accounts careening toward empty as a result. It's the changing climate. It's the racial injustice and the pain and trauma of BIPOC people and the rising tension because there seems to be no sign of the systemic racism and related deaths coming to an end. It's the coming U.S. election which is causing so much fear not only because a misogynist bully might win again and continue to wreak havoc, but because there is a very real threat of serious disruption and possible violence as a result of the election outcome. It's a Supreme Court in the U.S. that is now dangerously tipped against the rights of LGBTQ+ people and the reproductive rights of women.
Many of us, in fact, are at an intersection where multiple derailed trains are coming at us at once and we don't know which one will wreak the most havoc. For a person of colour in the U.S., for example, or a person with a disability at greater risk because of the pandemic, there are converging trains coming down the track at once.
I don't write this to be a doomsday prophet or town crier shouting about the end of the world. (I can already imagine the emails I might get from those who want me to post more "positive thoughts" so I don't "attract" those runaway trains.) I write it to acknowledge that we are in a strange and complex liminal space and none of us has any control over the outcome and in some moments the only thing we can see on the horizon is sure disaster. This is where we are. This is the complexity of the liminal space the world is in right now, and if you are afraid or angry or overwhelmed, you are not alone. And you are not "doing it wrong". You are human, with real human emotions. And I will never, ever shame you or gaslight you or offer you any spiritual bypassing cliches that would suggest you shouldn't be having these feelings right now. I've been on the road watching that derailed train come toward me and my children – I know how it feels to be powerless in that moment.
That moment isn't the end of the story, though. I survived it. And my daughters did too. And trains don't stay forever off the rails. And moments of terror pass. And even if there is destruction, those of us left behind figure out how to pick up the pieces, and we carry on. And we get stronger. And we discover our own courage and resilience and we turn toward each other and we share the stories and admit our fears so that we can help each other survive.
And then one day, more than twenty years later, we sit at another train track, where a train passes us smoothly and we remember that we survived. And we are grateful to still be alive and to be able to continue to parent those little girls who are now adults. And we might cry a little, because it feels like another train is coming at us from another direction, but we remember that we have the capacity to survive and that trains pass. Even the derailed ones.
Here's what I want to say to you if you're sitting there, feeling helpless, as the derailed train is coming toward you and your beloveds.
1. Recognize the trauma response. Your body has within it the capacity to respond to moments of threat and stress in what it senses are the right ways to protect you. When the pressure is intense, your amygdala kicks into gear and takes over your brain functioning and nervous system, raising your adrenaline so that you are ready for the flight, flight, freeze, or tend-and-befriend. This quick reactivity serves an important purpose, but it also comes with a cost. For one thing, it makes it very difficult for you to engage the other parts of your brain that are more rational and calm. For another thing, when the trauma from your past is still present in your body, you'll have a tendency to respond the same way even when the threat isn't immediate, or isn't as dangerous as your body senses it to be. That means that, in times of high intensity, especially when multiple trains seem to have become derailed at the same time, you might regularly find yourself with a flooded nervous system and a diminished capacity for calm and rational thought. And sometimes you might even find yourself suffering from adrenal fatigue when your nervous system has been functioning at high alert for too long. Give yourself a break if you're not able to accomplish much right now or if you seem to be over-reactive to every stimulus. Speak gently to yourself the way you would to a frightened child. Practice soothing yourself with tactile items, gentle touch, or time in nature. Consider seeing a therapist or seek out the medical and/or psychological support you need. 
2. Remember the impermanence of every state. It gives me great comfort to recognize that no emotion ever stays forever. It lets me feel even the intense emotions with a little more ease and presence because I know that they will pass. Fear, grief, overwhelm, anger – none of them are sustainable in the long term and so they will all fade away eventually and you will find yourself in other emotional states that are less exhausting. Yes, they may cycle through you again and again, especially in times of stress or tragedy, but you can practice holding them with more mindfulness and awareness, watching them come, holding space for them for a moment, and then watching them leave. Your emotional state does not own you and you can allow whatever shows up to pass through you without becoming overly attached to it. 
3. Find outlets that help you release the emotions and the impacts of the trauma. If you need to scream, scream (perhaps in a place where you won't alarm the neighbours). If you need to cry, cry. If your body feels shaky, let it shake. If you need to laugh until you cry, then do that. If you need to punch something, make sure it's a pillow and not the face of someone you love. If you need to break something, find your least favourite mug and throw it against a cement wall. Emotions that threaten to overwhelm you need a healthy outlet so that you don't hurt anyone (including yourself) with them. And trauma that is not physically released from your body has a greater chance of staying locked inside. Sometimes wild dance movements help. Sometimes swinging a hammer or using power tools helps. Sometimes making messy art helps. Sometimes just watching a sad movie and letting your tears flow helps. Emotions that get stuck inside of us will find less healthy ways of showing up later. 
4. Find stillness. As I mentioned above, intense emotional states aren't sustainable, and worry and fretting are among those that we need to let go of when they're ready to pass. It's hard to let go of that kind of frenetic energy, though, if we stay in the frenetic space that feeds the worry. Step away from your computer for awhile. Stay off social media one day a week or turn it off at 7 p.m. Don't check the news first thing when you wake up. Limit the number of conversations you engage in online, especially if there are some that cause you anxiety and discomfort. Unfollow people whose feeds are full of doom and gloom. Pick a comfortable chair in your home that is the no-electronics zone and leave your phone in another room every time you curl up in that chair. Or designate your backyard a no-tech area. Find the places that give you some measure of peace and visit them regularly. 
5. Lean into love. Even though we can't spend as much time in the same physical spaces as the people we love, this is a time when we need connection and community more than ever. This is a time when we need to rely on each other and find the spaces where we can be authentic and vulnerable with people we trust. Lean into that. Reach out to your friends and host Zoom dates. Go for walks in the park together. Send a small gift to someone who's special to you. Find a way to offer love and that love will come back to you in some way or another. Notice who's in the most direct line of the oncoming train (i.e. who will be the first to be impacted by the disaster?) and find a way to support them or advocate for them. And if you need mental health support, call a help line or ask around to find a therapist or support group. You are not in this alone. Collectively, we have more capacity to weather derailed trains than we do alone.
6. Know that you are resilient. This too shall pass. You have survived hard things in the past and you will survive hard things in the future. And each hard thing you survive gives you additional resources to help you survive the next one. Trust that you have the strength and resilience to weather this storm. Trust that your emotional muscles will grow under the strain of this new weight. Trust that even those who lose limbs learn to dance again.
Perhaps next year, when we find our way through the rubble of the derailed trains, and we can touch each other again, we'll lean on each other, we'll hold up the most wounded, and we'll do the dance of the wobbly yet resilient.  
If you want to learn more about how to hold space for yourself and/or others, check out my new book, The Art of Holding Space: A Practice of Love, Liberation, and Leadership.